5 Areas of Focus for the Sixers at Training Camp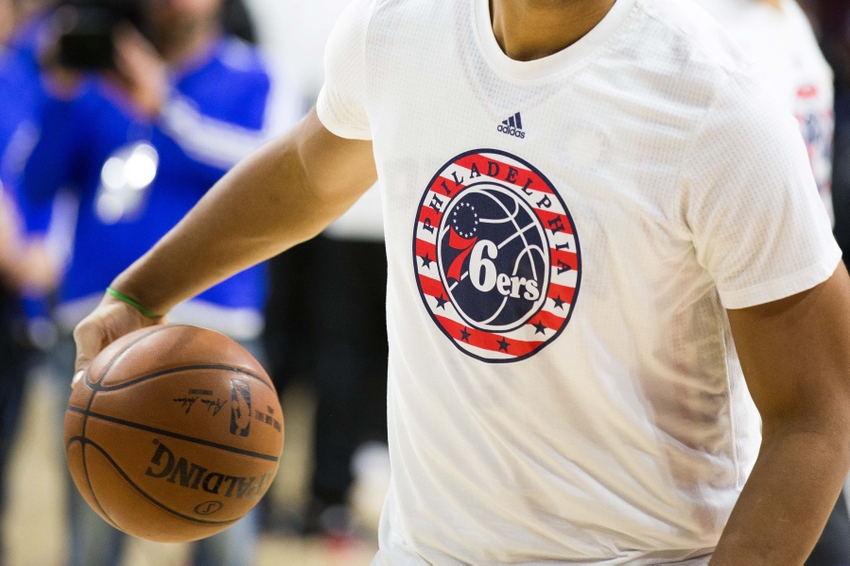 The Philadelphia 76ers are entering an interesting offseason, and it starts with training camp. There are five specific things they should focus on.
This season seems to be a turning point of sorts for the Philadelphia 76ers. It's pretty clear that the tone must be set during training camp. Although summer league was a solid starting point for some of the Sixers, training camp is the first time that the whole team will be together.
This is the time where the Sixers coaching staff can implement their ideas for the season, their thoughts moving forward, and their goals for the year. The tone they set in training camp will be the same tone that's accepted by the team as they enter the regular season.
There are a lot of things that need to be changed, altered, and improved going into the season. That is obvious by just looking at the Sixers record from this season — 10-72. They could lay it all out on the table, but that gets overwhelming for any group of people to look at. Breaking things down to just five broader components can make it easier to set goals and to be clear about those goals.
There are some really clear areas that should be addressed during training camp. These five things encompass the main goals of the Sixers' season.
Who works hard?
Part of going into training camp is getting a look at the new players, and this season, there's a lot of them. Of the 20 players the Sixers will likely be bringing in to training camp, seven of them are rookies, and one of them hasn't been in the league in a long time (Sergio Rodriguez). The team needs to be keeping an eye on these players especially, to ensure that they're working hard.
Those who do work hard should be rewarded and looked at highly. Work ethic is something that demonstrates just how well an athlete will carry out for the 82-game season. If a player is jogging down the court during scrimmages in training camp while they're fighting for a roster spot, how well will they play down the stretch? Likely, their performance will deteriorate to be even less throughout the season.
A great example of rewarding a player for their work ethic was T.J. McConnell last season. McConnell came in as an underdog to make the team, and many were surprised that he did make the final roster. Throughout the season, he kept working hard to avoid getting cut, while other players like Tony Wroten were let go, and Kendall Marshall had his minutes cut. It just goes to show that the Sixers do reward that work ethic.
While the team is becoming more competitive, and they can't reward too many spots for work ethic, they should at least consider some players based off of how hard they work. Brett Brown even told the media recently that he would be rewarding playing time to the cluster of big men to the player that was competitive.
It wouldn't be too out there to suggest that the Sixers might choose at least one player to bring onto the final 15-man roster based mainly off of their work ethic. I, for one, would be all for this. Even if the player isn't ready for the NBA yet, they can be put down to the D-League for assignment and developed there.
Who works with Simmons?
Part of moving into the next chapter for the Philadelphia 76ers is building around their top overall pick from this season — Ben Simmons. Moving forward, just about every roster move that is made will have to do with Simmons and building the team around him. Simmons is a franchise-changing player, and building around him is a must. While this will be more of a prominent idea when the team approaches the trade deadline and free agency over the next few seasons, it's still something that should be considered in training camp.
The team is building their inaugural season for the Sixers of Simmons, and this season sets the tone for years to come. With the few open roster spots, the team really needs to be looking into what players work well with Simmons. For the players that do, they should be evaluating whether or not they can muster up a roster spot for them.
They could get some of these players on low contracts for several seasons, and they could grow and learn alongside Simmons. If they are working well with him right off of the bat, there's reason to believe that they will only get better alongside Simmons as their respective careers develop.
Certainly, it's not smart to be looking into just Ben Simmons, and how players fit with him. A team shouldn't ever be looking at just one player. But Simmons is a huge piece of the puzzle, and should be weighted as so when making roster moves over the next few seasons.
Start with high pace
One thing the Sixers have been good at over the past few seasons has been keeping the pace up. Brett Brown has implemented an offensive system that keeps things moving. Unfortunately, a lot of Sixers possessions — although there was a fair amount of them — ended up as missed shots or turnovers.
Moving forward, the Sixers need to make it a point to maintain that high pace that has been implemented over the past few years. Although there's some points against high-paced basketball (one could argue it elicits a sloppier type of play) it's important to go at it if you want to do it. It must be nailed down in training camp.
Playing at a high pace really lets you, as the team, set the tempo of the game. A team can't really drag you down when they're playing slow-paced, but a team playing quickly almost always brings up their opponent. When you're dictating the game speed like that, you're often in control.
Some of the newer players may not be used to moving things along quite as quickly as the Sixers want to on the offensive side of things. Starting to play scrimmages with a high-paced offensive agenda will help the team hit the ground running in the regular season. It will also help them see who will do well and who will not with a fast-paced system during the season.
Emphasis on defense
While offensive pace was something the Sixers did very well last year, one thing they did not do well was things on defense. The team was nearly dead left in defensive rating last season, and over the past three years has given up some of the most points in the NBA.
Going into this season, something really has to change. The mindset begins in training camp. Putting an emphasis on defense is going to be an important part  of moving the team forward. Luckily, one big important piece is debuting for the team this year.
After two years of being drafted by the Philadelphia 76ers and sitting out due to injuries, Joel Embiid is finally ready to play. And while we can rant and rave over the offensive leaps he's taken while he was recovering, he's still a truly solid defensive player as well.
On top of Embiid being a defensive monster, the team still has Nerlens Noel and Jerami Grant, both players that have established themselves as solid rim protectors over the last few seasons. The team, although proving to be a lackadaisical defensively motivated team in recent years, clearly is going to be on the rise on that side of the ball.
But still, the team does have several players who are not solid defenders. The coaching staff needs to work with them in order to ensure that the team is on the same page on the defensive side.

Versatile offensive system
Lastly, the team needs to focus on putting into place an offensive system that compliments some of the best players on the team. The team is debuting Ben Simmons and Dario Saric this season, both players that are incredibly versatile. Both of them are Swiss Army Knife type of players, who can really slip into several positions on the floor and do well.
But having these players on the team is only half of the battle. The other half will be making sure that they can be in a system that accentuates their positives, and a system that works well for them. The team needs to have a system that isn't completely freestyle, but may be close to it in order for Simmons and Saric to coast across the floor and fill in wherever they need to.
The two players are really pushing the Sixers to be a team that is seemingly position-less, and a team that focuses less on five different roles of players on the team, and more on having players that can be good at just about everything.
The offense will take a little while to figure out next season. It's going to be interesting to be debuting a power forward that can pass as well as Simmons, and it's also going to be interesting to have a power forward in the second unit that has developed a solid pass of his own.
This article originally appeared on