5 alternate timelines for Kevin Garnett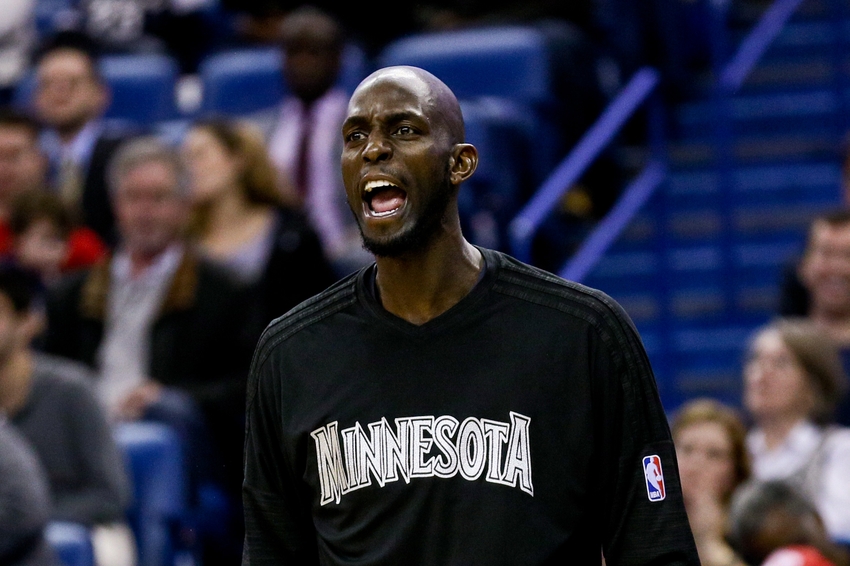 The career of Kevin Garnett is one of the greatest of all-time. He wouldn't trade it for anything, but what if had gone down one of these five alternate paths? 
Kevin Garnett will officially enter retirement. It remains to be seen how long it takes until he drives himself nuts without the sport he has given so much to. Fans will likely see him pop up as a coach or an analyst fairly soon.
Sure, he'd have to take some training of some kind since Garnett has never been one to hold back from expressing his opinions. But he has a beautiful basketball mind.
His career is one littered with so many emotional highs and lows. It wasn't the straightest path, but Garnett wouldn't trade it for anything. But just imagine how differently his career could have been. Here are five alternate timelines for his career.
5. Garnett never leaves the Minnesota Timberwolves
It's amazing how Garnett started and ended his career with the Timberwolves. In between, he had somewhat of an awkward departure, being traded to the Boston Celtics in 2007. Garnett repaired that relationship, which allowed him to finish his career in the city that loved him first. But what if he never left the Timberwolves?
That takes his career down a new direction. He probably never wins an NBA title, sadly. Even though a Garnett and Kevin Love duo would have been fun to watch, they still don't beat the San Antonio Spurs or Los Angeles Lakers in their heydays. Maybe they have a chance at beating the Oklahoma City Thunder, but that's about it.
However, Garnett trades in his NBA title and goes down as the king of Minnesota sports. Garnett wanted to go to a contender in 2007 so he could win a ring. Was it really worth it though, just to win one championship? That's something only Kevin Garnett knows the answer to.
4. What if Garnett follows Doc Rivers to the Clippers?
In a matter of three days back in 2013, the Boston Celtics got rid of both head coach Doc Rivers and Kevin Garnett. Garnett got sent to the Brooklyn Nets while Rivers went to the Los Angeles Clippers. This meant the end of a beautiful relationship. Rivers and Garnett were perfect together. They loved playing for each other. But what if Garnett went with Rivers to the Clippers?
This obviously affects the Celtics since they don't get the lucrative package from the Nets. However, let's focus on how this affects Garnett. With Garnett and Chris Paul, the Clippers would have a pretty darn good team. Add in Blake Griffin and you have a mighty good Big Three. This likely leads to DeAndre Jordan being traded for salary cap space.
Do the Clippers end up winning a title with Rivers and Garnett? Certainly possible. A frontcourt featuring Garnett and Griffin might be enough to squeak past the San Antonio Spurs. So an NBA Finals appearance is plausible. But do they beat the Miami Heat? They would make it close, but they still wouldn't have anyone to stop LeBron James. So probably not.
Kevin Garnett would get more points and rebounds playing for a team that actually cared about winning. He would also spend more time with a coach that perhaps utilized him better than anyone else. Maybe his legacy is a bit better with more points and rebounds.
3. What if Garnett enters 1996 NBA Draft?
Kevin Garnett was the crown jewel of the 1995 NBA Draft in hindsight. But he was the fifth overall pick in the draft. Perhaps his draft stock improves if he goes to college for a year and enters the 1996 NBA Draft.
Looking at the 1996 NBA Draft, there's no way Garnett beats out Allen Iverson for the first overall pick. Iverson was a monster in college, and let's be real, seeing Iverson in anything other than a 76ers uniform is just wrong.
However, the Toronto Raptors would likely take him with the second overall pick.
This makes things a bit interesting. Toronto gets a franchise superstar and perennial NBA MVP candidate in just their second year of existence. This probably helps basketball grow much more quickly in Canada.
For Garnett, his legacy might be even stronger. He is known as the man who made basketball cool in Minnesota. But just imagine his legacy if he's known as the guy who made it cool in Canada. The Raptors are probably a dominant team with Vince Carter and Garnett. Maybe both Garnett and Carter benefit from having each other.
Considering how weak the Eastern Conference was in the early 2000's, maybe the Raptors even make an NBA Finals appearance or two.
2. What if the Warriors drafted Garnett in 1995?
The Golden State Warriors won their third NBA title in 2015 after beating the Cleveland Cavaliers. However, maybe they didn't have to wait that long.
In 1995, the Warriors held the first overall pick. They went with the safe pick, Joe Smith from Maryland. Smith was the National Player of The Year, so it's not like they drafted a scrub. But compare Smith's career to Kevin Garnett's. Which one would you rather have in hindsight? Easy. Garnett.
Golden State went through a playoff drought from 1994 to 2007. They likely don't go through that drought with Garnett. KG immediately made the Timberwolves a relevant team and would likely have done the same for the Warriors. While it's not the Lakers or the Clippers, perhaps Garnett gets the Warriors some attention in the state of California.
In the end, Garnett going to the Warriors probably doesn't change too much. Perhaps he asks for a trade earlier. But if he sticks it out until 2007, he's in the same spot that he was when he left the Timberwolves. Perhaps he never gets traded to the Celtics because a huge reason why Garnett went to the Celtics was because of the friendship between Glen Taylor and Danny Ainge. So his career is probably worse off with the Warriors than the Timberwolves.
1. What if the Timberwolves traded him to the Lakers?
It would be really weird seeing Kevin Garnett in a Los Angeles Lakers uniform after seeing the Celtics and Lakers duke it out in two NBA Finals. But it almost happened back in 2007, according to the oral history of his career.
The Lakers offered a package built around multi-skilled forward Lamar Odom and 19-year-old center Andrew Bynum, a promising second-year player who would eventually become an All-Star. Odom had a history of flaky behavior, however, and Bynum was unproven.
Minnesota eventually accepted the Celtics' offer, which wasn't as strong as the Lakers' offer. The NBA landscape and Garnett's career would be quite different had he been traded to the Lakers.
Back in 2007, Andrew Bynum was still a promising player. He is known today as a complete bust, showing general managers the danger in overvaluing your players. With Garnett, the Lakers would have a strong core of Kobe Bryant and Garnett.
However, they probably don't pull off the Pau Gasol trade. Consider that to be a wash since Garnett was a monster until he got old. But the Lakers still potentially wind up with a Gasol since they drafted Marc Gasol in the 2008 NBA Draft. That's one ridiculous frontcourt.
If Garnett goes to the Lakers instead of the Celtics, he wins numerous titles. It's not likely a Garnett and Bryant duo lasts long, but they would accomplish quite a bit in a short period of time.
This article originally appeared on