4 Tips For Enjoying A Phoenix Suns Game At Talking Stick Resort Arena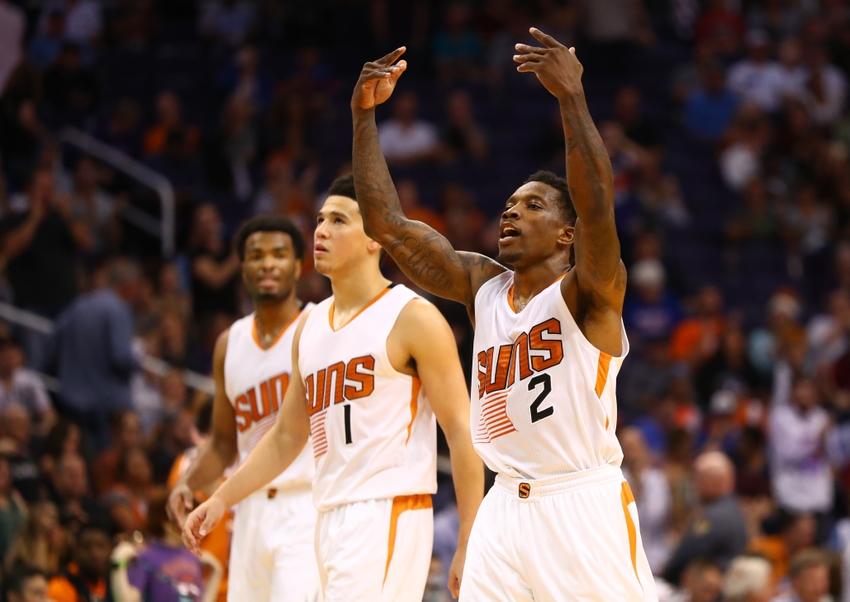 Heading out to Talking Stick Resort Arena for a Phoenix Suns game? We've got four tips for you to ensure your night out is a success.
Professional basketball games are almost always an enjoyable experience, regardless of the city you're in. Here in Phoenix, the usual "winter" aspect of the NBA season doesn't exist — making it all the more enjoyable.
Bring The Kids
Going to a Phoenix Suns game is a sharp contrast to going to an Arizona Cardinals game. NFL games are littered with loud, belligerent fans screaming their fair share of obscenities. NBA games are nothing of the sort, as you still get the roar of the crowd and the excitement of professional sports without having to put proverbial earmuffs on your children. The in-game entertainment is family-friendly and it's not so crowded on the concourses that you'll worry about losing your kids.
Eat First
Talking Stick Resort Arena has a handful of dining choices inside the arena, but prices are too high and the quality of food is standard for an arena. Luckily, the arena is surrounded by many restaurants, from Alice Cooperstown to Hard Rock Cafe to the Arrogant Butcher. Get to the arena a couple hours early and walk over to any of these restaurants. You can save room for dessert and get it at the arena, though — head over to Fractured Prune Doughnut and create your own doughnut.
Find The Gorilla
Whether The Gorilla is using the t-shirt gatling gun or revving up the crowd on his signature motorcycle, The Gorilla is one of the best mascots in all of sports. You'll see special acrobatic performances, humorous skits and The Gorilla's energetic act is great fun for everyone. For a special treat, head out to a game on The Gorilla's birthday and you'll get to enjoy many of his mascot friends from around Arizona and beyond.
Use The Light Rail
While parking is plentiful, both in garages and uncovered, the prices aren't worth it and the traffic bottlenecks heading in and out of the arena are no fun for anyone. Phoenix has recently expanded their light rail system, so unless you're out in the West Valley, it's easy to use the park and ride to avoid traffic and exorbitant parking garage fees. As a bonus, if you've had an adult beverage, it gives you more time to ensure you're completely safe to get behind the wheel. Check out the light rail map here.
Win or lose, these four tips will help you enjoy your night at the Phoenix Suns game even more.
This article originally appeared on