4 Potential Landing Spots for Jahlil Okafor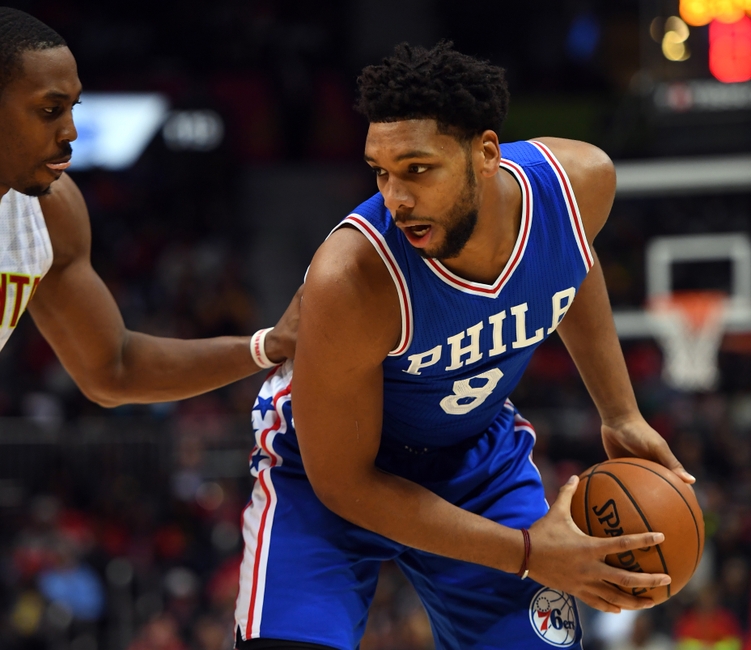 With all the trade rumors being directed at center Nerlens Noel, there is still the possibility that Philadelphia 76ers center Jahlil Okafor will be traded.
For the longest time, the Philadelphia 76ers organization has been struggling with the extensive logjam they have at the center position. The team has had a philosophy of drafting the best talent available over the past few years. In a strange turn of events, the best players were centers. Maybe it would make sense to move a guy like Jahlil Okafor.
Don't get me wrong, the center position is an extremely valuable position in this league. For the past few seasons, it almost felt like the center was a dying breed. That spot was lacking production. The Sixers are fortunate enough to have three potential starters (Nerlens Noel, Joel Embiid, and Jahlil Okafor) at that spot.
However, if you're coach Brett Brown, you know that you don't have enough minutes for all three of these guys. Sure you might be able to play two of them at the same time, but unfortunately their games don't compliment one another. At least one of them is going to have to get moved.
Embiid is the least likely to get moved, as he has shown signs of being the team's cornerstone piece. This leaves us to debate between Noel and Okafor. Noel is the most likely to get move due to the fact that his contract is up at the end of the season. Now, he is a restricted free agent, but he would get a pretty hefty contract considering his youth and defensive ability. But, what if the Sixers wanted to keep him around? This leaves us with one other option — trade Jahlil Okafor.
To me, Jah is most likely safe because he hasn't shown any signs of wanting out. On top of that, his rookie deal is still good until 2019. Although most believe that Jah is a defensive liability, he still has value on the offensive end. He's crafty with the ball and has killer moves in the post. Back at Duke he showed flashes of being a good facilitator as well. Maybe in a different setting he can let those skills shine.
So, let's say the Sixers decide they want to move Okafor. Who would bite, and for how much? Here are four of the most likely trade destinations for Big Jah.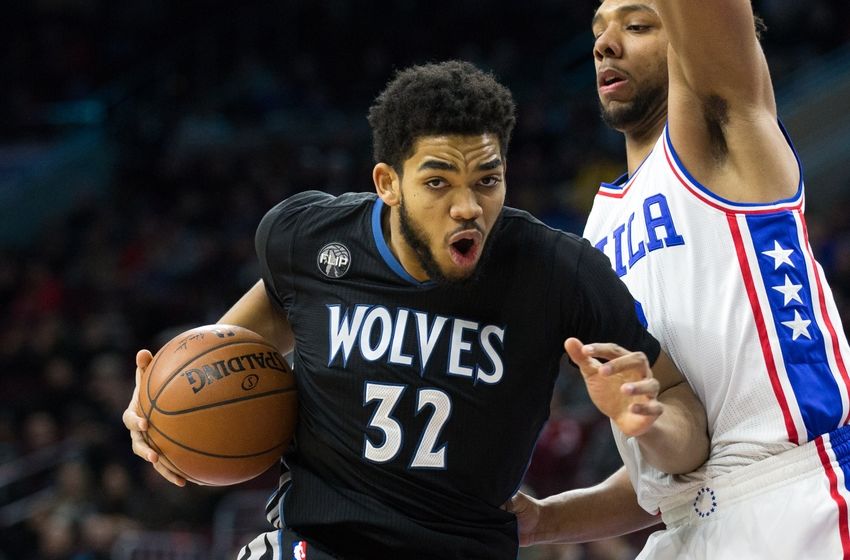 Background
The Minnesota Timberwolves are an interesting team to look at as a destination for Jahlil Okafor. They're a team that is very heavy on guards, but lacks a real answer at the power forward position. Now, I understand that Jah's traditional position is the center spot. With that said, he might not have to move to another position if he ends up in the Twin Cities.
Obviously, the Wolves have their answer at the center for years to come with former Kentucky Wildcat Karl-Anthony Towns. Towns is looking like one of the most versatile players in the NBA at the five in a long time. He possesses the ability to stretch the floor with his three ball, while also being able to take in inside with authority. He's the swiss army knife of big men. This could work to Jah's benefit.
Last season, coach Brown experimented with the possibility of playing both Okafor and Noel together at the same time. For most of the year, Nerlens played power forward Jahlil played center. This combination failed, as the duo was never on the same page and their skillsets didn't compliment one another's. Brown then tried flipping it, which helped Noel but hurt Okafor. Their combination posted a poor -0.06 efficient field goal percentage (per 100 possessions). So it could be said that this pairing just isn't going to last.
Now, back to Minnesota. Towns proved last season that he could carry a front court with ease. When paired with front court guys like Kevin Garnett and Gorgui Dieng, Towns' efficient field goal percentage (per 100 possessions) was positive (+0.012 with Garnett and +0.005 with Dieng). Towns' all-around play could work to the benefit of Okafor. KAT could hide some Jah's defensive shortcomings and help highlight his offensive strengths.
Price
Now, how pretty of a penny would this cost the Wolves? As I mentioned earlier, the T-Wolves are guard-heavy. This is riddled with guys like Ricky Rubio, Kris Dunn and Tyus Jones. A guy to look out for here would be Tyus Jones, who has not received a lot of love up north with their own logjam at point guard. If the Sixers wanted to deal for a guy like Jones, now would be the time to act.
Ricky Rubio could be available, too. The Wolves drafted Kris Dunn in the 2016 NBA Draft, so he might be sticking around. Rubio is one of the longest tenured Wolves currently on their roster. His contract is relatively manageable, but it would make sense for Minnesota to want to deal him and get that deal off the books. He's under contract until the end of the 2018-2019 season.
So here, I could see the Sixers do one of two things:
Jahlil Okafor for Ricky Rubio straight up, or
Tyus Jones, protected 1st of some kind for Jahlil Okafor
Either way, both sides come out of this with a hold filled somewhere. Maybe this would help build that front court in Minnesota. For Philly, this would help establish legitimacy to the backcourt. Regardless, both sides end up with real improvements in areas where they were both lacking in. Now, let's take a look at another potential trade partner up north.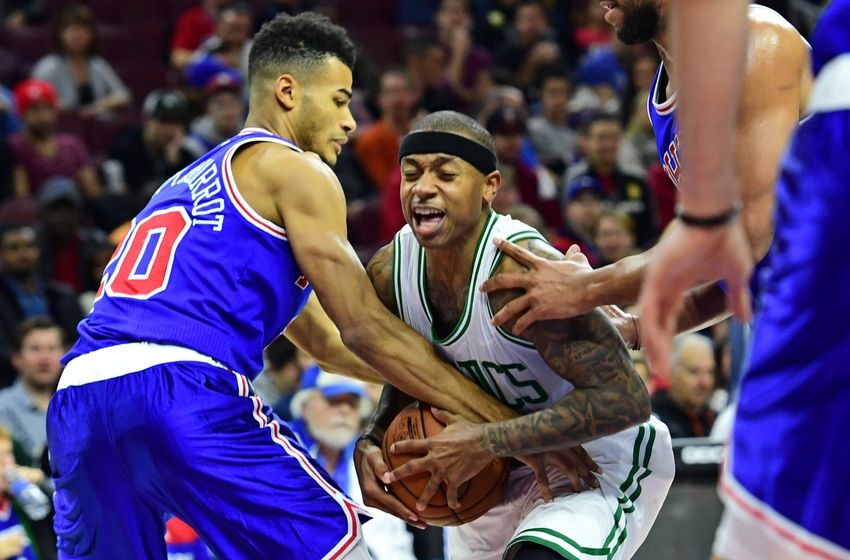 Background
Yes, Boston has been involved in the Sixers' big men rumors for what feels like decades. The Celtics are a team that every rumor mill seems to link back to when trades are on the rise. This team is always on the hunt for a key contributor on the market. Jah could be that guy.
The C's addressed their issues at the center position with the signing of Al Horford last offseason. That doesn't mean that they couldn't use a guy like Jahlil Okafor on their roster. The rest of their front court is riddled with average, mid-level guys like Kelly Olynyk, Tyler Zeller, and Amir Johnson. Don't get me wrong, these guys can hold their own in the league, but they don't have that starter quality that you want in a big.
Jah would be a guy who brings offensive efficiency tied with the ability to pass out of double teams and getting it to the open man. Okafor struggles when he doesn't get the ball, but maybe his ability to distribute will finally flourish. He would benefit from not having to be the number one option.
Bringing Jah in would allow the Celtics to move Al Horford back to his natural position at the power forward. Al's at his best when he's not asked to deal with 5's. Horford has the ability to stretch the floor, even though he doesn't depend so heavily on it. This season Horford's shooting 62.5 percent from beyond 16 feet. He can hit those shots. A guy like Jahlil might be able to open that shot up for him.
Price
Like Minnesota, Boston is a team that is riddled with guards. I don't think they would be interested in moving guys like Isaiah Thomas or Avery Bradley, who are the backbones of the backcourt. It would be much more viable for the Sixers to look at the Celtics youth. The Celtics do have some promising guys on their bench: Terry Rozier and Jaylen Brown.
Terry Rozier has the potential to be a legitimate shooting point guard in this league. At 39.5 percent from the 3, T-Roz is showing signs of evolving into the real deal from long range. He's almost at the highly coveted 40 percent club.
Jaylen Brown is another guy that the Sixers should have an eye on. Taken 3rd overall in the 2016 NBA draft, JB is a high ceiling- high floor kind of player. He's got the athleticism to hang with the best of them. His game is predicated on get the ball inside, which hinders his passing ability. It's also worth noting that he can't seem to break the rotation much this year, backing up Jae Crowder, who can hold his own out there.
Let's not forget about that Brooklyn Nets pick. The C's don't seem to want to hold onto that pick, as it is merely a bargaining chip for them. The Sixers could always use the extra talent that comes from a draft pick like this one, especially with the chance to chance after a guy like Markelle Fultz or Lonzo Ball. This could be in play for a guy like Jah.
If I were Bryan Colangelo, I'd to try and pull off one of the following moves:
Jahlil Okafor for Jaylen Brown and the Nets Pick (2017)
Jahlil Okafor and T.J. McConnell for Jaylen Brown and Terry Rozier
Jahlil Okafor and T.J. McConnell for Jaylen Brown, Terry Rozier, and the Brooklyn Nets 1st Round Pick (2017) (Boston)
It might seem like Celtics are giving up a lot, but in reality they're not. Jah fills a need for a legit center that, even with Al Horford in the mix, the C's still don't have. The Sixers bring in guys who can run the floor and can create shots. With Ben Simmons coming back soon, this is much needed. The Sixers become an even more athletic team with more floor spacing opportunities as a result. Next, let's look at a trade partner down south that might be viable.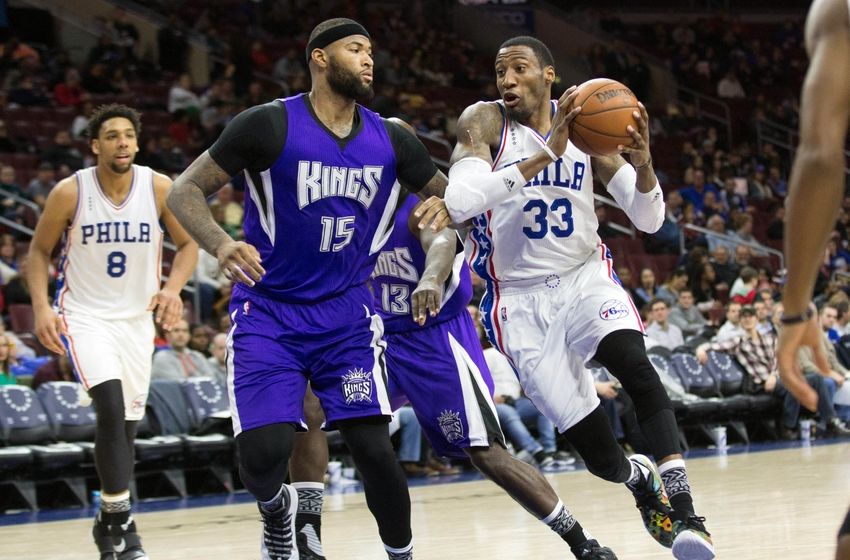 Background
Now, you're probably wondering: "Why would the Sacramento Kings trade for Jahlil Okafor if they already have DeMarcus Cousins?". Yes, that's a fair question. Boogie is lightyears ahead of anyone the Sixers has on the roster right now. He's a top-ten talent in this league.
It's less about whether or not Boogie is the best center in the league, and more about what the Kings can get for him in return. Obviously, Cousins has had his discontent with the way the Kings have been run as an organization. I hate using this phrase, but the Kings have been prone to having a "losing culture".
The Kings haven't made the playoffs once since drafting Boogie back in 2010. Still, he's been an absolute monster. Cousins is currently average a double-double, with 29.1 points per game coupled with 10.5 rebounds per game. The guy is putting in work. The rest of the team, however, has underperformed.
If the Kings want to make any return on Boogie before his contract ends at the end of the 2017-2018 season. He'll be an unrestricted free agent, and be able to sign anywhere without the threat of Sacramento matching the offer. The Kings need to trade him, and the Sixers can help.
Price
A team like the Philadelphia 76ers is the perfect trade partner for Kings. No, I am not saying that the Sixers are trading for DeMarcus Cousins. However, they can help facilitate such a trade.
Remember the Boston Celtics? Yes, they would most definitely be interested in acquiring one of the best centers in the league. The Sixers wouldn't be interest because they have their franchise piece: Joel Embiid. Boston needs that piece to truly elevate into title contention,
Boston is going to have to give up a good amount in order to pull this off. It's going to have to be a Kevin Garnett-esque trade all over again. This time, however, more pieces will be involved.
As I mentioned in the Boston slide, the C's have a plethora of young talent that teams like the Sixers and the Kings should be fawning over. A guy like Jaylen Brown would be highly coveted here, as the Sixers are still in need of that true athletic wing. The Kings could benefit from filling the hole that Boogie leaves with Jahlil Okafor.
Here's how the trade would look:
***3 TEAM TRADE ALERT***:
SAC: Jonas Jerebko (BOS), Jahlil Okafor (PHI) & Timothe Luwawu-Cabarrot (PHI)
BOS: DeMarcus Cousins (SAC)
PHI: Jaylen Brown (BOS), Kelly Olynyk (BOS), Malachi Richardson (SAC),  Brooklyn Nets 1st Round Pick (2017) (BOS)
I'd hate to sound like a complete basketball Twitter retread, but who says no? All three sides benefit here. The Celtics get their franchise piece to pair with Isaiah Thomas, Avery Bradley, and Jae Crowder. The Kings set up their front court of the future with Jahlil Okafor and Willie Cauley-Stein. The Sixers finally solve the logjam at center while also getting a viable wing and a potential top 5 draft pick. It's a win-win-win. There's one more potential destination that I can see Jah going to.
Background
The New Orleans Pelicans have been surprisingly bad this season. The team is currently the one of the worst teams in the Western Conference at 7-14. When you have Anthony Davis on your team, you shouldn't be this bad.
The problem has not been Davis, but the talent around him. Outside of Jrue Holiday and Tyreke Evans, the talent on the Pelicans is very limited. For most of the season, The Brow has had to carry the workload with 50 point games and just all around dominant play. You can't do it all on your own and expect to sustain it. The other talent needs to step up.
This is where Jahlil Okafor can come in. Okafor himself fits best when he's covering the opposing team's center. He's just not quick enough to cover face fours in this league. Lucky for him, he wouldn't have to with the Pelicans.
If you pair anybody with Anthony Davis, the possibilities are endless. Davis is a swiss army knife on both sides of the court. His offensive game is versatile and he can defend with the best of them. This could help Okafor, similar to the way that KAT could help Jah in Minnesota. Davis is capable of dominant play all around, which could help hide some of Okafor's shortcomings.
Okafor could help the Pelicans by provide is crafty ball handling and post game. It is important that Jah tries to play to his strengths if he's paired with a guy like Anthony Davis. Davis can carry a team so far. It would be up to Okafor to be that second or third option on a team like the Pelicans.
Price
This deal wouldn't take much to get done. I think a guy like Buddy Hield would be sufficient in such a deal. The two-time Big 12 Player of the Year would be a great fit for the Sixers. He's a guy who can hit his shots when hot. With the lack of valiant guard play on the team, the Sixers could use a guy like Buddy Hield to help bolster that backcourt.
Hield is most likely a very attainable guy, even though he was just drafted this offseason. The Sixers could offer up an immediate solution for the holes in the front court in Jah. Okafor can play either the four or the five. With a guy like Anthony Davis on the team it really doesn't matter who plays what position. He's that good.
The deal would be pretty straightforward:
NO: Jahlil Okafor (PHI) for PHI: Buddy Hield (NO) & PHI 2017 2nd Round Pick
Essentially, this deal would solve three problems for both sides. First off, the Pelicans would be able to finally have a viable front court. The idea here is that Anthony Davis could get some help and have to load lightened ever so slightly. Second, Hield provides the Sixers with a potential sharpshooter, which you could never have enough of. He isn't the best on defense, but guards can get away with that a little more than centers can. Third, the Sixers get their second round pick back that they lost in the Ish Smith trade last season. Regardless, this trade is fair for both sides.
Hopefully, the Sixers can figure out what they want to do with this logjam at center. There is always a need for a big man with the post game of Jah's. Critics say that Jah's defensive woes hurt him. They do. But you can't deny that his passing and his offense is enough to give him value. General Manager Bryan Colangelo has an interesting situation here. Here's to the potential that he pulls of the best possible deal for the Philadelphia 76ers.
This article originally appeared on