4 Players Who Have Done Well Among Embiid's Hype
Joel Embiid has been a shining star, but there are other players who are doing great for the Philadelphia 76ers this season.
Joel Embiid has truly been a shining star for the Philadelphia 76ers this season. While the team has debuted a bunch of solid lottery-pick rookies over the past few seasons, none of them have been quite as captivating as far as how well they play as Embiid in the few games he's played so far.
Embiid's play, to sum it up, has been amazing. I'll admit that coming into the season, I was skeptical of whether or not Embiid would be able to live up to the hype that was surrounding him, especially in the first season. With two years off, it seemed like there was a lot of potential rust that would have to be taken off before he was ready to go. He has proven that his time off did him well, as the basics and fundamentals are down solid.
Let's not forget, too, that the muscle he put on in between being drafted and the beginning of this season is impressive as well.
Embiid can dominate the paint on offense, handle the ball and run the court like a guard when he needs to, and even hit 3-pointers as a player who is closing in on 7-3. Not bad, especially for a first year player. And on defense, he's just as dominant, swatting seemingly everything that comes his way, and switching with intelligence.
While Embiid's play has been solid, he hasn't been the only positive aspect of the Sixers this season. Many other players are quietly doing really good things, and they aren't getting a ton of recognition, simply because Embiid is so hyped up both by people who pay attention to the Sixers, and people outside of the organization.
It's time for them to get some of the credit they deserve.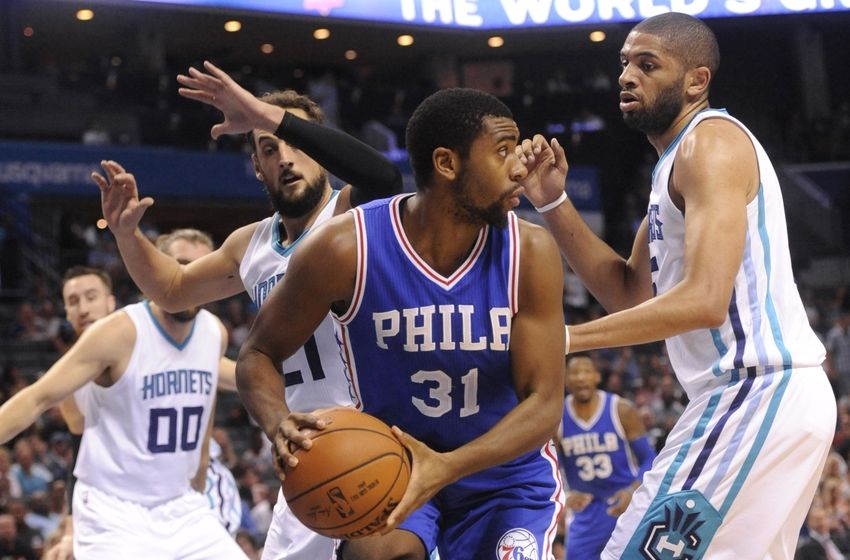 Hollis Thompson
Hollis Thompson may surprise some fans to see on this list, but his performance so far this year has been really solid in the time that he has been given. Thompson is, to no one's surprise, a player who is deep on the bench, but nonetheless, he has made the most of his opportunities when coach Brown does put him on the floor.
When one sees Thompson's mere 7.7 points, 3.4 rebounds, and 0.9 assists per game, it doesn't quite seem like he's a player worth saying he's been effective. But his per 36 minute stats tell a different story. Per 36 minutes, he's averaging 13.8 points, 6.1 rebounds, and 1.6 assists per game. Not too shabby for a deep bench player, and all of those are career highs or near career highs for Thompson's career.
By no means is Thompson going to be a player that will impact games to the point where he can take a game winning shot, but things he does throughout games certainly are impactful.
The eye test shows us just how good Thompson is, and just how much he's changed. While, in previous years, Thompson has been a one-tool player on offense, most often going down to the corner of the court and standing there, he's shown us more motion and more to get excited about as far as being a player who has opportunity in the half-court.
In the last two seasons with the Sixers, Thompson took less than 20 percent of his shots from 0-3 feet from the rim, but this year, he's attacking a bit more, with him currently taking above 30 percent of his shots from that range. He's also cut his shooting down from beyond the arc. Last year he was shooting nearly 60 percent of his shots from the 3-point zone. This year it's hovering right around 45 percent.
Per 100 possessions, Thompson has an offensive rating of 113. His field goal percentage is above 46 percent so far this year, almost 7 percent higher than last year. This is likely attributed to the increased amount of shots close to the rim. His shot has been pretty fine-tuned, as a whole, though, as he's shooting 20 percent higher from beyond the arc so far this year, so his better shot percentage is not solely because he's attacking the rim.
The one troubling thing that Thompson has done this year is be at 5.3 percent in turnover percentage, which is bad enough to be fourth overall in the league in turnover percentage.
Nik Stauskas
Nik Stauskas has been a player that fans have had a lot of fun watching for the first time in his career this season. From the very first games of the year, Stauskas looked more comfortable on the floor, and genuinely looked like he was having fun. It really looks like it probably is his first time having fun in the NBA.
More from The Sixer Sense
It's unclear what clicked for Stauskas in between last season and this one. He did hire a sports psychologist this summer, and did take time off and declined an invitation to join Team Canada in the Olympics to work on his game. While some people point to one of those things being the reasoning for why he's doing so well, it's likely a combination of the two.
One thing we do know — he looks great. He started this season getting some confidence attacking the rim. Stauskas, at first glance, does not look like the type of player who can drive the baseline with the ball and throw down a powerful dunk, but he was able to do that quite a few times in the first games of the season.
Following that, Stauskas started doing what he did best during his college days, shooting. He was able to hit some huge 3-pointers with tight coverage, and that helped his confidence even more.
Stauskas' true shooting percentage, which takes into account his shooting from all over the floor, as well as the point value of the shots (including free-throws) is nearly at 70 percent. Beyond 24 feet, he shoots above 45 percent.
Even when Nik is heavily defender, he is shooting well. With a defender within two feet of Stauskas, he's shooting 67 percent from the field. In fact, Stauskas kind of strives on that competition, with that type of defense being his best shooting scenario.
What we're seeing with Sauce Castillo is that his issues early in his career were never that the skills weren't there. It was that Nik didn't have the confidence at the NBA level to bring out his skills in real game situations.
Gerald Henderson
Gerald Henderson was one of the veteran signings made by Bryan Colangelo and the Sixers this offseason. It didn't seem like it was going to be a signing that shook the world, and in all reality, it has not. Coming into this season, though, it didn't even seem like it was going to be one of the big signings for the Sixers when things were all said and done.
That "big signing" label was reserved for Jerryd Bayless, the other big-name veteran Colangelo brought in. With Bayless missing several games to start the year, and having only played in a few games before having to be sidelined again, Henderson has become the main spectacle when it comes to established NBA veteran signings tearing things up so far for the Sixers.
Henderson might not be looked at as one of the critical players on the Sixers roster, but he absolutely has been impactful. In the first few games of the season, Henderson was placed into the offense as a player who was creating his own shots, but that wasn't working well for him. After that, though, Henderson was shifted into a role that allowed him to move off of the ball and curl around screens to get passes. That has worked much better for him.
This year, Henderson is averaging 10.4 points, 2.8 rebounds, and 1.5 assists. He's shooting 47.9 percent from the field and 37.1 percent from beyond the arc.
What's even more important than his stats, however, is that Henderson is in his eighth year as a player, and he has a strong veteran voice and influence on these younger players. They look up to Henderson and his knowledge of the NBA, and the fact that he is playing pretty well only makes him more admirable to the players.
Dario Saric
Dario Saric is quite possibly the greatest victim of being overlooked because of Joel Embiid, but this would be the same for Dario Saric even if he were on another team. You see, Saric would be making a strong case for Rookie of the Year if it weren't Embiid. It's still far too early to make any clear-cut determinations about any post-season awards, but Saric is ranked second on most rookie ladders, right behind his teammate Joel.
So far this year, Saric is averaging 9.2 points, 6.1 rebounds, and 1.9 assists per game. He's shooting 38.3 percent from the field, and has quietly been very successful from beyond the arc, hitting 40.4 percent of his attempted shots.
In the first few games of the season, many fans — Sixers and non-Sixers fans alike — were frustrated with the minimal output Saric was producing. His transition from European basketball to the NBA was clearly not going too well for him, but he quickly got over this hump.
One of the biggest things Saric admitted he had trouble with was the location of the 3-oint line. Since the European 3-point line is a bit closer to the rim than the NBA one, it was tough for Saric. Not only does he have to focus on taking longer shots, but his positioning on the floor has to be a little bit different in the NBA.
One thing I still would love to see develop for Saric is the passing. We saw him take a huge focus on the passing portion of his game in his final year in Europe, so if he could make that a bigger part of his NBA game, it would be incredible, especially alongside players like Sergio Rodriguez and Ben Simmons.
Regardless, Saric is having a pretty good year, and it's just a bit unfortunate that he's playing under a massive shadow cast by Embiid's incredible play. He's not appreciated as much as he should be.
This article originally appeared on