3 Thoughts On The 2016-17 Dallas Mavericks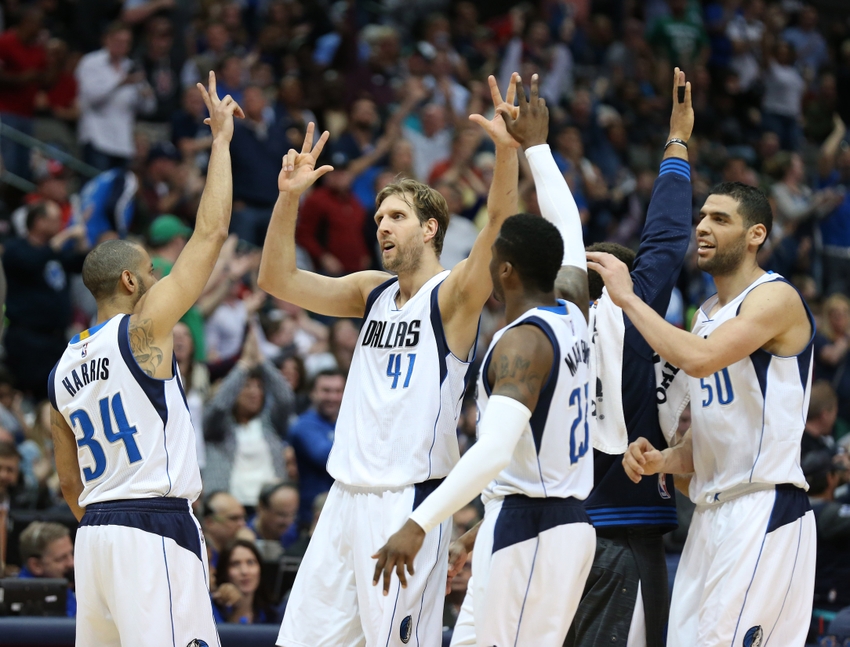 With the NBA season getting close, it's time to take a look at what to expect from the teams around the league. Here are three thoughts about the 2016-17 Dallas Mavericks.
The Dallas Mavericks remain fortunate to have Dirk Nowitzki. Long before European players in the NBA were common, Nowitzki was one of the first. For years, guys like Steve Nash and Michael Finley formed a deadly core of players around him that made Dallas an offensive powerhouse.
Still, it wasn't until 2011 that the Mavs brought home a title. It was the peak of Dallas Mavericks basketball, but the following years have been a mixed bag. Gambles to draw big name free agents haven't panned out, and Nowitzki's had to battle Father Time like every other athlete in the game. Here are three concerns heading into the 2016-17 season.
Lost Time
Dirk Nowitzki is years older. The contemporary greats of his time, guys like Tim Duncan and Kobe Bryant, are retired. The Mavericks are somewhere in-between the Lakers and Spurs, with a talented roster around Dirk but without a clear leader to step in and take control of the team.
The Chandler Parsons trade didn't pan out. Rajon Rondo didn't make a good match for the team. The Mavs famously missed out on both Dwight Howard and Chris Paul after stashing money away for them, and DeAndre Jordan's failure to live up to his commitment to join the team had fans up in arms.
Those are some of only a few of the failed forays into free agency. That's not necessarily the team's fault, but it leaves them with an aging superstar now faced with a wave of new faces joining the squad.
On the Other Hand
After 2011, it was understandable that the Mavs would try and hit it big in free agency. Dirk was getting older, and the team wanted to get the personnel around him as quickly as possible to get back into title contention.
Five years later, and maybe it was time to embrace the youth movement. While Seth Curry, Quincy Acy, and Dwight Powell aren't going to replace Dirk, they give the team players to start building on.
It's Still Dirk's Team
For better or worse, the best player on the Dallas Mavericks remains Dirk Nowitzki. At 38, it's hard to tell how that's going to play out. To return to Bryant and Duncan once again, age definitely took its toll.
Kobe endured steadily declining production, and it wasn't uncommon to see him wrapped like a mummy along the sideline. Duncan's end came quickly after he injured his one remaining good knee. Hobbled unlike at any other point in his career, Tim finally walked away from the game.
Dirk once again needs to be the central offensive focus at an age when that's hard to do. He benefits from being a big man who excels with his outside shot, but he once again has to shoulder the same responsibilities of a decade ago.
Who can pick up the slack when Dirk is feeling the wear of his body and age? Harrison Barnes has never shown himself to be a guy who can carry a team. Andrew Bogut is a defensive, rebounding big. J.J. Barea and Harrison Barnes played their best basketball years ago and are closer to retirement than not.
The truth is that, without Dirk, this isn't a great team. Then again, superstars make bad teams into good ones. They elevate a team, make good players look great, and generally lift the performance of everyone around him. Still, those other players need to step up if the Mavs want to contend.
Can guys like Barnes, Curry, and Anderson take a leap in performance? They'll need to if the Mavs want to make a deep playoff run.
More from Hoops Habit
This article originally appeared on