3 Thoughts On The 2016-17 Brooklyn Nets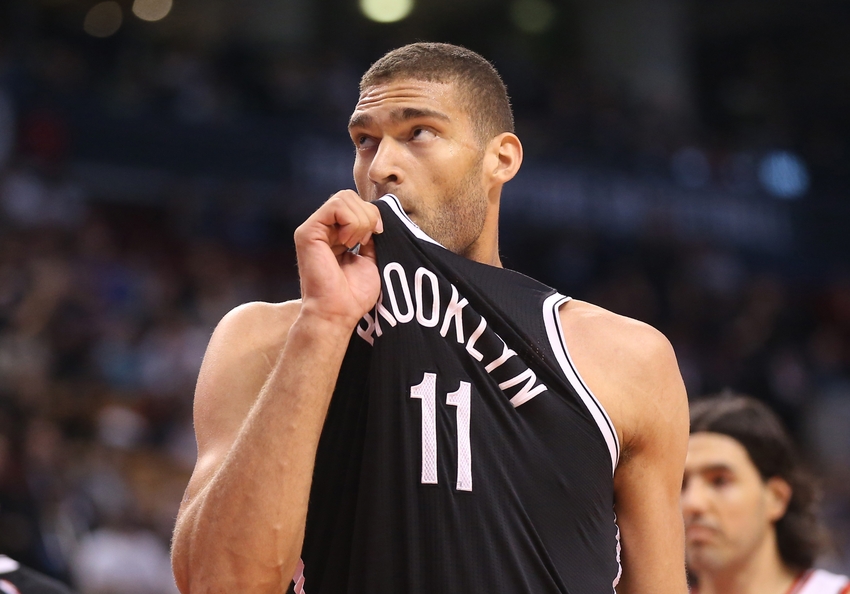 With the NBA season getting close, it's time to take a look at what to expect from the teams around the league. Here are three thoughts about the 2016-17 Brooklyn Nets.
The move to Brooklyn for the Brooklyn Nets was a massive deal when it happened, with Jay-Z forming a part of the ownership and names like Kevin Garnett and Paul Pierce becoming a part of the team in 2013.
Since then, the years have not brought the success ownership hoped for. The team's first year in Brooklyn was its best, but they've struggled to win ever since.
While performing decently in the east, they've never been serious title contenders, and 2015-16 saw the team win only 21 games and miss the playoffs. What's ahead following such a discouraging year? Here are three concerns heading into the 2016-17 season.
Was It Really Prokhorov's Fault?
Owner Mikhail Prokhorov famously promised an NBA Championship within five years of buying the team. How much of an effect this promise had is debatable, but the Nets gave up multiple draft picks to pick up aging veterans like Garnett, Pierce, Joe Johnson, and the perennially underperforming Deron Williams.
Since then, the Brooklyn Nets have had only one playoff round win in six years. The aging names they traded for are gone. Now, it looks like trying to win big in the short term hurt the team in the long term. Due to giving up their draft picks, the Nets missed out on players like Enes Kanter, Klay Thompson, and Kawhi Leonard.
There's No Star Player
A collection of good players rise to excellence when they surround a superstar player. The Nets don't have one. Jeremy Lin is a decent addition, but he can't carry the team.
The Nets' closest thing to a superstar player is Brook Lopez. He's a guy whose PER for his career is 21 and for 2015-16 ticked up to 21.7. He's in good company, and he compares favorably to guys like Dwight Howard, Tracy McGrady, Pau Gasol, and Kevin Love.
None of those guys were championship-leading guys, though. PER isn't the one stat that you can use to judge a player, but it's an indicator of how good they are. For comparison, Michael Jordan had a career PER of 27.91, with Tim Duncan at 24.29 and Larry Bird 23.50.
Lopez is a great, All-Star level player. He's not quite a superstar, though. At 28, he still has room for growth, but that window's starting to close.
The Team Isn't Designed To Succeed
Following a poor outing in 2015-16, this may be another year in which the Nets continue to pay for trading away their draft picks and try to rebuild when possible. The Celtics have various rights to the Nets' draft picks through 2018, so the team won't be able to find young rookies to bring to Brooklyn.
If Brooklyn can find ways of getting shooters around Lopez, he'll have more space to operate within the paint and pick up his production. They'll need scoring from the shooting guard spot, with rookie players Isaiah Whitehead and Caris LeVert filling in.
Lin and Lopez won't strike the sort of fear that Kobe Bryant and Shaquille O'Neal did, but they have to find ways to space the floor so that the team's younger players have open looks.
Bonus Thoughts
The team may not win many more games than they did last year, and it probably hurts to think about losing draft picks until 2019, but fans should enjoy the ride. If there are no expectations, then fans might as well just go out to the games and enjoy themselves.
At the end of the day, only one team hoists the Larry O'Brien Trophy every year. The Brooklyn Nets are not going to be that team. Then again, another 28 teams won't be lifting it either. So enjoy 2016-17, Nets fans. There's no pressure, and you never know. Linsanity may strike twice.
This article originally appeared on