3 thoughts about the Warriors after Dallas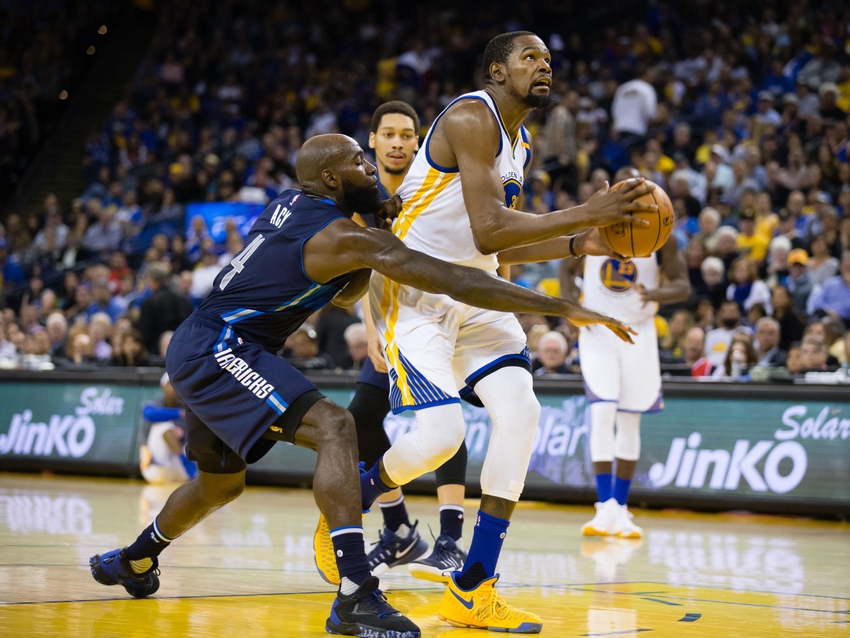 There were some positives and concerns after the Golden State Warriors defeated the Dallas Mavericks on Wednesday night.
The Golden State Warriors continued their winning ways at home over the Dallas Mavericks on Wednesday night. The Mavericks came into the game severely depleted, but still gave it their all and forced the Warriors to work for their win.
After the Warriors went up by as much as 33, the Mavericks managed to cut it down to 13 at one point. It wasn't the easiest of wins and it came at a cost, with Stephen Curry tweaking his ankle. Fortunately, the Warriors were able to hold on and will play Denver on Thursday night. Here are some three thoughts after Dallas.
3. The interior defense still needs work
While the Warriors got some big defensive stops down the stretch, they were giving Dallas what they wanted inside on Wednesday night. The Mavericks had a modest 36 points in the paint, but it was their ability to get plenty of offensive rebounds that was disappointing.
Against a better team the Warriors will and have struggled. It should get better as the team finds their groove as the year goes on, but they will have their hands full in Denver. The Nuggets have two centers they like and the Warriors will have to do their best to try and control the paint.
2. Warriors make history from deep again
The Golden State Warriors continue to make history shooting the ball. After Stephen Curry set the NBA record with 13 three-point field goals on Monday night, his teammates did their part to shoot well from beyond the arc on Wednesday.
The Warriors became the first team in NBA history to have four players all hit four or more three-point field goals in one game. If that isn't an indicator of just how well this team can shoot behind the arc, then nothing is.
It's almost gotten to a point where the Warriors never cease to amaze anyone with what they do. They're chasing down any type of shooting record they can individually and as a team. At this point, it's harder to think of a record they don't have.
With a long season still to go, don't be surprised to see the team or their players climb up the board and make history. It never stops being fun watching this team make history and have fun doing it.
1. Stephen Curry's ankle
If there was one negative to the win on Wednesday night, it was the fact that Stephen Curry tweaked his ankle against his brother, Seth Curry. While Curry was able to come back into the game, he wasn't at his best and it affected his play.
After the game, Curry told reporters that he expects to play against the Nuggets on Thursday night. However, is that the right move at this time to make? With the season still young and plenty of season to go, resting Curry and having him get healthy is a lot more important than chasing an early win that might not mean much as the season rolls on.
This team will have plenty of time to chase down the No. 1 seed and Curry's health should be of the highest importance right now. It helps they got three other superstars on the roster to carry the torch while he rests up.
It will be interesting to see if Steve Kerr lets his MVP play, but it wouldn't be a shock to see him get a night off. Traveling to Denver is always tough on a back-to-back and this is where it's time to carefully examine if it's worth playing him.
This article originally appeared on