3 Takeaways From the Denver Nuggets Win Over Utah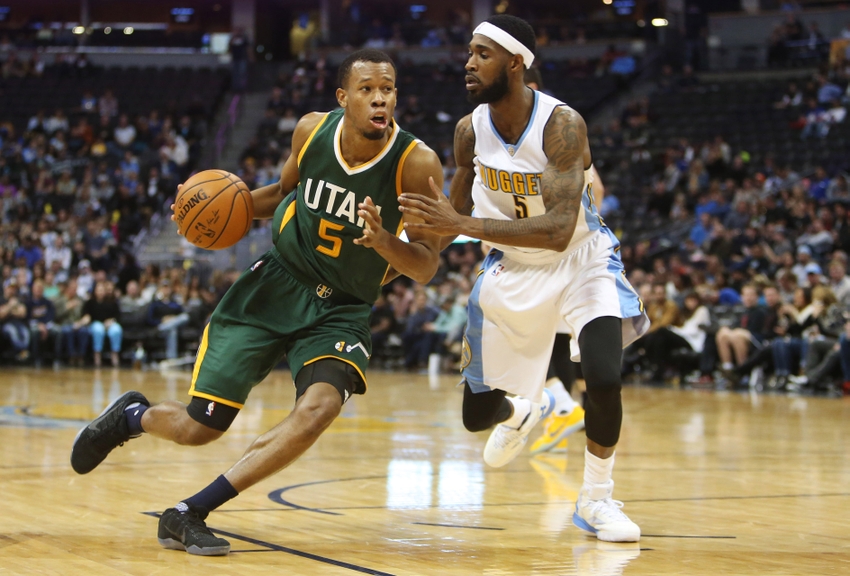 The Denver Nuggets defeated their rival tonight in an impressive home game.
The Denver Nuggets came out swinging against arch rival Utah tonight. They looked very impressive as they were able to hold off the Jazz whenever they went on a run and throughout every part of the game.
They were finally able to live up to their defensive potential holding an opponent under 100 points.
6 different Nuggets players scored in double figures as their attack was well balanced tonight. It was particularly exciting to see Denver's first round pick, Jamal Murray, take control and lead the team's box score in scoring with an 18 point performance.
There are still some kinks to work out, but defeating a rival who has had Denver's number as of late is a huge confidence booster going forward.
Want your voice heard? Join the Nugg Love team!
One thing has been evident so far this season, the Denver Nuggets are not going to go down without a fight, and for the second time all year, Denver was on the winning side of a blowout.
Free throw shooting has to improve
The Nuggets have not shot well from the stripe this season. So many games could have been won by them if they converted more shots at the line.
While the win tonight was nice, they only shot 43% from the line as a team. Even the best free throw shooters on this team have been struggling such as Wilson Chandler, who only shot 50% from the free throw line tonight, and Danilo Gallinari, who only hit about 67% of his free throws.
Even Coach Malone knew their free throw shooting was horrendous.
Malone on missed free throws: "We were like team Shaq tonight ."

— Harrison Wind (@NBAWind) November 21, 2016
There is no telling what Coach Malone stresses in practice, but he needs to start emphasizing free throws otherwise this team will lose many winnable games.
Shooting 5% worse at home than away (72%) from the line is not a recipe for success going forward.
The Jurkic lineup may be a thing of the past
The Jurkic lineup looked promising at the beginning of the season, but teams figured that out quickly.
Faried is doing a decent job of earning his starting job back and the spacing is much better without both Jokic and Nurkic on the floor at once. Jokic was decent tonight shooting 62% from the field which will hopefully spark a fire under the sensation we've been waiting for to erupt all year. Don't look now, but Wilson Chandler may also be playing better because of Jokic's move to the bench.
The Nuggets have looked much better surprisingly since re-inserting Faried back into the starting lineup, which could have been a wakeup call for him when he was asked to come off a bench. Faried, who ripped the media for hating on his play, has been a quality big for Coach Malone.
The Jurkic lineup may be dissipating into a thing of the past, but time will tell if Malone experiments with this lineup again. To be honest, it is good that the Nuggets realized this lineup would not work early on in the season while the games can still be made up.
Is Ill Will developing into the Nuggets first option?
Wilson Chandler has been terrific lately. Tonight marked his third straight game where he was one of the leading scorers and most versatile weapons.
While he didn't get another double-double, he showed the ability to score when needed along with rebounding effectively grabbing 4 boards to go along with a differential of 6. His ability to space the floor while playing with Mudiay and Nurkic has been key. Chandler has easily been one of the Nugget most consistent threats this season, and it is exciting to see him healthy and killing opponents.
While he fits his role off the bench perfectly, Chandler may become the Nuggets go-to scorer soon if he stays this hot and carries this momentum.
This is very plausible especially if Gallinari struggles shooting from the field like he did tonight when he shot only 28%.
Not to jinx anything, but I'm already sensing a potential Sixth Man of the Year in the making.
This article originally appeared on