3 Signs the Sixers Will Trade Jahlil Okafor
Josh Wilson/FanSided via The Sixer Sense

Fansided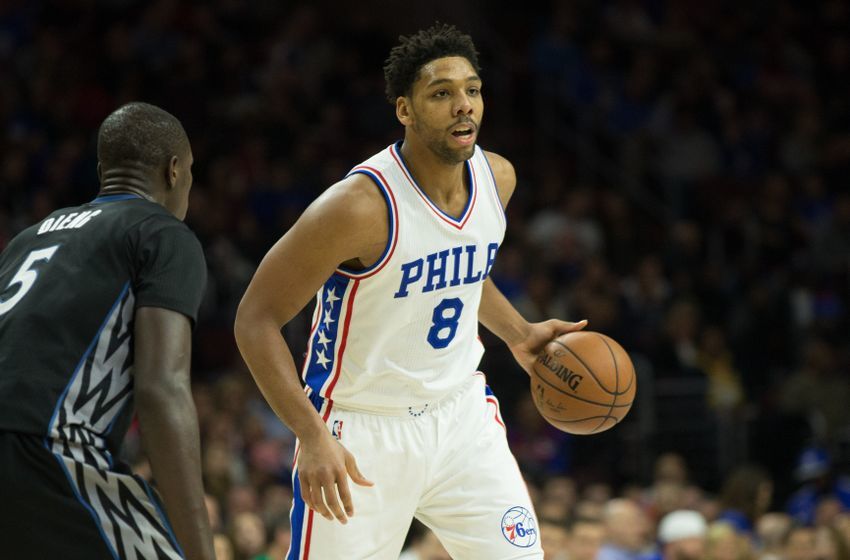 The Philadelphia 76ers need to trade a big man, and as of late, some of the signs are pointing to the team trading Jahlil Okafor.
The big man situation in Philadelphia has gotten messy. The Philadelphia 76ers drafted best player available for several years in a row, and somehow, the best player available was always a big-man center. Because of that, the team now has a logjam in the center position, and is struggling to get things to work the way they want them to.
The team has tried to run different combinations of big men on the floor together, putting their incredible rookie center in Joel Embiid (who just might be an All-Star this year) alongside both Nerlens Noel and Jahlil Okafor. Neither combination was efficient, and both combinations seemed to hurt Embiid's skill set, the last thing the Sixers want to do at this stage in his very young career.
Add on the fact that the Sixers also have a decent bench center in Richaun Holmes, and the logjam is incredibly apparent.
So, what is to be done about the issue? Clearly, the Sixers need to trade a big. Early in this year, it looked as if the Sixers were most likely going to trade Nerlens Noel because he was making comments about the team that were negative, but now, signs may be pointing in another direction, towards trading Okafor.
While some of the signs are a bit subliminal, here are some indicators that the team might be looking to trade Okafor.
They've stopped playing him
The biggest sign that indicates the Philadelphia 76ers are looking to move Okafor is the amount of playing time he has received as of late. In the last 5 games, Okafor has only appeared in two.
Although not playing him is better than playing him for five minutes (because of the impact out would have on his statistical averages), Okafor would obviously like to be out on the court, he said that much in front of the media on Tuesday.
The Sixers have instead decided that the best option is to not play one of their big men on most nights. While some nights it will inevitably be Joel Embiid who doesn't play because of the medical staff not clearing him for back-to-back games, Nerlens Noel and Jahlil Okafor are the two big men that will be sat most often (along with Richaun Holmes, of course).
Noel started the season as the player on the bench, and was very expressive about his displeasure with being a player getting less than 10 minutes per game, and, in some cases, not playing at all. Okafor seems to be handling his recent benching better, at least for now.
While one could look at the recent string of DNPs for Okafor and say that that's because the team is still just experimenting, it's hard to deny that the Noel experiment is going pretty well. With Noel on the court, the team has seemed a bit more cohesive, and since Okafor has gone to the bench, the team has been winning games.
It's not a change that comes from just one player, but the success the team has without Okafor is worth noting. And the team continuing to have him on the bench may be a big sign that Noel is their guy moving forward.
Rumors regarding Noel have stopped
The rumors leading up to this point have largely been surrounding Nerlens Noel. That dates back to even last season, when Joel Embiid was not a definite piece, and Jahlil Okafor was still a rookie that had the excuse of being a first year player. The Sixers were looking at moving Noel for a point guard like Jeff Teague this past offseason.
Although no rumors ever came to become a reality, the ones that used players names explicitly all mentioned Noel.
Now, however, with rumor season officially being open, the Sixers have been quiet, aside from their interest in several D-League point guards — one of which they just signed to a 10-Day contract.
The indication here is not that there's rumors out there about Okafor, it's more so that the rumors regarding Noel have suddenly stopped. It seems as if no rumor has ever directly named Okafor as a trade piece, while Noel was regularly named. But with those rumors coming to a halt all of a sudden, even as trade rumor season really begins to heat up, there's a huge question as to what's going on in the front office.
Have the Sixers stopped shopping Noel? Or are teams just not interested in either of the Sixers big men right now?
Either way, it's a little interesting that no rumors whatsoever have popped up regarding any possible trades with the Sixers big men, despite how urgent a trade seems in Philadelphia.
Noel appears to work better with Embiid
In their first few minutes together, Okafor and Joel Embiid looked decent on the floor. Fans left the game where Okafor and Embiid had first seen the court together in a real NBA situation optimistic for what the pairing could do in the future.
That all changed pretty quickly, as those first few minutes now seem like they were some sort of miracle.
That narrative has switched completely. Okafor and Embiid on the floor together is mediocre at best on the defensive end, destructive at worst, and always clunky as far as fit on the offensive end. Okafor's offensive skills set greatly compromises Embiid's.
The two-man lineup of Jahlil Okafor and Joel Embiid has appeared in 8 games, and is good for an average of 18.8 points in 10.0 minutes per game, which doesn't appear too bad. The 3-point percentage is just above 25 percent between the pair, and since Okafor doesn't take 3-pointers, that's a huge red flag that shows the pairing is hurting Embiid's skill set.
Defensively, this pairing is even worse. In the 10 minutes per game they have been played together, they come up with just 1.1 steals and 1.3 blocks, while fouling the opposition almost four times, more than double their steals and blocks combined. For a duo that has a lot of muscle there is not very strong defense stopping the opposition. The plus-minus of the duo is -4.3.
While Noel has not gotten nearly as much time as Embiid on the floor as Okafor has, he still looks much better on the floor with Embiid. Noel seems to be able to guard some forwards and centers out by the perimeter while Embiid can guard the rim, or vice versa. On offense, the duo is still a bit of a clunky thing, but it's something that may be able to ironed out. Also, if the Sixers moved Okafor, they could just run Noel in the second unit and have great rim protection at all times.
This article originally appeared on