3 Burning Questions for the Indiana Pacers Coaching Staff and Front Office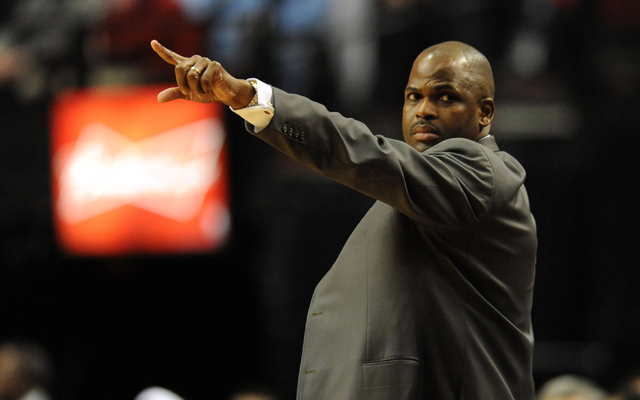 The Indiana Pacers have revamped their roster to get smaller and faster — but will the coaching staff and front office be able to support team's overall plan?
The Indiana Pacers canned Frank Vogel to make room for Nate McMillan. It was an unexpected firing and hiring, with Larry Bird choosing to go with an assistant coach who had been around the team for a few years despite saying the players needed a fresh voice.
McMillan is also an odd choice for a GM who wants his team to play faster. While McMillan has coached many a good offense in this NBA tenure, his style of play has been among the slowest of any head coach this millennium.
More from 8 Points, 9 Seconds
For these and other reasons, there are certainly plenty of questions about the bench as we enter the 2016-17 season.
In the third installment of a three-part series, we'll look at three burning questions for the team's decision makers heading into the new season. Be sure to also read the opening salvo, 3 Burning Questions for the Pacers Bench, and the follow-up 3 Burning Questions for the Pacers Starters.
Can Nate McMillan Coach a Fast-Paced offense?
Larry Bird has told fans, media, small children, cats, inanimate objects, and anyone else who'd listen that the Indiana Pacers need to score more points. He's assembled a roster that needs to run to fully utilize the various skill sets of the personnel involved (outside of Al Jefferson, but that's another story).
In his career as an NBA head coach, Nate McMillan has led very successful, very efficient offensive teams. But his teams have ranked 24th, 27th, 15th, 27th, 28th, 29th, 29th, 30th, 30th, and 30th in pace.
Jeff Teague, Monta Ellis, Paul George, Thad Young, Aaron Brooks, and Rodney Stuckey are all at their best playing with pace and getting runs at the basket. McMillan has been a good coach in the NBA, and has an impressive offensive acumen, but the pieces on this team are very, very different from what he's had in the past. I
t comes with a bit of deja-vu from last year, as Frank Vogel was asked to coach a team in a different style than he'd ever had success with. But this year's different.
Last year's team was told to play small and fast without the necessary pieces. This year's team can only live up to its potential if they play small and fast, and the onus is on Nate McMillan to figure out how to coach it.
Can Nate McMillan Keep the Defense Successful?
The Pacers have stayed afloat in the Paul George years by hanging their hat on defense. Roy Hibbert (and Ian Mahinmi last year) stifled teams at the rim, Paul George and George Hill hounded on the perimeter, everyone maximized their length in the passing lanes. On and on.
Frank Vogel led arguably the NBA's best defense over the past decade, with his squad ranking first twice.
The Pacers often espoused the values of a team treasuring their size in a league hell bent of downsizing, and it's worked well for them. Their defense toggled between very good and utterly elite, and all recent playoff success was on the back of their defense. Conventional wisdom (and logic) pointed to Vogel as the architect of the defense, and Nate McMillan doesn't have a strong track record on that end.
Bird has intimated that Vogel assistant coach, and in-game interview All-Star, Dan Burke was a big reason for the defensive success, though. Even if (and it's a big if, in my opinion) Burke is a defensive genius regardless of who the head coach is, Bird has left to cabinets pretty bare on the defensive end.
Teague, Ellis, Thad Young, Aaron Brooks, Al Jefferson, all represent recent moves who have spotty — at best — defensive track records. If Dan Burke can devise a scheme — and Nate McMillan can get the guys to run it — to get a top-10 defense out of this squad, his phone may start ringing off the hook for a head coaching job the moment the Pacer's season ends.
Can Larry Bird find the Pacers more shooting?
Larry Bird should be doing everything he can, by hook or crook, to find shooters for this team. Outside of Paul George, C.J. Miles, and Aaron Brooks,  the Pacers don't have much spacing. (Jeff Teague was excellent last year, but the jury is still out on whether that was a one time outlier or a portend of things to come.)
There are certainly guys who could help already on the roster. Myles Turner could develop out beyond the arc (and I think he will).  Joe Young, if he can find minutes somewhere, projects to be a good 3 point shooter. One of either Monta Ellis or Rodney Stuckey could find a sweet spot and shoot well enough to keep the defense honest. Georges Niang could win the minutes available behind Thad Young at power forward, and stretch defenses to the brim.
Any of these things could happen, but if Bird wants to field a winner, and wants this Indiana Pacers roster to reach their full potential, he needs to make a shooter appear.
And he needs to do it soon.
This article originally appeared on