2017 Orlando Magic Player Outlook: C.J. Watson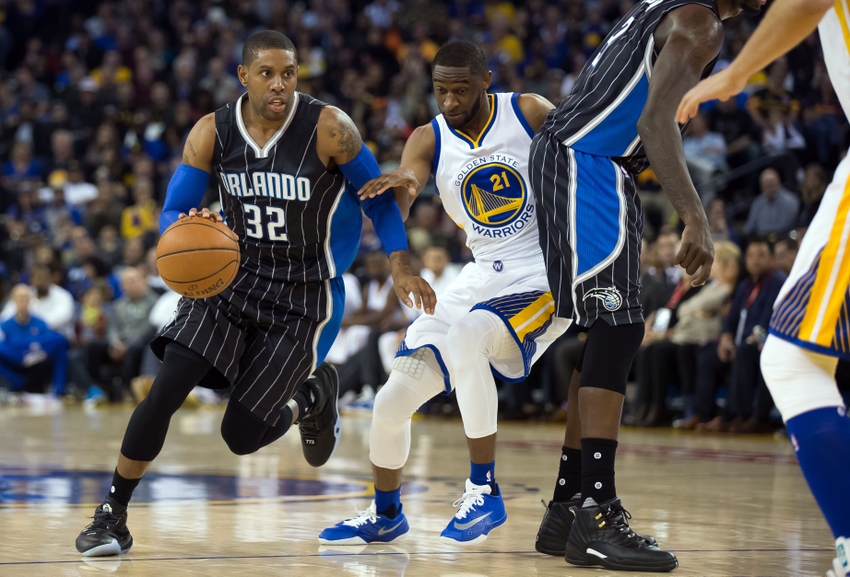 The Orlando Magic brought in C.J. Watson last season to be a quality backup point guard, but a left calf injury derailed his season and endangered his position in the team.
C.J. Watson is a NBA veteran with nine season of NBA experience, who is entering his second season with the Orlando Magic. Watson is as established as they come in the NBA for a journeyman.
This year though, he faces some pressure after a disappointing first season in Orlando. He is in his second year of his three-year, $15-million deal. The third year is only partially guaranteed. And Watson is coming off an injury-riddled season that saw him play only 33 games.
Orlando is Watson's fifth NBA team and he went undrafted in 2006, after playing his first pro year after college in Europe (Italy and Greece). He is used to having to fight for his spot in the league.
And he will have to fight again, it would seem. At least there is some familiarity for him.
Watson played under Frank Vogel in Indiana in the 2014 and 2015 seasons, so this will effectively be his third year playing for Frank.
Watson was brought to the Magic primarily as a backup point guard for Elfrid Payton. But with the addition of D.J. Augustin, he may very well fall to third string this season.
He missed most of the last season due to a left calf injury and played in only 33 games. The recovery period was not easy and featured couple of setbacks. Hopefully Watson recovered fully and will not have any injury issues this season.
What to Look For
C.J. Watson realistically is in a tough position. He is a third-string point guard, coming off a tough season in which he never really showed why the Magic pursued him.
Last year, Watson split his minutes playing both guard positions and averaging 4.3 points per game, 2.7 assists per game and 2.0 rebounds per game in just less than 20 minutes per game.
Although Watson is 32, he remains a reliable point guard who will not turn the ball over at an alarming rate. He is more or less an average NBA player with a career PER average of 13.5.
His career 3-point percentage is a solid 37.9 percent. But last season this percentage dipped to career low 29.2 percent. Certainly a result of his injury and inconsistent court time.
General manager Rob Hennigan decided to put the keys of team, at least at the point guard position to Elfrid Payton. And D.J. Augustin will most likely be his backup. This leaves little minutes for Watson at point guard.
Watson can play shooting guard. It was one of the reasons the Magic was signed him last summer. But his lack of size certainly hurts his long-term prospects as a 2.
What Could Go Wrong
Frankly, his last season was just terrible. But it was a combination of the aforementioned injury and lack of rhythm.
The injury was a seemingly never-ending story for Watson. Even when he was supposedly back from the injury, he recorded some DNPs or games with very limited playing time. The Brandon Jennings acquisition played a role in pushing him down the depth chart.
C.J. Watson only scored 10-plus points three times last season, with only one game with more than 30 minutes. Additionally, he is 32 and this could be his last contract and team in the NBA.
Watson is a good third-string point guard to have in case injuries occur to Payton or Augustin. Unlike last year, the Magic have some depth at point guard now.
He certainly is a NBA player. But the recent turn of events show how fragile a NBA career is and how fast a player can go from being a valuable asset and a player signed with great expectations to a backup.
If he does not bounce back from last season, he could be playing only garbage minutes.
Overall Outlook
Having in mind all the injury problems and competition in the team, C.J. Watson is still a serviceable NBA player. Moreover, he played with Vogel for two seasons and played a total of 48 games in NBA playoffs.
This kind of experience is much needed for the Magic, as they again shoot for the playoffs this year. Watson's presence in the locker room as a veteran (with a degree in psychology none the less) is certainly valuable.
Who knows, maybe Vogel trusts Watson more than Augustin, and he takes over the backup guard position. Or perhaps one of the backup shooting guards severely underperforms and the team calls on Watson. He will certainly have the benefit of already knowing the Vogel system.
In 2017 season, hopefully C.J. Watson comes back to his career averages and remains healthy.
This article originally appeared on