2017 NBA Rookie Ladder: Joel Embiid Leading The Race Early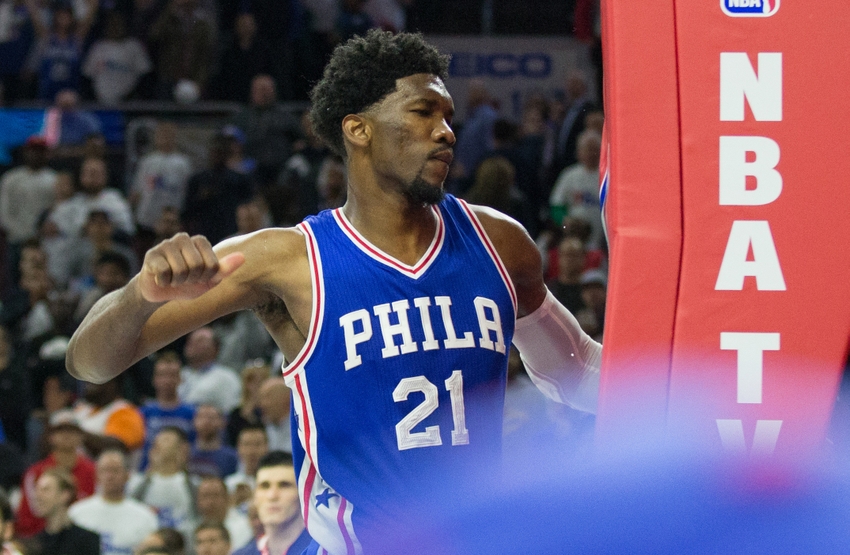 Joel Embiid has been the best NBA rookie by far very early on, but who else has made some noise and put themselves in the Rookie of the Year conversation?
It's very early in the 2016-17 NBA season, yet there's been some positives for the young guys already.
The Philadelphia 76ers look like they have multiple Rookie of the Year contenders in the fold. That especially holds true depending on when Ben Simmons returns from injury.
Meanwhile things haven't exactly been what we expected with the No. 2 overall pick out in Los Angeles.
And one overlooked lottery pick is getting minutes and making himself known in the Phoenix Suns' rotation.
All in all the rookies have disappointed as a collective unit, with fewer players getting meaningful minutes at this point than last year's crop.
But they're all rookies for a reason. They're young and inexperienced, and won't beat out too many veterans for starting spots.
Regardless, here's a look at five guys who have emerged a little ahead of the pack.
And don't worry, next week we'll be back to our regular 10 guys in the ladder. There just haven't been enough games to properly evaluate those who've played such limited minutes.
5. Brandon Ingram, Los Angeles Lakers
I'm not sure fans expected Brandon Ingram's debut for the Los Angeles Lakers to be without much scoring.
Through three games, Ingram's only put up 20 total points on 18 attempts from the field. Those shooting numbers aren't anywhere near efficient, but that's not the plan for him right away.
Lakers head coach Luke Walton said his plan for Ingram this season is to develop in other areas of the game. Defense and playmaking are two areas that were stressed he needed to improve in.
Right away Ingram's matched up on better scorers and has brought the ball up the floor. Even though he's coming off the bench, he's still getting enough minutes to make an impact.
Unfortunately it's just not what fans entirely expected. But as he gets comfortable he'll convert at a better rate. Ingram will find his spots–particularly from deep–in time, so there's not much to worry about yet.
It's still early for most of these guys, so patience is important to keep in mind.
If he's able to become more well-rounded in his rookie season he'll be better off in the long run.
4. Kris Dunn, Minnesota Timberwolves
After Kris Dunn's exceptional debut in the NBA Summer League in Las Vegas one would've expected him to get decent minutes as a lead guard off the bench.
Unfortunately Dunn hasn't topped more than 20 minutes in his first two contests. The good news is that he's scored efficiently while also getting his teammates involved.
Dunn had eight points in his debut game against the Memphis Grizzlies and four against the Sacramento Kings. While those don't pop out of the box score, he shot 5-of-8 from the field overall.
Through 35 total minutes he also only has two turnovers to his name. He's made good decisions on offense and has adjusted as best he can on defense.
As he gets more opportunities his defensive impact will be felt more. But for now at least he's doing his part in leading his team down the floor on offense.
What's worth monitoring is how quickly he can steal more minutes away from starter Ricky Rubio. No one's exactly sure what coach Tom Thibodeau wants to see before he hands the keys over to Dunn.
It's worth betting though that whoever plays harder in his system will win the job full-time later in the season.
3. Jaylen Brown, Boston Celtics
Jaylen Brown has an interesting long-term upside with the Boston Celtics.
He has all the physical tools and ball skills to potentially turn into a playmaking forward down the road. For now he'll play a smaller role as he properly adjusts to the speed of the NBA game.
But his impact has been felt early on, at least in the scoring column.
He's been consistent through three games so far, scoring 8.0 points per game on 58.8 percent shooting.
What will really propel him into stardom if he's ever to reach that point is a jump shot. While he's only taken one 3-point shot so far, he's found ways to cut and finish at the rim.
Taking advantage of the opportunities in front of him will be what earns him more minutes this season. Brown's done that and has also been active on defense.
Head coach Brad Stevens can utilize him in multiple ways switching on different match ups. He has quick hands and reaction speed, so expect him to put a few more steals in the box score.
Brown has shown enough though to warrant his high selection in the 2016 draft. His athleticism and finishing ability are already on display, with more skills coming as he gets more playing time.
The Celtics were already deep before Brown came along.
They now have an embarrassment of riches off the bench.
2. Marquese Chriss, Phoenix Suns
Marquese Chriss' draft position didn't reflect his immediate impact, at least according to some.
Chriss was viewed as a project with a ton of upside based around his athleticism and shooting at the power forward position.
Turns out he's actually ready to contribute in a minor role off the bench.
The Suns also selected Dragan Bender earlier in the 2016 draft, but he hasn't been able to make an impact so far. He struggled in preseason and Summer League, and hasn't asserted himself in the regular season yet either.
Chriss, meanwhile, has shown flashes regardless of when he's played. In three regular-season games he's put up seven points and four rebounds while converting at a relatively efficient rate from the field.
Unfortunately the defensive concerns are still there, as he's averaged 3.0 fouls per game to start. Chriss doesn't have a firm understanding of keeping himself out of foul trouble. That's eaten into his minutes, both in college and now in the pros.
If Chriss wants playing time to develop and grow defense is where he needs to focus first. He's shown off his jump shot and bounce, but now he needs to work on his defensive awareness.
He still has a ton of upside, especially if he can keep himself on the floor while using his size and length as a rim protector. Phoenix still has a gaping long-term hole at power forward.
Chriss is most likely at this point to slide into the slot later in the season as Jared Dudley prepares for more of a mentoring role.
If he continues to produce and earn valuable minutes he could challenge for Rookie of the Year. He has all the chances for extended playing time as long as he stops fouling at an alarming rate.
1. Joel Embiid, Philadelphia 76ers
Welcome to the NBA, Joel Embiid.
The 76ers look like they have a bright future, and the city of Philadelphia finally has hope.
Embiid has not only looked like a potential star, but a superstar on both ends of the floor.
Philadelphia is astronomically better on both ends of the floor when Embiid is playing. Lineups with Embiid are only at a total plus/minus of minus-9 compared to lineups without him combining for more than double that per NBA.com.
That's a serious gap in impact, meaning the numbers back the notion that Embiid is very important to Philly's success.
It starts with his game on offense, as he's a versatile center who can score inside and stretch the floor.
He has legitimate 3-point range and a number of moves down low to finish at the basket. Combine that with his speed off the roll and cuts to the basket and there's reason to think he could put himself in the thick of the scoring title race down the road.
Defensively and on the boards he's invaluable to his team. When Embiid's off the floor, the Sixers don't have another big man capable of filling in for him.
Jahlil Okafor and Richaun Holmes aren't great rebounders (combined 8.0 rebounds per game this season) and Nerlens Noel is still out due to injury.
Embiid scored 20 points in his debut against the Oklahoma City Thunder, and that won't be the last time he tops that point total this season.
Right now the Rookie of the Year race isn't close.
It's Embiid's world and we're all living in it.
This article originally appeared on