2017 NBA Draft Profiles: Top Five Small Forwards
Owen Nelson/FanSided via The Sixer Sense

Fansided
The 2017 NBA Draft boasts many small forwards who have the potential to be great. Here are the top five.
1. Jayson Tatum
Measurements
Height: 6-8
Weight: 205 lb
Wingspan: 6-11
Stats
Points: 15.8
Assists: 1.8
Rebounds: 6.4
Steals: 1.7
Blocks: 1.5
FG percentage: 43
3FG percentage: 29.8
(All stats are as of 29 January)
Having missed the first eight games of the season with a foot injury, Jayson Tatum has wasted no time in impressing NBA teams. What makes him an impressive prospect is how easy and effortless he makes scoring look like. Although his three point shot is somewhat underwhelming, his elite mid range game is one of the main reasons as to why he's getting this much attention.
Despite having a few rough games here and there, Tatum has managed to score double digits in every collegiate game he's played; not bad for a freshman who missed the first quarter of the season.
His most impressive game to date was his second game for the Duke Blue Devils, against the Florida Gators. Coming off of the bench, Tatum put up 22 points on 64 percent shooting, as well as grabbing eight rebounds. Given that this was second game removed from his injury, and he came off the bench, this is an incredible game for the freshman. Tatum is definitely one of, if not, the best scorer in this draft.
Furthermore, Tatum's excellent 6-11 wingspan gives him incredible potential on the defensive end. He has already shown in capability of getting in the passing lanes with his 1.7 steals a game. His length is also a threat down low, he is sending back 1.5 shots a game, which is fairly impressive for a small forward.
Tatum is also able to slide to the power forward in when a team goes small, he definitely has the length to play the position. Furthermore, Tatum could also play shooting guard given his versatility offensively and defensively.
2. Josh Jackson
Measurements
Height: 6-8
Weight: 207 lb
Wingspan: 6-10
Stats
Points: 15.7
Assists: 3.1
Rebounds: 6.7
Steals: 1.6
Blocks: 1.2
FG percentage: 49.6
3FG percentage: 32.7
Josh Jackson was the number one high school recruit, according to 247Sports, and came into the year being the number one player on the majority of draft boards. Since arriving in Kansas, Jackson has struggled tremendously with his awkward jump shot, causing his draft stock to take a hit, although not a big hit he's dropped a few spots.
Jackson's elite athleticism makes up for his poor shot. Jackson is perhaps the the athletic player in this draft. He can move around the court very easily and smoothly, weave between defenders in the half court. We've all seen what Jackson is capable of on the fast break, his frightening speed leading to ferocious dunks, dunks that no defender will want to get in the way of. This athleticism also helps Jackson tremendously defensively, he's a lockdown defender. Jackson's movement is key to keeping his match up at bay
Although as a whole, Jackson's shooting has been his achilles heal, however, as of late it has improved. In his last three games, against Texas, West Virginia and Kentucky, Jackson has gone 8-14 from three. If Jackson can continue this form from beyond the arc then his draft stock will soon rise back up to what it was prior to the season. This little run from three will make NBA teams more willing to take a chance on Jackson.
One surprise of Jackson's game has been his play-making. He has shown that he can handle the ball and dish it efficiently. Averaging 3.1 assists per 40 minutes is as good as a lot of point guards in college. This is another reason as to why a team will pick him, this versatility is key in todays NBA.
3. Jonathan Isaac
Measurements
Height: 6-10
Weight: 210 lb
Wingspan: 7-1
Stats
Points: 13.2
Assists: 1
Rebounds: 8.1
Steals: 1.2
Blocks: 1.6
FG percentage: 52.5
3FG percentage: 36.2
On one hand, the first thing that jumps off the board for Jonathan Isaac is his length. Standing at 6-foot-10 with a 7-foot-1 wingspan, it's fair to say that Isaac will be one of the longest small forwards in the NBA. His length allows him to play a bit of power forward, but due only weighing 210 lb, he isn't too efficient down there.
As we have seen with Brandon Ingram, to be efficient in the NBA you need to put on muscle. With these two possessing similar body types, it's fair to say that Isaac may struggle early on in his NBA career. Isaac's length also helps him on the rebounding, averaging 8.1 boards a game is impressive for a small forward.
Again, similar to Ingram, who has had a good impact on the boards for the Lakers. Per 40 minutes, Isaac is averaging an incredible 12.8 rebounds a game and per 100 possessions he is averaging 17.2 rebounds a game, these numbers are very impressive and will definitely garner lots of interest from NBA teams near the top of the draft.
Isaac's shooting percentages have been really impressive, 52.5 percent from the field is a very good percentage to shoot at. Furthermore, Isaac has shown that he can shoot the three ball well, 36.2 percent is decent number. Scouts thought the transition period would be rough for Isaac but he has performed well from the get go.
Despite this, Isaac still has a lot of work to do before the NBA Draft. His game is still very raw. He has had a bigger impact than expected early on but learning to adjust to the NBA will be a much tougher and daunting task.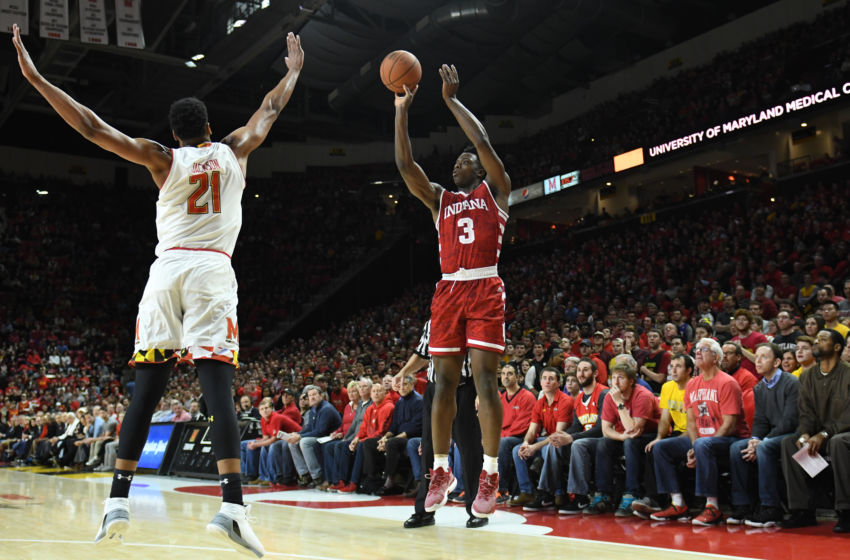 4. OG Anunoby
Measurements
Height: 6-8
Weight: 215 lb
Wingspan: 7-6
Stats
Points: 11.1
Assists: 1.4
Rebounds: 5.4
Steals: 1.3
Blocks: 1.3
FG percentage: 55.7
3FG percentage: 31.1
OG Anunoby came into this season as a breakout player of the year candidate. He was an unknown player for much of last season, that was until he became a sensation during March Madness. Scouts hoped that Anunoby would continue that success into this season. His role for the Hoosiers increased, going from 13 minutes a game to 25 minutes this year.
Anunoby's ridiculous wingspan of 7-6 gives him unlimited potential on the defensive end. The wingspan makes Anunoby a physical anomaly, Giannis Antetokounmpo's wingspan is 7-4, just put that into perspective. The wingspan Anunoby possesses gives him the ability to guard all five positions, he did this against Kentucky during March Madness last season. Anunoby could be a serious force defensively in the NBA.
After coming down with a right knee injury and requiring surgery on that knee, Anunoby will miss the remainder of the season. This unfortunately will cause his draft stock to drop, and keep him as one of the mysteries of the draft. Of course his physical tools will always get him draft, this injury will definitely affect where he is drafted. His pre-draft interviews will play a big role in where he gets drafted.
5. Miles Bridges
Measurements
Height: 6-7
Weight: 230 lb
Wingspan: 6-9
Stats
Points: 16.4
Assists: 2
Rebounds: 8.1
Steals: 0.5
Blocks: 1.7
FG percentage: 49.7
3FG percentage: 42.4
Miles Bridges is engineered for NBA. In fact, he already has the athleticism and toughness to survive. The ferocious dunks is definitely intimidating, no defender would want to be on the receiving end of one. Bridge's athleticism was his main calling card coming out of Huntington Prep, but his three point shot has been very impressive so far.
Attempting nearly five threes a game, he still manages to shot above 40 percent. This shows promise as a knockdown three point shooter. Per 100 possessions, Bridges is scoring just over 30 points game, he is a pure scorer. The Michigan native should definitely receive attention from teams in the lottery.
Grabbing 8.1 rebounds a game is also very impressive. Bridges can battle down low with the bigger players. His 230 lb build definitely helps him in that aspect of his game. Furthermore, Bridges also projects in the NBA draft as a good defender because of his size and athleticism. With the correct teaching and coaching, Bridges could be a beast in a couple of years.
There are plenty of talented prospects in the 2017 NBA Draft. Right now, it looks like the 76ers will have multiple options in round one.
More from The Sixer Sense
This article originally appeared on