2017 NBA Draft Diary: Josh Jackson Favorite For First Pick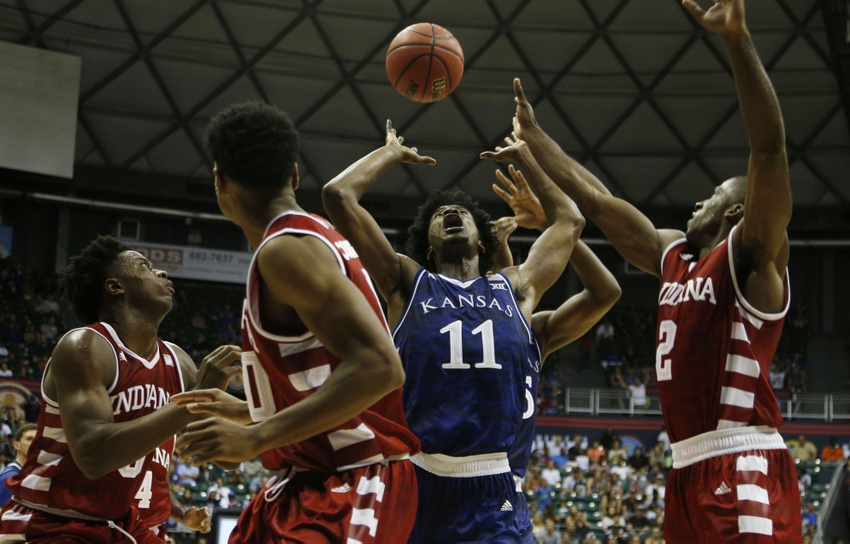 With the college basketball season officially under way, Kansas' Josh Jackson has shown enough promise early to put him atop 2017 NBA draft boards.
Josh Jackson faces heavy comparison to top draft picks at Kansas before him like Joel Embiid and Andrew Wiggins.
While he hasn't packed the same scoring punch as those two yet, he's a versatile prospect in his own right.
Not many wings can come into college and impact the game the way he can. Jackson is more than a scoring threat off the bounce.
He's already bringing the ball up the floor at times and initiating offense in transition for Kansas. Frank Mason III and Devonte Graham are both excellent guards themselves, so that speaks to how much trust coach Bill Self already has in Jackson.
When he's looking for his shot, he's already shown the ability to post up smaller defenders. That was how he got his first bucket against Duke Tuesday night in Kansas' 77-75 win.
Jackson immediately established himself in the post on the team's first drive down. As soon as he caught the ball he turned and finished over his right shoulder with nice touch on the ball.
His athleticism and handle also allow him to take advantage of easy driving lanes inside. It'll be important for him to convert on as many line drives to the basket as possible at this stage of his career.
Jackson's ability to finish around the rim and in the lane will do him well as he adds to his scoring palette elsewhere.
While he has decent control over the ball, he doesn't have any lateral dribble moves yet. Signs point to him developing a more advanced handle over time, but his first step and burst can make up for those deficiencies in college.
If he doesn't have a direct opportunity to score, he's smart enough to recognize where to pass the ball. Jackson is a willing assist man who isn't afraid to get his teammates involved. He's a point forward waiting to develop that part of his game and get a little more creative.
Most impressive is that he hasn't turned the ball over yet in his first two games, so his decisions have been on point to start the year.
He's tough, forces contact in the lane and battles on the offensive glass. The only major aspect of his offensive game that's still missing is touch from the outside.
He's 2-of-5 from the 3-point line so far, and his form looks tighter and more in rhythm than in high school. But it's still early, so developing consistency with his mechanics should be his main goal while in school.
If he practices his jump shot and works on a few go-to dribble moves he'll be nearly unstoppable offensively. NBA scouts look for translatable skills for immediate impact at the next level. Jackson already has a few and has a chance at having more down before next summer's draft.
Defensively he competes as hard as anyone else in the country already. His motor and willingness to get after it on defense earned him a few easy plays on offense against Duke.
His steal for a transition dunk at the beginning of the second half was the standout forced turnover. But he'll have a lot more of those as the season goes on.
He rebounds on the defensive end, guards his man and switches well for a young guard. Scouts love to look at how prospects move both end-to-end and laterally early on. Jackson does both well and his overall physical tools check off a number of boxes on both ends.
When stacking up his game he's already a fairly complete college player. No he's not perfect at some key things yet but that's expected from a freshman.
His upside is arguably higher than anyone else's in his draft class because of his game along with his attitude. Jackson has a high basketball IQ and that'll carry him as he learns how to put everything else together.
Making simple plays and finding easy ways to be effective are key for anyone with a lack of professional experience. As long as he continues to look for those types of opportunities there's no question he'll impact the NBA game early on.
The modern NBA requires teams to collect guys with size, length and versatility. Those wings are hard to come by, and one with star potential like Jackson shouldn't be.
That's why he'll be in the conversation for the top pick in the draft all year.
But now the spot's his. Jackson's skill set and competitive nature have him atop my draft board at this point in the season.
This article originally appeared on