2016-17 NBA Preview: Utah Jazz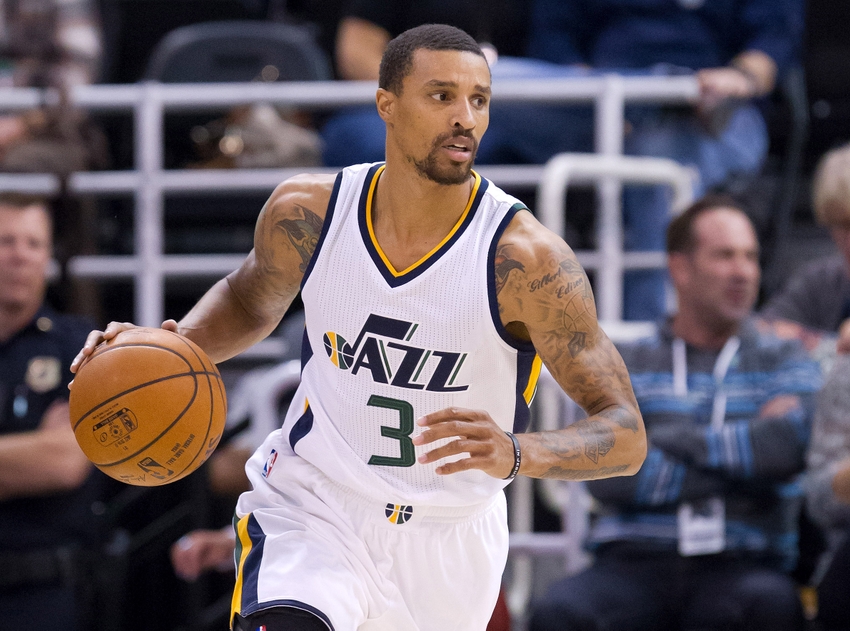 With a few contenders at the top of the Western cCnference dropping off or decaying, the Utah Jazz are uniquely position to take advantage of the power vacuum. After a promising season undertaken without NBA-quality point guard help, Utah could indeed be a better team, but there's a question of how much they could improve and what a real point guard could mean.
"Someone is sitting in the shade today because someone planted a tree a long time ago." – Warren Buffett
2015-16 in review
The season started terribly, as lottery pick Dante Exum suffered an ACL injury and was out for a year. Rudy Gobert and Derrick Favors missed a few games too, and the Jazz finished one game under 0.500. However, Rodney Hood established himself as a good starter to lockdown the shooting guard slot, and their point differential suggested a 46-win team. They did all this while relying on Shelvin Mack, Trey Burke, and Raul Neto at point guard; no player looked particularly good.
Rotation players in: George Hill, Joe Johnson, Boris Diaw, Dante Exum.
Rotation players out: Trevor Booker, Trey Burke.
George Hill will be given the starting point guard spot, and Dante Exum is back from injury and looks good so far. They'll be displacing a huge chunk of point guard minutes that were essentially taken by replacement level players last season. Trey Burke was one of those point guards last year, and they won't miss him because he was never able to play well enough on offense to offset his defensive deficiencies. Trevor Booker was a decent power forward, but Derrick Favors is the starter there and Utah will probably replace his minutes with a combination of Boris Diaw and, in small ball arrangements, Joe Johnson. Joe Johnson is already being called upon to replace the injured Gordon Hayward in the starting unit; Utah's depth this year is a strength.
2016-17 projected
Understanding Utah's projection starts with an important fact: they outscored teams by an amount that suggested a 46 win team. They lost many close games, and while some people may try to explain that's a function of who they are as a team, that assertion is backed up by no evidence. There's virtually no correlation in close game performance from year to year. Additionally, if one puts the blame of their crunch-time performance on execution, having a veteran starting point guard should surely solve the issue.
George Hill was one of the more unheralded players in the league. He wasn't a big scorer or high assist PG, but he's useful on and off the ball, a good shooter, and one of the better defensive point guards in the league due to his wingspan and strength. With Dante Exum as the heir at the position, Utah has two big point guards who can switch and cover bigger guys. Utah's starting lineup, and a few guys off the bench, are now complete with good to great defenders. In fact, overall, the entire starting lineup is above average, and many are still young. Think about Boston last year: this is a balanced team with few holes, and as such it should be an above average team.
Utah's two best players, Gordon Hayward and Rudy Gobert, were both also better in 2015 than 2016. Since they're both young, this season is a likely bounce-back year for them. In fact, since Utah will be higher relative in the standings than last year, this could be an All-Star season from Hayward, as selections are based on representing the best teams in the conference — or perhaps Rudy Gobert could be selected. Gobert is also a dark-horse candidate to win Defensive Player of the Year, and given how good the team projects to be on defense it's a smart bet.
Rodney Hood is a regression candidate in the other direction, but he's only 24 years-old. Thus, he should at least be as good as last season, where he was quietly one of the better role players at his position. He's like a lite version of James Harden, only with plus defense. He's a good ball-handler but not a ball-dominating one, just like Hayward and George Hill. He's also capable of covering multiple positions. In other words, he fits in seamlessly with the team, and their defense could surprise a lot of people in the league. Unless they get unlucky with injuries, this is a recipe for a team that pushes past 50 wins.
Quick statistic
Here at Nylon Calculus, we value rim protection as much as anyone, and Rudy Gobert, then, is probably one of our gods. Over the past two seasons when Gobert has been given heavy minutes, he led the NBA in SportVU's rim protection FG% allowed. When opponents shoot near the rim when he's nearby, they convert only 40.7% of their attempts. The full table below is the FG% allowed for every defender with at least 800 attempts against them. Note that Derrick Favors rates well, but he isn't very close.
Table: FG% of opponent within five of defender and basket (source: stats.NBA.com)
| | |
| --- | --- |
| Player | FG% allowed |
| Rudy Gobert | 40.7 |
| Serge Ibaka | 42.2 |
| Andrew Bogut | 43.2 |
| Derrick Favors | 45.6 |
| Roy Hibbert | 46.4 |
| Nerlens Noel | 46.5 |
| Bismack Biyombo | 46.5 |
| Draymond Green | 46.6 |
| Robin Lopez | 46.7 |
| Hassan Whiteside | 46.8 |
| LaMarcus Aldridge | 46.8 |
| Tim Duncan | 47.0 |
| Pau Gasol | 47.1 |
| DeAndre Jordan | 47.5 |
| Timofey Mozgov | 47.9 |
| Brook Lopez | 48.2 |
| Marc Gasol | 48.2 |
| Anthony Davis | 48.2 |
| Dwight Howard | 48.3 |
| DeMarcus Cousins | 48.7 |
| Steven Adams | 48.8 |
| Jonas Valanciunas | 48.8 |
| Marcin Gortat | 49.6 |
| Al Horford | 49.6 |
| Alex Len | 49.7 |
| Ed Davis | 49.8 |
| Amir Johnson | 49.9 |
| Andre Drummond | 50.1 |
| Omer Asik | 51.5 |
| Tyson Chandler | 51.7 |
| Paul Millsap | 52.1 |
| Tyler Zeller | 52.1 |
| Dirk Nowitzki | 52.2 |
| Zaza Pachulia | 52.5 |
| Tristan Thompson | 52.5 |
| Greg Monroe | 53.1 |
| Kevin Love | 53.4 |
| Nikola Vucevic | 53.9 |
| Mason Plumlee | 53.9 |
| Gorgui Dieng | 54.3 |
| Jordan Hill | 54.4 |
| Enes Kanter | 55.1 |
Summary
The Utah Jazz are poised to have one of the biggest improvements in the win column in the league, thanks to some bad luck in close games last season and a huge upgrade at point guard. Given the state of the western conference's middle and upper-middle classes, they could climb high in the standings and grab home court advantage. They should also be one of the best defensive teams, built around Rudy Gobert and an army of average to plus defenders, and the offense is balanced but based around Gordon Hayward, a sneaky pick for a first-time All-Star.
Win predictions:
Mine: 51.3. A blend of several metrics, including Dredge, with a few other factors considered, like coaching and usage.
Andrew Johnson's: 46. A combination of PT-PM (a SportVU player tracking metric) blended with RAPM. Two-time reigning champion of the APBRmetrics board predictions contest.
Nick Restifo's: 48. A simulation using BPM and RPM for player value, which includes game effects like altitude and rest.
Kevin Ferrigan's: 53. A player projection system with inputs from RAPM, BPM, height, and age.
More from Nylon Calculus
This article originally appeared on