2016-17 NBA Preview: Toronto Raptors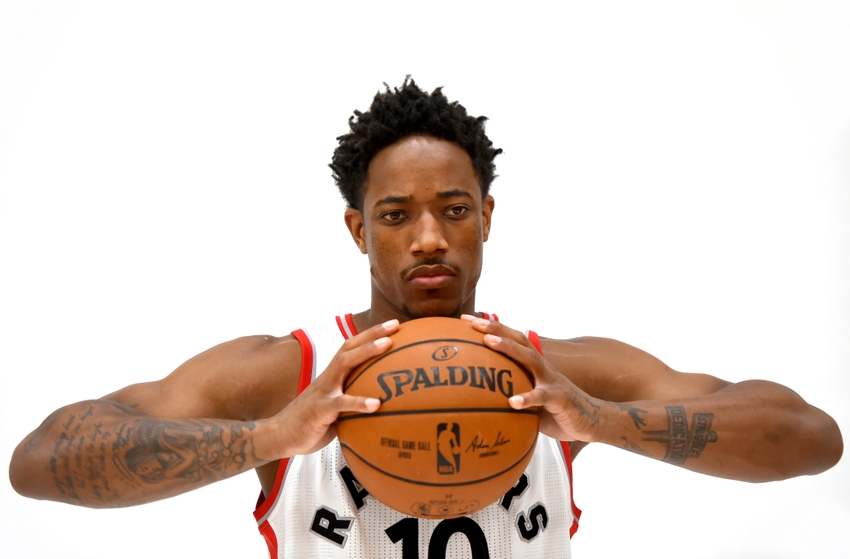 The Toronto Raptors, tucked away safely north, are now a playoff fixture near the top of the eastern conference. Their two stars, Kyle Lowry and DeMar DeRozan, are returning with gold medals from the Olympics. Yet there's a sense that the team is overrated and will slide back toward mediocrity in some minds. But not much has changed, and without a sizable run of bad luck they should have a successful season again.
When I was crossing into Canada, they asked if I had any firearms with me. I said, "Well, what do you need?" – Steven Wright
2015-16 in review
The Raptors had their most successful season in franchise history, flying past the 50 win mark, to a franchise-high 56 wins. "Skinny Kyle Lowry" delivered a peak season, as he consistently played at a high level — although he had issues with breaking down during some parts of the season. The Raptors had a decent defense, and a pretty good offense, which led to a Conference Finals appearance where they stole a couple games from the eventual champs the Cavaliers. While the core players Lowry, DeMar DeRozan, and Jonas Valanciunas got a bulk share of the credit, they had one of the most effective benches in the league, as their most successful lineups often had multiple non-starters. It was a culmination of years of team-building.
Rotation players in: Jared Sullinger, Jakob Poeltl.
Rotation players out: Bismack Biyombo, Luis Scola, James Johnson.
The Raptors only had major changes in their frontcourt. Biyombo became too pricey, and they replaced him with the combination of Jared Sullinger, who will start at power forward but also log some minutes at center, and the rookie center Jakob Poeltl. Luis Scola was surprisingly competent on defense, but they'll really miss Biyombo. James Johnson is also a loss for their depth.
2016-17 Projected
The Toronto Raptors return largely intact, but they have two primary issues that could change their win total. The first is a regression of performance for Kyle Lowry, who's a short point guard coming off a career season at age 29. It's certainly possible he repeats his good play, thanks to better conditioning, but due to a variety of factors he'll probably be less valuable, at least just because he may not play 2851 minutes again in the regular season.
This matters because he's one of the most valuable players in the league and the driving force behind Toronto. I've made this argument before and piled on the evidence. The Raptors play much better when he's on the court, even when you adjust for many factors — and this has consistently been true for his Toronto tenure. DeMar DeRozan, similarly, also had a peak season but he's younger and has only missed a significant portion of games once. What's promising is that his shooting efficiency is near league-average now, thanks to his free-throw rate, and that coupled with low turnover percentage translates into some real offensive value. Unfortunately, he's not well-rounded, and he gives up a lot of his value on defense — many people ignore that last point; athletic players often get passes on defense regardless of their effort. And like Lowry, he could be a little worse next season.
The other issue is the loss of Bismack Biyombo. This is mitigated, however, by the pick-up of Jared Sullinger. Projection systems that rely on Real Plus-Minus actually see this as an upgrade because of Jared's well above-average mark. While the team will definitely miss Biyombo's rebounding and shot-blocking, he's always been an awkward player on offense and has few skills there. There's a concern about their backup center slot versus larger teams, but over the course of the regular season this doesn't drastically affect their win total.
However, Toronto's players, on average, are still a bit young, and they should be able to regain some of what they could lose if Kyle Lowry isn't the same. It's tricky trying to predict how a team does when they seem so reliant on a single player, as the Raptors numbers dropped precipitously without him, but they're fairly deep too — they should be able to weather Lowry's absence, at least on paper. With their group of youngsters, from Lucas "Bebe" Noguiera to Norman Powell to Bruno Caboclo, there's also a chance at a breakout, surprise season. There are enough positives to outweigh the other concerns.
Quick graph
DeMar DeRozan is frequently derided for his reliance on the dreaded midrange shot but he supplements that part of his game with a large dose of free throws. This allows him to have an acceptable level of efficiency even while relying on tough two-pointers. As you can see in the chart below, he has the greatest balanced combination between the two scoring components. There are a few players who take that many midrange shots, and a few who take that many free throws, but he's the sole member of that Venn diagram. This was a specialty of Kobe Bryant, by the way, and late period Michael Jordan. DeRozan lacks the all-around game of other stars with a high rate of jumpers and FTs, but it certainly makes him unique in today's NBA.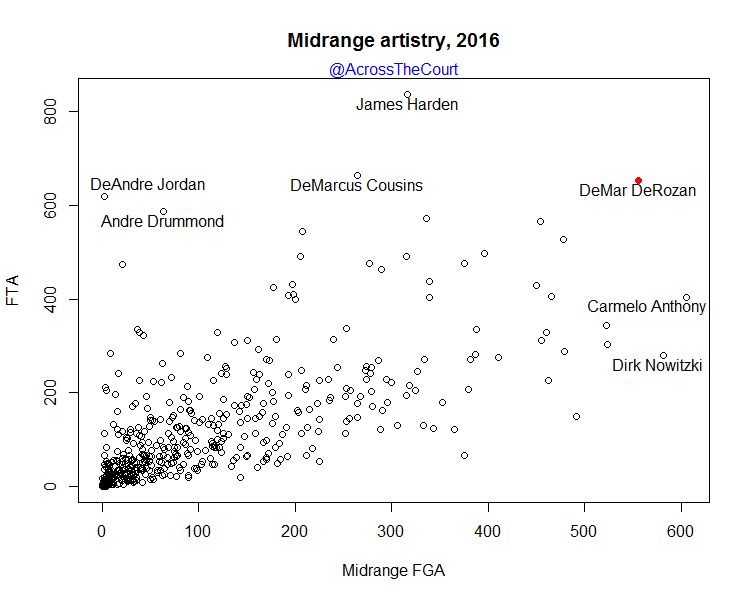 Summary
The Raptors have had little turnover, so it's no surprise win projections see them as largely the same with a small drop-off. Their win total will live and die by Kyle Lowry's health and consistency, while the loss of Bismack Biyombo can be absorbed through other additions and internal growth. There are still Toronto skeptics out there, and some saw their 56 win season as a mirage — but a win total in the low 50's is reasonable. With some luck, they can compete with Boston and the championship-hangover Cavaliers for the number one seed in the east.
Win predictions:
Mine: 52.4. A blend of several metrics, including Dredge, with a few other factors considered, like coaching.
Andrew Johnson's: 52. A combination of PT-PM (a SportVU player tracking metric) blended with RAPM. Two-time reigning champion of the APBRmetrics board predictions contest.
Nick Restifo's: 49. A simulation using BPM and RPM for player value, which includes game effects like altitude and rest.
Kevin Ferrigan's: 52. A player projection system with inputs from RAPM, BPM, height, and age.
More from Nylon Calculus
This article originally appeared on