2016-17 NBA Preview: Philadelphia 76ers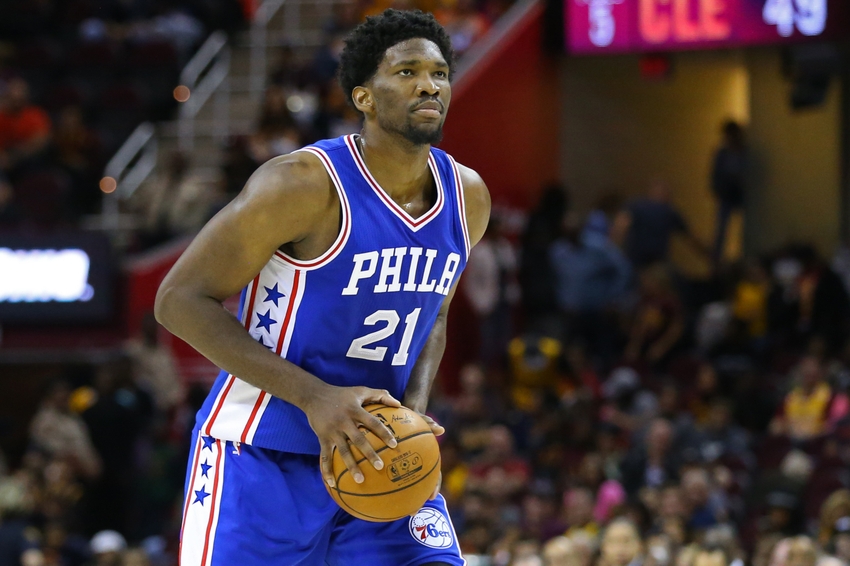 The Philadelphia experiment was halted, and this team is striving for competency in the short-term as well as the future. But there are still remnants of the past laying around, and there's still enough chaos that the team is a curiosity. The 76ers have long been a joke, and this season could see the end of that era.
"Trust the process." – Buddhist proverb
2015-16 in review
There's no kind way to say this: the Philadelphia 76ers were a terrible team last season. They were atrocious. Their defense, which was shockingly average before, had fallen while their offense improved to the point where they were merely worst in the league-level and not arguably the worst in NBA history. They were awful across several offensive components. Jahlil Okafor, their payment for tanking, scored well but failed to fit in with the team. The 76ers were not measurably worse than before overall, but they barely managed to win just ten games. And, of course, GM Sam Hinkie was fired midseason — it was too much.
Rotation players in: Ben Simmons, Joel Embiid, Sergio Rodriguez, Dario Saric, Gerald Henderson, Jerryd Bayless
Rotation players out: Ish Smith, Isaiah Canaan
It's hard to form a list of rotation players Philadelphia is losing when they really didn't have a rotation — they cycled through a long list of players. Ish and Isaiah were two guards the 76ers are okay on moving away from, and all the point guards and ball-handlers the team lost will be replaced by a new crop of players. After years of living the process, the team is bringing in a wealth of youth with Ben Simmons, Joel Embiid, and Dario Saric, all highly prized lottery picks. Sergio had an NBA stint years ago, and he's now known as one of the best, or the best, point guard in Europe. Henderson is a useful defender and he's right in his prime, while Bayless is another veteran who's there for backup guard duties. His weakness is passing, but the 76ers now have two new playmaking forwards in Simmons and Saric.
2016-17 Projected
Like everyone, I would have been a lot more excited for the 76ers without the devastating injury to Ben Simmons, who should return in the winter. This was eerie news for 76ers fans, as they've seen other lottery studs beset by major injuries. But I think trend of young players getting injured isn't random or unknowable, and the cause is easy to target.
Ben Simmons, just before his foot fractured, boasted about putting on, reportedly, 33 lbs since the draft. Some of this weight was from recovery and returning to his college playing weight, but he still added on a lot of weight, and quickly. As Tim Grover and other trainers and doctors have stated, putting on weight rapidly is dangerous for NBA players, who experience extreme stresses during games. These guys' bodies are still growing and maturing — any other changes could be added with great care.
The reason players add weight, however, is partially due to media pressure and this false assumption that you need to put on weight to compete in the league. Young rookies, the teenagers and 20 year-olds, will naturally weigh less than guys a decade older, and they should. Also, basketball is a game for skinny people. It's about wingspan, leaping ability, and shooting skill, not brute strength. Kevin Durant was famously mocked for his inability to bench press 185 lbs, and he's still quite thin — yet he's an MVP. This notion that a skinny basketball player needs to add pounds and pounds of muscle to play the game is erroneous and dangerous.
The 76ers aren't playing for this season, even with Hinkie gone, so Ben Simmons missing some rookie time isn't the concern — it's his long-term health. However, the team is actually set-up pretty well to deal with his absence because Dario Saric is a similar player and it gives them time to figure out the center rotation.
Philly's win total will fluctuate based on how they handle those centers. Nerlens Noel is a defensive wunderkind, but he doesn't have the offensive skills to play anything but center. Jahlil Okafor's plus/minus numbers were abysmal, yet he showed a nice touch inside. Joel Embiid looks like a legitimately talented player so far, and he might offer a partial solution to the center logjam with his range. There's just still an issue with who guards the power forwards, but a center tandem of Noel and Embiid looks promising. If, however, they devote a lot of minutes to Okafor and Okafor's defense doesn't improve, their improvement will be significantly stunted.
Elsewhere, the 76ers finally look like an NBA team. They've added a lot of passing to the team in the form of Sergio Rodriguez, Simmons, and Dario Saric, and there's just enough shooting on the team to stretch defenses. Dario Saric is a forgotten piece, but he's NBA ready now and still young — he's a skilled 6′ 10″ combo forward comfortable driving and dishing, with a usable outside shot. When Ben Simmons returns, his role could shrink considerably, but that's the top of problem the 76ers have wanted for a long time — they finally have a collection of talent.
Quick graph
Philadelphia's inability to run an offense during its rebuilding era is nearly unprecedented. Only two other teams had an offensive rating more than 10 points worse than the league average, the Clippers in 1988 and the Nuggets in 2003, and as you can see in the below graph they were despicably bad in the two adjacent seasons. An offensive rating of -7.6 puts them roughly in the 1st percentile — in other words, 99% of all NBA seasons were superior on offense. Obviously, this is where they can make their greatest improvement. And interestingly, it seems that when a franchise aims to fail and cycles through cheap players, it's offense that suffers the most.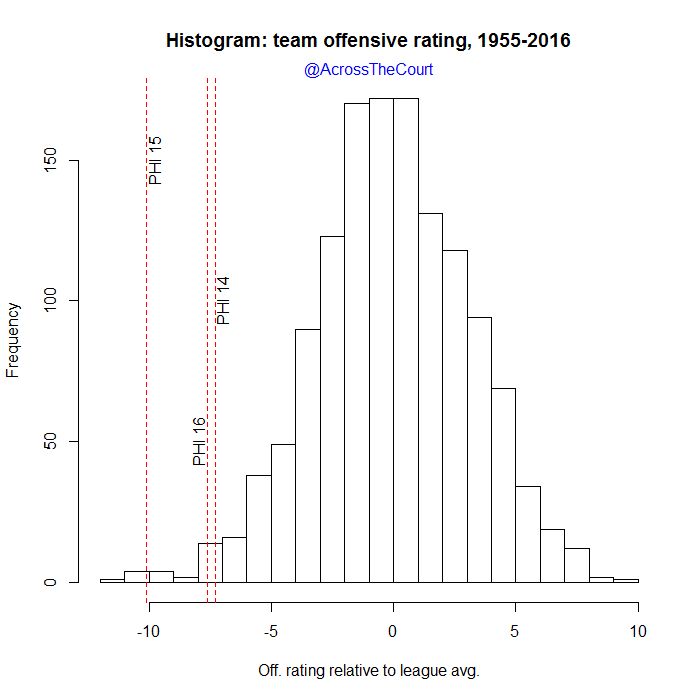 Summary
Philadelphia will be one of the most improved teams in the league, but it's a steep climb from the chasm they created. Having Ben Simmons out for so long hurts, but mostly spiritually. They should focus on his future and not rush him back — young bodies heal better, and his foot may not be a concern years from now, if things are handled correctly. And if Ben isn't back in time to win Rookie of the Year, Joel Embiid has a serious shot at the award. Their offense will be leaps and bounds better, and if they can rediscover their defensive fire and/or eject Jahlil Okafor, they could make significant progress in the standings.
Long live the process.
Win predictions:
Mine: 24.5. A blend of several metrics, including Dredge, with a few other factors considered, like coaching.
Andrew Johnson's: 26. A combination of PT-PM (a SportVU player tracking metric) blended with RAPM. Two-time reigning champion of the APBRmetrics board predictions contest.
Nick Restifo's: 24 A simulation using BPM and RPM for player value, which includes game effects like altitude and rest.
Kevin Ferrigan's: 21. A player projection system with inputs from RAPM, BPM, height, and age.
More from Nylon Calculus
This article originally appeared on