2016-17 NBA Preview: New Orleans Pelicans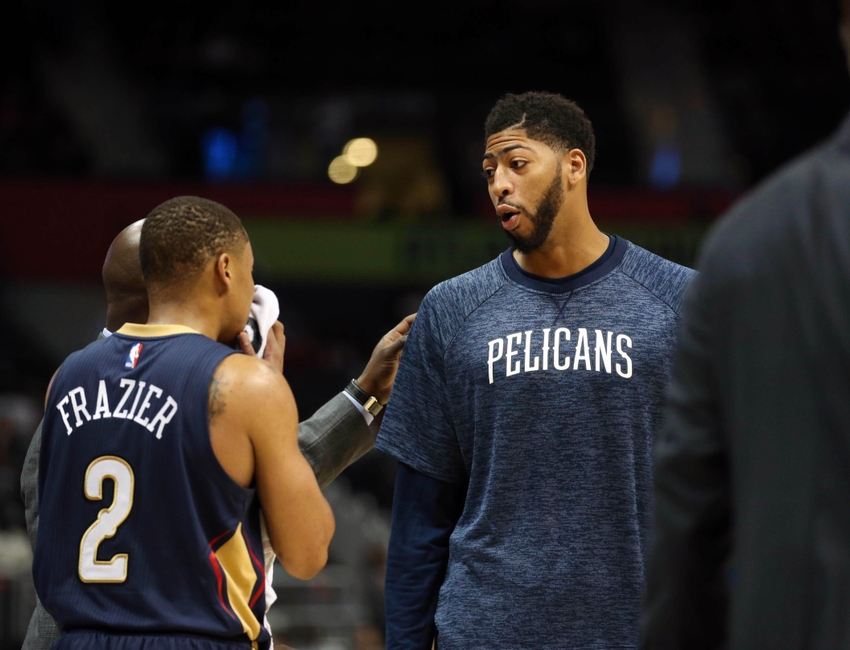 The Pelicans have one of the most tantalizing young players in NBA history, but they've yet to make any sizable dent in the conference. Anthony Davis was a godsend for a franchise that needed a stabilizing force.  But they haven't been able to surround him with a competent team, and this will be his fifth season. If they don't make the playoffs or improve considerably, expect some major changes — they need them.
"A common mistake that people make when trying to design something completely foolproof is to underestimate the ingenuity of complete fools." – Douglas Adams
2015-16 in review
With a new coach — the respected Alvin Gentry who was fresh off an assistant position with the highly successful Warriors —  many people, including myself, expected a breakout season from the team. Instead they faltered and managed a paltry 30 wins. Looking at the Four Factors, they were above average in keeping their turnovers down and rebounding, and below average everywhere else. Even with Anthony Davis and their seven-footers, they were the fifth-worst team in terms of opponent FG% at the rim. They were dismantled by injuries too, but at this point it's expected.
Rotation players in: Solomon Hill, E'Twaun Moore, Buddy Hield, Quincy Pontdexter, Langston Galloway, Terrence Jones.
Rotation players out: Ryan Anderson, Eric Gordon, Toney Douglas, Norris Cole.
The Pelicans remade much of the rotation, letting former major pieces Ryan Anderson and Eric Gordon go. Both players were injured so frequently in New Orleans they weren't the same pieces the team originally wanted. They let a couple other guards go too, in Douglas and Norris Cole; neither guy was important for the squad.
In their places, they have a couple of solid defenders on the wing in Solomon Hill and Quincy Pondexter. Both E'Twaun Moore and Langston Galloway are defensive, table-setting combo guards with competent but not extraordinary offensive games. Buddy Hield is their reward, and he's the typical high-scoring senior college star. Draft models didn't like him but he'll be pressed into service because they need his shooting. And last and probably least, Terrence Jones is a forward from Houston who had some promising seasons before an absolutely miserable 2016 season. He'll need to improve considerably to take the backup power forward slot.
2016-17 projected
While the Pelicans have many new players and they've excised the defensive liabilities that were Eric Gordon and Ryan Anderson, most of their main issues remain and they did not add the kind of talent one would need to push past 0.500 basketball. There's still this central issue: the team implodes on defense with Anthony Davis at center, partly due to rebounding, but if he plays power forward their offense is strangled by one of their centers, either Omer Asik or Alexis Ajinca. Both large centers have limited range and are fairly awkward overall, but their rim protection and rebounding are still valuable.
There are no ideal solutions at power forward if the team were to play Anthony Davis at center. Solomon Hill, Dante Cunningham, and Terrence Jones are all poor to mediocre defensive rebounders, and they don't have imposing size for the frontcourt. It just comes down to a choice about how the team wants to play. For now the team will probably try to protect Davis physically by playing him more at power forward.
Besides Davis, their best player is Jrue Holiday, a big pick-and-roll point guard who's been a plus on defense. He works well with Davis, but he's not a great shooter so he should be surrounded by shooters. Fortunately, the Pelicans do have a good stash of shooters, from the rookie Buddy Hield to Pondexter. Solomon Hill, the likely starter at small forward, is only a decent shooter, however. It's important for Jrue to stay healthy this year though because they have little playmaking on the bench. Tyreke Evans would beneficial, but his health is in question and he won't available until December.
Overall, the fit should be better and their health should rebound, at least a little bit. But there's no incoming source of high production — all the "rotation players in" were role players. Their lottery pick, Buddy Hield, in theory should be a building block and a possible high-talent piece. But the Pelicans made the obvious short-term move, going for a limited college senior with a lower upside than most number six picks.
The team will unfairly depend on Anthony Davis for their wins. A year ago, he was a popular pick for MVP, which was not smart for a couple reasons. One is that MVPs come from high win teams, and the Pelicans were not going to be that good. The other reason is that when players make huge leaps in performance, they are not likely to repeat the surge, as many people assume; they're more likely to regress in performance. Conversely, after a semi-disappointing season, Davis should be better this year, even after adjusting for his age. But it won't be enough.
Quick statistic
Anthony Davis is a whirlwind of box-score stats, but one area where he stood out was his block rate relative to his foul rate. Looking at total blocks divided by shooting fouls committed, he had one of the greatest seasons in 2014-15. The actual formula is BLK/(Shooting fouls + 1) because dividing by zero, and any possibility of, is a moral sin. However, his ratio fell sharply last season. His rate of shooting fouls slightly rose, but the problem was that his blocks per possession fell to a career low. The proportion of his time split between positions isn't the culprit here. It was a distressing sign, and if the Pelicans want to make the playoffs they'll need some elite rim protection from him.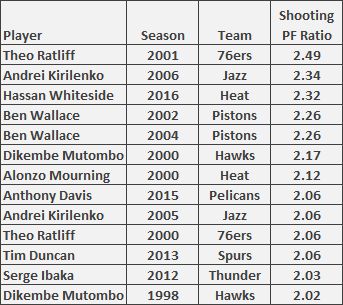 Summary
The New Orleans Pelicans had a bumpy road last season, and things don't look like they'll improve dramatically. They suffered some bad luck, from injuries to fluky high percentages of opponent three-pointers and free-throws, but the expected gains are only modest. The team is lacking another high-impact player; Anthony Davis is not enough, which is not a criticism of him but of the front office.
Win predictions:
Mine: 35.3. A blend of several metrics, including Dredge, with a few other factors considered, like coaching.
Andrew Johnson's: 37. A combination of PT-PM (a SportVU player tracking metric) blended with RAPM. Two-time reigning champion of the APBRmetrics board predictions contest.
Nick Restifo's: 39. A simulation using BPM and RPM for player value, which includes game effects like altitude and rest.
Kevin Ferrigan's: 35. A player projection system with inputs from RAPM, BPM, height, and age.
More from Nylon Calculus
This article originally appeared on