2016-17 NBA Preview: Memphis Grizzlies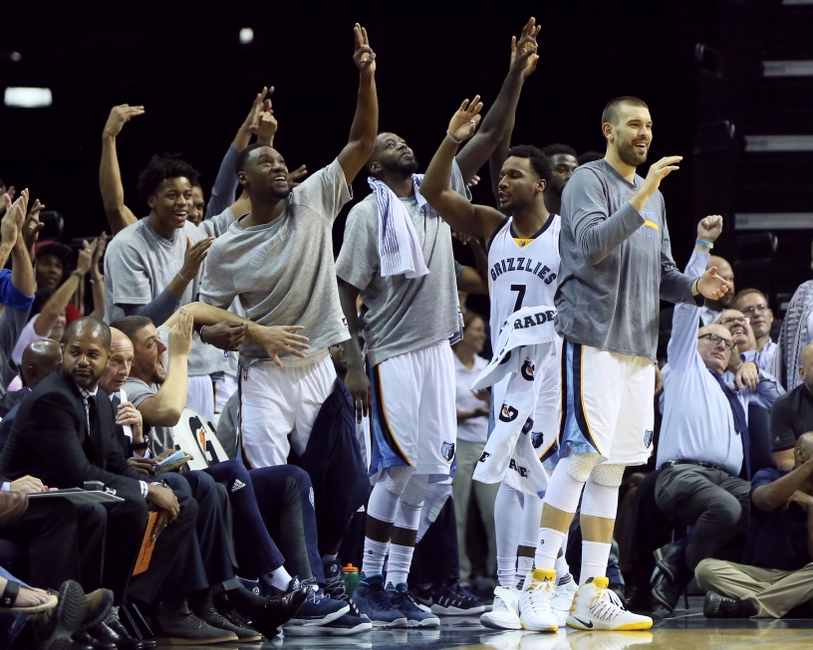 Even the Grit-n-Grind team has to bear the ravages of time and we will see the last gasps of a core that might have peaked with the Conference Finals. Mike Conley and Marc Gasol are still the foundation, but there's a question of how long they'll stick to their distinctive style, as they've actually already wavered from their ethos. Last season was a calamity of injuries, and one could assume with better luck and health they should recover. But there's a real possibility we won't see much from this iteration of the Grizzlies, even when healthy
"Soon the grizzly was joined by a brown bear, a sun bear, and a beaver suffering from an identity crisis of magnificent proportion." – Cameron Dokey
2015-16 in review
Memphis set a rather unfortunate record: they gave playing time to 28 unique players last season. That's a telling reflection of how well their season went. Marc Gasol and Mike Conley were injured for long stretches of the season. Lance Stephenson was a mistake. Tony Allen missed his regular allotment of games, and Zach Randolph missed a few too. They were still the Memphis Grizzlies, though. They were poor shooters, but they crashed the glass and got to the foul line. They slipped on defense, but they still led the league in creating turnovers. And, naturally, they outperformed their point differential yet again, somehow winning 42 games even though their average margin of victory was a little worse than -2. Without Mike Conley and Marc Gasol, they were swept by the Spurs in the first round.
Rotation players in: Chandler Parsons.
Rotation players out: Matt Barnes, Jeff Green, Courtney Lee, Mario Chalmers.
Memphis had a gaggle of players on the roster last season, so it's tough to untangle what exactly is going in and out, but essentially they're swapping out Matt Barnes and Jeff Green for Chandler Parsons at forward. Barnes was still a capable defender, but he was limited on offense, and Jeff Green is, well, Jeff Green. Parsons will deliver something the team has needed for years: shooting, decent playmaking, and shot creation. Memphis lost a few role players, like Chalmers, but they'll particularly miss Courtney Lee, one of their few defenders who could also shoot.
2016-17 projected
The Grizzlies will in all likelihood be a better team next season, but the extant to which is limited by a few realities.
The first of which is the aforementioned expected win total. They played like a 35 win team, so they have a bigger hole than people realize. And later in the season, which is the last memory people have, they were getting outscored by five points a game — they'll definitely be better than that.
With Chandler Parsons, the Grizzlies are working with a full deck now. He gives them a secondary ball-handler and a shooter, and he's a not a negative on defense. The projected starting lineup is quite good, although age takes a bite out of some of their ratings. The problem is their depth, which is a bit funny for a team that used 28 guys last season. But when Memphis relies on its bench, its relying on guys without much of a track record and a 40 year-old Vince Carter. This is more worrisome because I would not expect the starting lineup to be a particularly healthy one.
Marc Gasol is the most prominent example, because everyone assumes Tony Allen will miss a lot of games — we can move on from him. Gasol suffered the scary navicular bone foot injury, which is death for big men. Any pessimism for the season is warranted because this is a serious injury and at his age coming back is tougher. Marc was on a downward trajectory anyway, and he didn't look like the same Defensive Player of the Year force before he broke his foot. Even their new toy, Chandler Parsons, is injury-riddled: he has knee problems.
The two Memphis villains this season will be the dreaded age curve and minutes. They may not be able to get the best players on the court long enough to make a difference — guys like Brandan Wright, who also dealt with injuries, and James Ennis will have to step in. As we saw last season, the Grizzlies did not do well with some of those role players.
Quick statistic
While several legends have just retired, Vince Carter is still plugging along. I don't think anyone expected the dunking wonder to be one of the last standing of his generation, but his shooting skills let him age gracefully. Referring to the table below, few players at his height or smaller have ever even gotten NBA minutes at his age. This upcoming season, he'll be one of the rare few smaller players who played a season at age 40. This is according to Basketball-Reference's age formula, which calculates it relative to February 1st. Bob Cousy came out of retirement for a few games as more of a stunt than a basketball decision. John Long came back to the NBA over several years in other leagues, and he had some ugly stats. John Stockton is the only success story — and Vince Carter, Half-man, Half-Amazing, is looking to join him.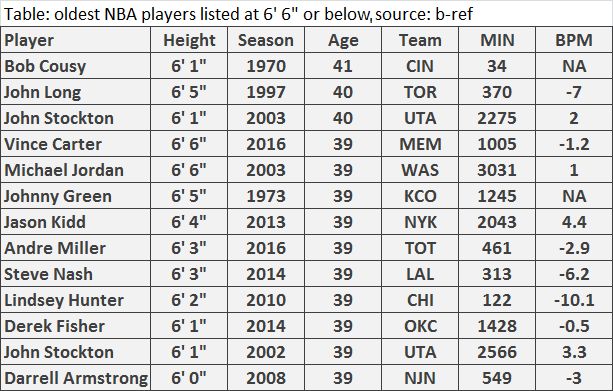 Summary
As strange as it sounds, the Grizzlies are projected to win fewer games this upcoming season than the last one, where they experienced a storm of injuries. They're getting too old, and Chandler Parsons isn't enough to offset the damage. Marc Gasol, specifically, is a concern. If his foot isn't right, they could fall far in the standings. On the other hand, the team does have a magical ability to outperform its expected win totals, and I would not be shocked if I see the team sitting comfortably in the playoff race, once again, as is their way.
Win predictions:
Mine: 38.9. A blend of several metrics, including Dredge, with a few other factors considered, like coaching.
Andrew Johnson's: 39. A combination of PT-PM (a SportVU player tracking metric) blended with RAPM. Two-time reigning champion of the APBRmetrics board predictions contest.
Nick Restifo's: 42. A simulation using BPM and RPM for player value, which includes game effects like altitude and rest.
Kevin Ferrigan's: 37. A player projection system with inputs from RAPM, BPM, height, and age.
More from Nylon Calculus
This article originally appeared on