2016-17 NBA Preview: Denver Nuggets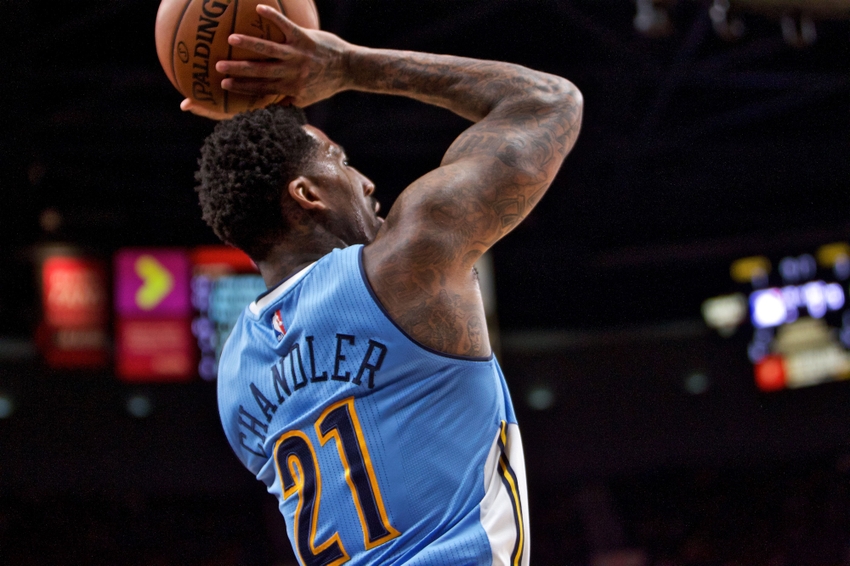 The Denver Nuggets were excited for a 2016 season where one of their draft picks could compete for the Rookie of the Year award — they just didn't expect it would be Nikola Jokic and not Emmanuel Mudiay, who was hammered with abysmal shooting percentages and a boat-load of turnovers. They're a strong rebuilding team, one that's held onto a few of its veterans while adding young talent by drafting. Jokic, so far, looks like a real find. With enough incumbent talent for a decent team and plenty of young talent for growth in the future, they could be quite good. The only matter to settle is when it will happen.
"Everybody is identical in their secret unspoken belief that way deep down they are different from everyone else." – David Foster Wallace
2015-16 in review
In a few ways, it was a fairly typical Denver season. Danilo Gallinari looked fantastic for a while and then got injured. Kenneth Faried had a renewed vigor and attacked the boards voraciously. Their play at point guard was, collectively, a mess. Nikola Jokic supplanted Jusuf Nurkic, who was injured for much of the season, as the surprise Euro. As a team, they were poor in most areas except rebounding and getting to the foul line — in many ways, Faried is emblematic of the team, as they're young and energetic but undisciplined and lacking elite shooting. They finished with 33 wins; they were a little below average on offense and they were far below average on defense.
Rotation players in: Jamal Murray, Juan Hernangomez.
Rotation players out: Randy Foye, Joffrey Lauvergne.
Denver made few changes; instead they'll be relying on their holdover young players to make progress. They've drafted well lately, and it appears that streak could continue. Murray was a decent value at seventh, and as a combo guard he could actually fit well next to Mudiay thanks to his shooting and Mudiay's ability to check shooting guards. Draft models generally liked him. Juan Hernangomez had lottery-talent according to some translated stats. Denver lost no one truly important either, as Foye was a stopgap at shooting guard and Joffrey becomes a infrequent backup when both Nikola Jokic and Jusuf Nurkic are healthy.
2016-17 projected
The Denver Nuggets are one of the teams fighting for the right to lose to Golden State in the first round. For a group of young kids who could get a lot better, that's an accomplishment, but you don't have to be very good to snag the 8th seed this season.
Given that the Nuggets won 33 games last year, and their point differential suggested a 33 win team, it would seem reasonable to predict a large jump given their collective age, but there are a couple limiting factors. One is, simply, Nikola Jokic was so good my projection doesn't have him improving by a substantial amount. Some of his defensive metrics were suspiciously good — it wouldn't be a stretch to say those would regress by a small amount.
As a young team with many intriguing young players, Denver will be giving a lot of those minutes to guys in their early 20's, and most guys like that aren't like Jokic. Will Barton, for example, was a productive player — he's a negative regression candidate too, by the way — but his minutes could be partly usurped rookie Jamal Murray. Rookies are rarely productive.
Denver's not perfectly constructed either. They're hurting for outside shooting, and their true backup point guard is Jameer Nelson, a small veteran point guard who wouldn't make the rotation for most NBA teams. They need to decide their future on power forward. Kenneth Faried is an awkward fit as a non-spacing, poor defensive, 6-8 frontcourt player. The market is almost nonexistent for players like him, and the Nuggets may hold onto him simply because they can't get anything back. It's a tricky team to project though because you can see them tanking and playing their veterans less often, and you can see them hitting 40 plus wins if a couple of their young guys develop quickly.
Quick statistic
Much of the excitement in Denver right now is centered around Nikola Jokic, a surprise to many but statistical translations saw him as a top five talent. His high RPM mark was cited frequently, but box-score metrics loved him too. Via Basketball-Reference, he had the tenth best rookie season by BPM (minimum 1500 minutes.) As you can see from the list below, high BPM rookies are almost always All-Stars and many are Hall of Famers. A few names may be unfamiliar to younger fans, like Alvan Adams and Terry Cummings, but only Sam Bowie and Arvydas Sabonis did not make an all-star team — Bowie got injured and Sabonis was a rookie in his 30's. They're all respected players, with the exception of the aforementioned Bowie and Steve Francis. It's a great sign for Jokic.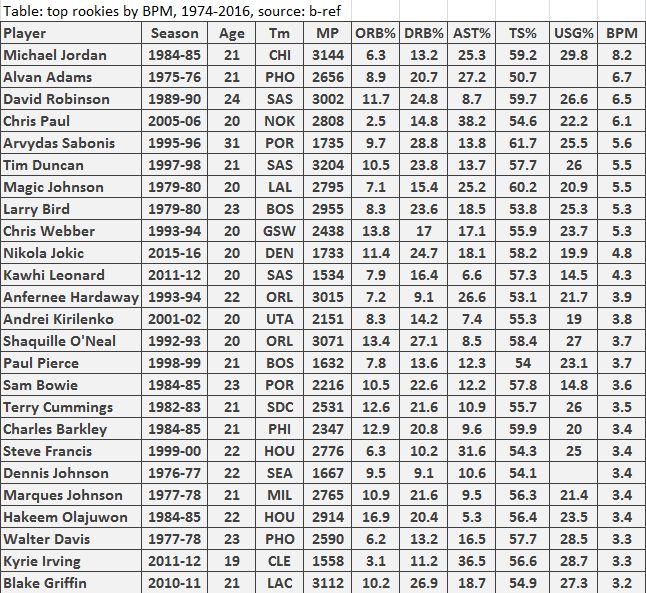 Summary
The team is playing for the future though, and they do have a strong core. The Nikola Jokic and Jusuf Nurkic combination is devastating. Juan Hernangomez is a stretch four with considerable minutes in a strong European league. Emmanuel Mudiay had promising stretches last season and could be a nice weapon on defense, able to cross-match. Both Jamal Murray and Gary Harris are good shooters and could be future 3-and-D guys. But we're playing for 2016 right now, not the future, and for now the team rates as mediocre.
Win predictions:
Mine: 35.6. A blend of several metrics, including Dredge, with a few other factors considered, like coaching.
Andrew Johnson's: 35. A combination of PT-PM (a SportVU player tracking metric) blended with RAPM. Two-time reigning champion of the APBRmetrics board predictions contest.
Nick Restifo's: 32. A simulation using BPM and RPM for player value, which includes game effects like altitude and rest.
Kevin Ferrigan's: 36. A player projection system with inputs from RAPM, BPM, height, and age.
More from Nylon Calculus
This article originally appeared on