2016-17 NBA Preview: Cleveland Cavaliers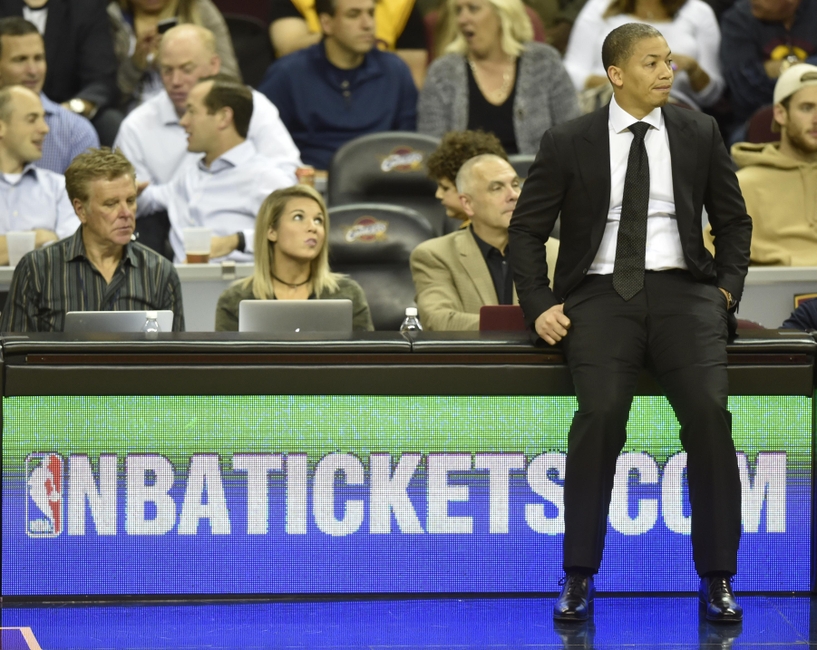 I don't think we're done appreciating what happened in the 2017 Finals, and I think we'll be unpacking its implications for a while. For one, LeBron James accomplished something Michael Jordan truly never did, and at LeBron's level his peers are just a short list of the very best players ever. There's also the higher reward level of winning a championship for Cleveland. But now we have the title-malaise season: what will happen? Will they try to cruise through the regular season and ramp up the energy in the post-season? And how will LeBron further his legacy?
"Some are born great, some achieve greatness, and some have greatness thrust upon them." – Shakespeare
2015-16 in review
The Cavaliers started the season with Kyrie Irving and Iman Shumpert out with injuries while LeBron James and Timofey Mozgov were injured and playing at less than full power. The team excelled anyway, leading the conference and playing good defense for the first half of the year. Then suddenly was coach David Blatt was fired. It was perplexing at the time, but everyone has moved on because at the end of the season Cleveland came back from a 3-1 deficit in the Finals and defeated a team that won 73 games in the regular season. For all the talk about how they were integrating Kevin Love, how LeBron James was controlling too much of the team, their defensive problems, all the money they spent, it was all validated by one title series. It was magical.
Rotation players in: Mike Dunleavy.
Rotation players out: Matthew Dellavedova, Timofey Mozgov, Mo Williams.
The Cavaliers have already spent a fortune on their way to a title, so we can give them a pass on letting a few players go and only grabbing one significant newcomer, Mike Dunleavy. When healthy, he's an upgrade over Richard Jefferson. Mo Williams retired, and it's arguable that one was their fault. It does exacerbate a problem: Kyrie Irving regularly misses games, and they lost their backup point in Dellavedova. Finally, Mozgov left for L.A. after a disappointing season, but with Tristan Thompson and Channing Frye they should be able to cover his minutes well.
2016-17 Projected
I assume people believe Cleveland will rest as much as it can for the regular season, as there's not much high-level competition for seeding in the East anyway. As a result their win total won't be impressive. But a few projections have the Cavaliers somewhere around 60 wins or higher, and basically it's because some metrics don't separate the regular season from the playoffs.
For ESPN's RPM, the playoffs are included, and normally this is good because it's just about adding new information. But the Cavaliers obviously got a big boost from beating a superior team and, more precisely, LeBron James' RPM greatly increased. At the end of the season, he was at 8.41; after the Finals, he climbed to 9.79, which led the league. The same is true of his RAPM, as long as that RAPM includes the playoffs too. As a result, projections that rely on RPM or RAPM are optimistic about the Cavaliers, who employ a player projected to be the best in the league. But LeBron won't be at maximum effort the entire season. Thus, since I used RPM and RAPM, along with some other numbers, I tweaked LeBron's rating to reflect this disparity. I believe it's fair, and it moved Cleveland's projected wins to a more reasonable line.
There's another reason to be suspicious of Cleveland getting near 60 wins. The team has often played at its best with Matthew Dellavedova, and this includes a pre-LeBron season. Kyrie Irving is a flashy scorer with some slick moves, but even a box score metric like BPM isn't that impressed, and his plus-minus stats are often wanting. This isn't intentionally obtuse analytics talk or some way of denigrating an obviously skilled player as an alternative viewpoint. There's a clear pattern of the Cavaliers performing really well with Dellavedova, which makes sense because he's essentially a 3-and-D point guard on a team where LeBron can essentially take the point guard role on offense.
Kyrie Irving gets injured frequently too, so there's an additional concern of how they handle even more point guard minutes that'll need to be covered. Iman Shumpert, another player with regularly scheduled injuries, is a solution, but his stock isn't high right now after a disappointing season. When healthy, he's a good defensive player with enough outside shooting skill to play off LeBron. Then the Cavaliers have a 5-9 rookie point guard in Kay Felder. In other words, Cleveland is hoping for a healthy season from Irving.
Otherwise, the team will be very much the same. Perhaps they'll get more playing time and production from Channing Frye. Of course, it's a odd-numbered season, so good luck with that. Mike Dunleavy could be a major addition, as they need a big wing to pair next to LeBron in small ball lineups and (when healthy) Dunleavy is a great all-around role player. He's getting older, but they got blood from the stone of Richard Jefferson, so I'm optimistic. Finally, J.R. Smith just signed a contract after a long free agent holdout — apparently they worked for a while on a clause that would let him go shirtless during games, but alas, it couldn't stay in.
Quick graph
LeBron's playoff numbers were insane, not to mention just his Finals stats. In fact, using BPM, which adjusts for competition, LeBron James' 2016 ranks as the fourth greatest post-season since 1974 — and he owns the "record" for first when he strung together super-human stats and lost in 2009. Looking at his BPM below from the post-season to the playoffs, he has two seasons where it's virtually unchanged — that is, there's nearly a direct 1-to-1 relationship in BPM — then three where it drops and five where it rises. Of course, this is cherry-picking a little because this is only looking at seasons where he has heavy minutes, and naturally those were more successful, but he has a good track record now of raising his performance in the playoffs.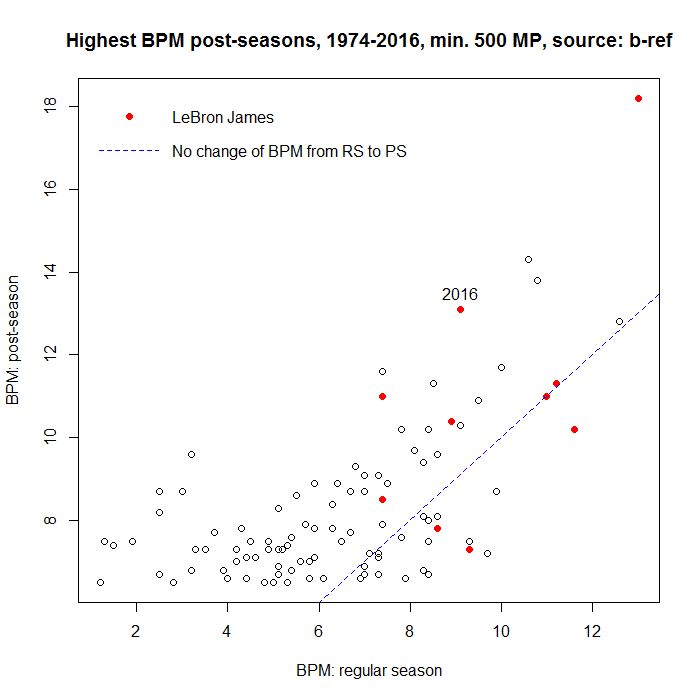 Summary
The Cleveland Cavaliers have already accomplished what they wanted; now it's victory lap time. They're probably a weaker team now though, even when adjusting for the post-championship hangover. They have some real problems with backup point guard, and LeBron, who's been as deep as possible in the playoffs for six straight years, is another year older. But all that matters is that one series at the end of the post-season. They're still on track for an epic Warriors rematch in June. We're all waiting.
Win predictions:
Mine: 56.9. A blend of several metrics, including Dredge, with a few other factors considered, like coaching.
Andrew Johnson's: 55. A combination of PT-PM (a SportVU player tracking metric) blended with RAPM. Two-time reigning champion of the APBRmetrics board predictions contest.
Nick Restifo's: 61 A simulation using BPM and RPM for player value, which includes game effects like altitude and rest.
Kevin Ferrigan's: 61. A player projection system with inputs from RAPM, BPM, height, and age.
More from Nylon Calculus
This article originally appeared on