2016-17 Individual Scoring Most Significant In 45 Years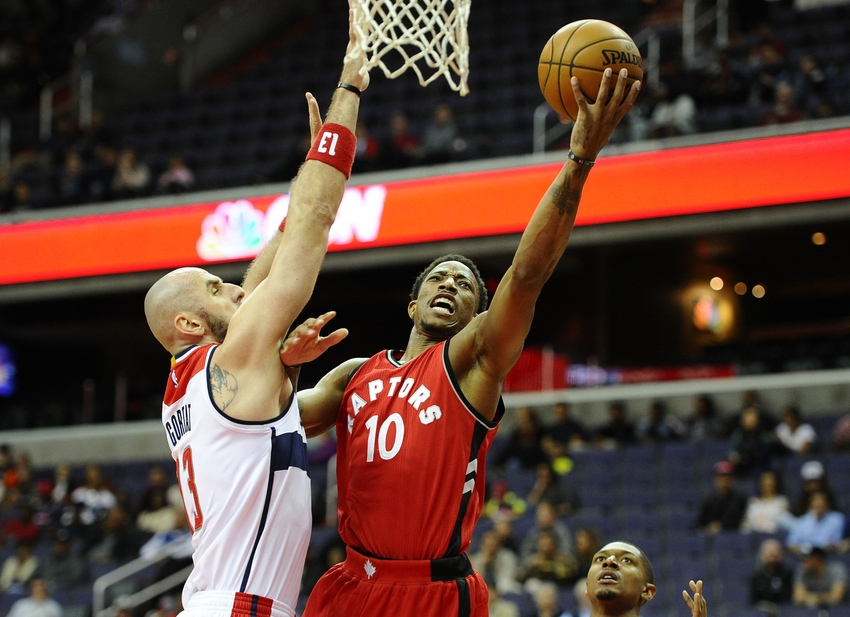 Individual scoring in the NBA this season has been off the charts. There are a record-equaling number of players on pace for 2,000-point seasons.
In order to score 2,000 points in a season, a player needs average 24.4 points per game over the full 82 games.  If you are following the NBA this season, then I need not tell you that there are large number of players who are doing just that.
The 2,000-point mark is usually broken by at least one player since the first time the mark was surpassed in the 1957-58 by George Yardley. There have only been three NBA seasons where the 2,000-point barrier has not been broken by at least one player.
Of those three seasons, two of them were lockout-shortened campaigns.
The 1998-99 season had only 50 games. Shaquille O'Neal scored only 1,289 points at 26.3 per game. He finished second in points per game that year to Allen Iverson. If the season had been a full 82 games, these two players probably would have reached the magic number.
The 2011-12 season had only 66 games. Kevin Durant scored 1,850 points at 28.0 per game to lead the NBA. Three other players scored more than the required 24.4 points per game for that season.
The only full NBA season when the 2,000-point barrier was not broken was 2003-04. when Kevin Garnett scored 1,987 points. The only player who averaged enough points per game to break the 2,000 mark was Tracy McGrady. who averaged 28.0 points per game.
Unfortunately McGrady missed 15 games and thus did not reach 2,000 points.
Is this a historical season?
This season, there are 12 players averaging more than 24.4 points per game. Of these players three are averaging more than 30.0 points per game–DeMar DeRozan (33.3 per game), Russell Westbrook (31.8) and Anthony Davis (30.5).
The other 10 players are Damian Lillard, James Harden, Stephen Curry, Durant, Andrew Wiggins, Isaiah Thomas,  DeMarcus Cousins, Kemba Walker and Kawhi Leonard.
The record for the most amount of players in a season to break the 2,000-point mark was 13 set in 1970-71 and equaled the next season, 1971-72. The closest that the NBA has been to that number since then was the 1988-89 season when 10 players passed the mark.
Who are the potential difference makers?
Of the players outside the top 13, there are a number who can put together strong enough seasons to break the 2,000 points. Jimmy Butler is averaging 24.2 points per game. This is just less than the average required
LeBron James has 23.4 points per games this season, which is also only just less than the required number. I will not discount this man from doing anything. He already has nine seasons in his career where he has broken the 2,000-point mark.
If he manages the feat again, James will become only the third player in history to break 2,000 points in a season 10 times. The other two players? Michael Jordan, who accomplished the feat 11 times. and Karl Malone, who did it 12 times.
Another player I like for the 2,000-point mark is Carmelo Anthony. Anthony has broken the 2,000-point mark twice in his career and is averaging 22.2 points per game on the season.
The fourth player who I think could break the mark this season is Karl-Anthony Towns. He is averaging 22.3 points per game but let's be honest–Towns is that good. I can see him doing almost anything on the basketball court.
Historical season — Duos
It would not be an article talking about the Golden State Warriors in some regards. Stephen Curry and Kevin Durant have a great chance to make history by doing something that has only happened four times previously in the history of the NBA.
Curry and Durant have the chance to score 2,000 points in the same season on the same team. This has only happened three times in NBA history and once in ABA history.
The first time this incredible feat was accomplished was in the 1964-65 season. The two players who created this little slice of history? NBA legends Jerry West (2,292) and Elgin Baylor (2,009) of the Los Angeles Lakers.
Both players scored 2,000 points in a season five times, but only once in the same season.
The second time this was accomplished was in the ABA in the 1970-71 season. Mack Calvin (2,201) and Larry Jones (2,044) of the Floridians (yes, just the Floridians) managed to accomplish this rare feat.
Jones scored 2,000 points twice in a season. It was the only time Calvin did so.
The third time  was accomplished was in 1972-73. It took another pair of NBA legends to accomplish this. Pete Maravich (2,063) and Lou Hudson (2,029) of the Atlanta Hawks were the two players.
Each scored 2,000 points in a season three times, but just once in the same season as teammates.
The last time it happened was in 1986-87. Larry Bird (2,076) and Kevin McHale (2,008) of the Boston Celtics, another legendary pair, completed this feat 30 years ago.
This is not a bad list for Curry and Durant to join. However, as a fun fact, no team that has had two players score 2,000 points in the same season has won the title.
More potential history?
Almost every team in the NBA has had a 2,000-point scorer.
There are three exceptions to this rule: The Charlotte Hornets, the Memphis Grizzlies and the New Orleans Pelicans.
This season, barring injury the Pelicans are a surety to come off this list. Anthony Davis is currently on pace for more than 2,450 points. He has averaged 65 games a season in his first four seasons. If he misses 17 games, he will miss the 2,000-point mark by less than 20 points.
Charlotte may also come off this list if Kemba Walker can keep up his current shooting.
His 25.8 points per game is enough to get him past 2,000 if he plays every game.
Unfortunately for Memphis, Mike Conley is their leading scorer with 19.8 points per game. This is not enough for Conley to go anywhere near the 2,000 point mark.
2016-17 has the potential to be historic. I will be watching the next 70 games with great interest.
This article originally appeared on