2016-17 Central Division Previews: Chicago Bulls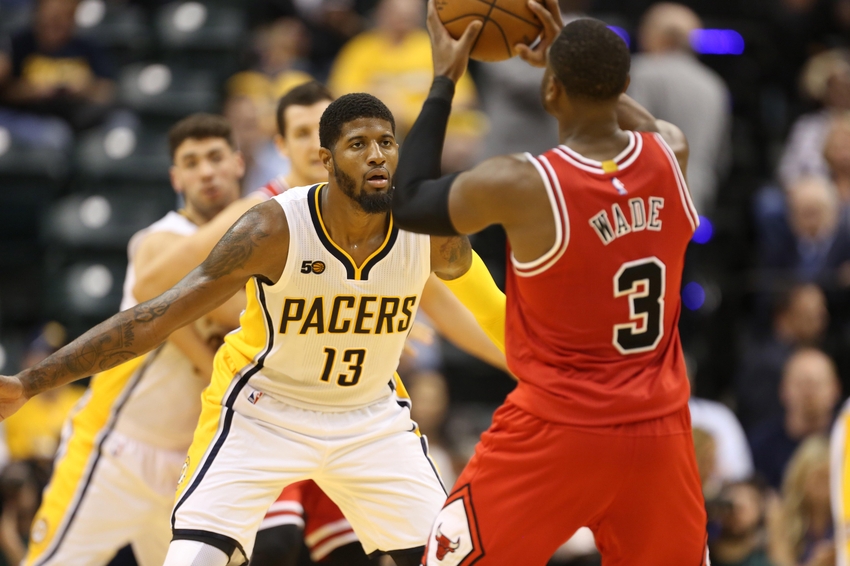 The third of the four-part series in previewing the Pacers' Central Division opponents, the Bulls are featured going into their 2016-17 season. How will they stack up, and how will they play against the Pacers?
The Bulls made the most moves out of anybody in the Central Division this summer, and while they barely missed the playoffs last season, they probably shouldn't be counted out of contention this year.
Here's a preview of Chicago heading into this year, and a breakdown of how the Pacers will fare against them in their four divisional matchups.
Chicago Bulls Basics
Team:
Chicago Bulls
Last Season Record:
42-40
Last Season Record vs the Pacers:
3-1
Vegas Projected Win Total:
38 1/2
Key Additions:
Dwayne Wade, Rajon Rondo, Robin Lopez
Key Losses:
Derrick Rose, Pau Gasol, Joakim Noah, Mike Dunleavy
Chicago Bulls Season Preview
The Chicago Bulls may win some kind of award for the most lateral offseason in NBA history, at least in the eyes of most NBA analysts. With over half of their roster gone and replaced, some kind of change is to be expected. But the Vegas over/under line is set at 38.5 games, and most NBA guys are setting their expectations at just about where they finished last year, right on the fringe of the playoffs.
The biggest of their moves? One Chicago guy out, another Chicago guy in. Derrick Rose is a Knick, Dwayne Wade is a Bull and nothing makes sense anymore.
Meanwhile, the Bulls also let their long-time center Joakim Noah walk as they took on Robin Lopez as a part of that Rose trade. To top it all off, the Bulls threw $28 million at Rajon Rondo to be their new starting point guard.
Now here's where the NBA Twitter world collectively said, "Wait, what?" If Steph Curry and Klay Thompson are the Splash Brothers, Rondo and Wade are the Splotch Brothers. Throw in Jimmy Butler and his 31% shooting clip from 3-point range, and the Bulls look like a team whose best chance of winning is Fred Hoiberg inventing a time machine to the 1970s.
Yeah, the 3-point totals aren't looking great for this team (although Dwyane Wade may surprise some people with improved accuracy). But dismissing of the team as a whole due to that factor may be a bit of a misjudgment.
The verdict on the Bulls this season is already out for a lot of NBA fans and writers. Rondo is a buzzword for negativity these days, Wade has unfairly been written off by many as too old to dominant through the rigors of an 82-game season, and any team that doesn't follow the Warriors model isn't on the right track to a championship.
They won't be a top-tier team behind the arc. But they won't suffer from it in the same way that the fellow divisional opponent Milwaukee Bucks will. There are two things that a lot of people have overlooked about the Bulls 3-point woes, and the probability of regression this year.
1.) The Bulls didn't run a 3-point heavy offense last season.
2.) They still have Nikola Mirotic and Doug McDermott.
Let's start with the first point. The Bulls, despite having a very efficient 3-point game (third in the league with 37.1 3P%), ranked 24th in 3-pointers attempted and 3-point shot frequency (meaning 3s as a percentage of their total attempts). The accuracy may go down, but it's not like 3-pointers were the Bulls bread-and-butter last year.
Second, with Mirotic and McDermott on the roster, there probably won't be as big of an issue with floor spacing as most people initially thought when the Bulls squad started to take shape this summer. The 3-point shot isn't necessarily the go-to in the Bulls offense, but any Pacer fan should know how pesky guarding the team is when Mirotic is on the floor with the starters, or McDermott is on the floor off the bench.
The Bulls rely on efficient, well-timed 3s that just keep you concerned enough to leave the floor open for Butler (and now Wade and Rondo) to drive and for Taj Gibson (and now Robin Lopez) to do work down low. So it's possible this change won't have as much impact on their offense as many expect.
Here is a list of all of the Bulls that remain from last season who attempted at least 1 triple per game last year, along with their 3P%:
1.) Nikola Mirotic (2.0-of-5.2, 39.0%)
2.) Doug McDermott (1.4-of-3.2, 42.5%)
3.) Jimmy Butler (1.0-of-3.1, 31.2%)
That's not … a lot. Here is a list of all the Bulls from last season — who are no longer on the roster — who shot at least one three-pointer a game:
1.) Mike Dunleavy (1.3-of-3.2, 39.4%)
2.) Aaron Brooks (1.0-of-2.7, 35.7%)
3.) Tony Snell (0.9-of-2.4, 36.1%)
4.) Derrick Rose (0.7-of-2.3, 29.3%)
5.) Justin Holiday (1.0-2.2, 43.3%)
6.) E'Twaun Moore (0.8-of-1.8, 45.2%)
7.) Pau Gasol (0.3-of-1.0, 34.8%)
So while a lot of good 3-point shooters left, there aren't that many great ones that the Bulls will be missing. Holiday's numbers are a bit misleading — he played 26 games for the Bulls and is otherwise a 32.6% career shooter from deep. Dunleavy, while his numbers aren't a fluke, still only played 31 games for the Bulls last year. Moore played 59, though his lack of shooting volume will make his absence somewhat unnoticeable as well.
Here is a list of players that are joining the Bulls this season who shot at least 1 trey per game last year:
1.) Isaiah Canaan (2.3-of-6.3, 36.3%)
2.) Rajon Rondo (0.9-of-2.4, 36.5%)
3.) Jerian Grant (0.3-of-1.3, 22.0%)
4.) Michael Carter-Williams (0.3-of-1.0, 27.3%)
Wade didn't qualify for this stat, as he took 0.6 threes a game. Rondo's numbers may be an aberration, as he shoots less than 30% from deep on his career.
Overall, these numbers should tell you that the Bulls will be hurting for 3-point depth this season. They did draft Denzel Valentine, who shot an amazing 44.4% at a high volume of 7.5 shots a game from behind the arc last year, but there's no guarantee he'll be that good at the NBA level.
So, with quality but not quantity at the 3-point arc, what's the offense going to look like? This stat from last year is a helpful hint. The Bulls have four players who finished in the top 30 in drives last season: Rondo (9th), Wade (19th), Carter-Williams (25th) and Butler (29th). Similar to last year, when Rose (17th) and Butler attacked the rim, the Bulls now have four slashers that can score at the bucket or pass out to an open shooter.
Doubling down on and in-and-out style of play isn't a surefire good thing, but it definitely could go a lot better than most people are giving the Bulls credit for. Laugh at the back-court shooting all you want, but wait until Wade is coming at the rim with Mirotic waiting in the corner. You probably won't be laughing quite as much.
The Bulls were the epitome of an average team last season. They finished only a game above .500, finished 15th in defensive rating, and ranked 15th in pace. It can be easy to think that a similar result should be expected this year, but there are just too many moving parts to say for sure.
The Bulls were the 7th most injured team in the league last year in terms of games lost, and the second most injured team in terms of salary dollars lost (per In Street Clothes). It's hard to predict injuries, but Lopez has played and started a full 82 games in three of the last four seasons. Wade played 73 games last year; Rondo played 72. Butler and Mirotic haven't had major injury issues recently. It's fair to think that their luck might be a little better this season.
The Bulls also had a lot of roster turnover. To assume that this will be a lateral change isn't putting enough thought in the matter. They lost a lot of depth in their 3-point game, but their integral pieces still remain. Wade is, like it or not, still a 20-4-4 player. Say what you want about Rondo, but he can pass the ball, and can be effective if utilized as such. Lopez brings consistency to the center spot that hasn't been seen in some time (mostly due to injury problems with Joakim Noah).
Their ceiling could be very high, if these pieces somehow all fit together and run as a fluid machine. Their ceiling could be very low, if the injury bug hits again, if Mirotic isn't as effective from deep, or if Rondo starts acting up off the court. They could very well end up at about .500, right where most people are saying they'll end up. But, the point is, keep an eye on them this season. They may surprise you — good or bad.
What This Means for the Indiana Pacers
Last year's Pacers/Bulls series was full of close games, heartbreak, and (a lot of) anger at officiating. In the eyes of many Pacers fans, it was the most exciting series of the year. While the Pacers only took one game to the Bulls' three, every single one of their losses could've gone either way, as the margin of victory in each game for the Bulls were as follows: 1, 2 (in OT), and 2.
A lot of the team statistics in the series are even — something that can be expected when all four games were close. However, one stat sticks out, and it's the same stat that defined the Bucks/Pacers series last season. It's the same stat that will define the Bulls this season.
More from 8 Points, 9 Seconds
Yes, the 3-point shot. It comes up so often, but in today's NBA, it's hard to ignore it.
Surprisingly enough, the Bulls dominated the 3-point game in the series, only (barely) losing out on the 3P% battle in one game. This all goes back to the quality-over-quantity argument. The Bulls only shot a few threes each game, but they made enough to keep the Pacers on their toes every game.
Remember the series finale, when Mirotic balled out and went 7-of-13 from 3? Only 3 other 3-point shots were scored that night from the Bulls, but all it took was Mirotic to keep the Pacers annoyed and too uncomfortable to leave the perimeter unguarded.
The question now is whether or not the Bulls can bring that level of trouble with less perimeter depth to back it up. Can the Pacers shut McDermott and Mirotic down knowing they don't have many other shooters to worry about? Will Myles Turner be enough of a deterrent at the rim to keep the Bulls' slash-and-pass players at bay? If the answer to these questions is yes, then the Pacers will play well against the Bulls this season.
This might just once again be the most entertaining series the Pacers will play this year. Paul George and Jimmy Butler showed up every game last year, and there's no reason that that should change. It could even be more heated after the two spent the bulk of their summers together playing for Team USA. If the Pacers can push the pace, these games will be fun, with a lot of rim-attacking and quick shots.
The two teams play twice in the first six games of the season, then twice in four days in December. The Pacers have a slight advantage in rest, as two of the games will be the second night of a back-to-back for the Bulls, traveling from New York and San Antonio to Chicago and Indianapolis, respectively. The Pacers have one such night, traveling from Brooklyn to Chicago- though it'll only be the third game of the season.
The Pacers should feel good about their odds of being able to flip the script on their losing record against the Bulls last season. However, with the uncertainty looming around the Bulls team this season, it's hard to predict who will come out on top this year. A 2-2 split, with each team winning one game in each of the two-game-in-a-week pairs, seems like the biggest probability as of now.
Chicago Bulls Bottom Line
The Bulls should be the most intriguing team out of the Central Division this year. The gap between their ceiling and floor is also probably the largest in the division.
There's a lot of unpredictability lingering in Chicago, so it's best to just sit back and watch what happens.
If you've taken anything out of this, it should be that they're not a team to simply be written off and ignored.
This article originally appeared on