2 Years Off Made Embiid Great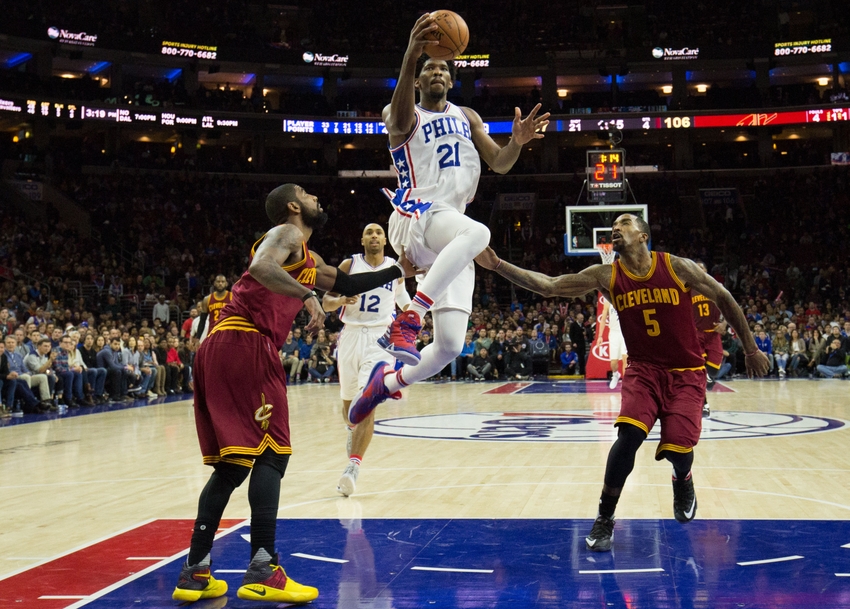 The Philadelphia 76ers would not quite be the same without Joel Embiid, and he wouldn't have quite been the same without two years off due to injury.
Philadelphia 76ers center Joel Embiid looks great so far this season. While there were initial questions when the 76ers drafted the supposedly injury-prone center at third overall, the questions seem to be a bit far-fetched at this point. Embiid was the right pick, that's been made clear.
It wouldn't be this clear this early in his playing career without an initial two years off, though.
Although his skills that we are seeing are particularly polished for a first year player (although still far from where they need to be), he wouldn't be having the success that he is having if it weren't for him missing the first seasons of his career.
More from The Sixer Sense
This conclusion might seem a bit off-kilter. After all, some people thought that after missing the first two seasons, he would never be able to jump into the game like he has so far. Some fans even doubted that he would ever make it to the court in a real game for the Sixers. I had my doubts too.
The two years missed ended up being huge benefits for Embiid. Over those two years, we all know what happened. Drills, repetition, and the weight room. We saw him go from a tall and somewhere in between slender and lean player to a tall and muscular player over the years that he wasn't playing.
His pregame routines were a coveted sight by Sixers fans as the coaches put him on display before games even though there was a zero percent chance he would play. That all had a purpose. It's as if they were saying, "hey, we're losing now, but look at what this guy can do!"
Some of us didn't listen. Again, me included.
I saw what he did pre-game and I gave him credit for what I saw. Solid shooting form and a solid shot range all over the floor. The other thing I saw was no defense. How will this giant center take what he's showing me now and put it into a game against NBA players without failing?
I still couldn't explain to you how he did it, but he's done it. And again, the scary part is that he has a long way to go. The ceiling for Embiid is unimaginable at this point.
College athletes redshirt their first seasons all the time to time-tune their skills. But not NBA players. Why is that? It clearly worked with Embiid.
Want your voice heard? Join the The Sixer Sense team!
In all reality, this NBA "red shirting" was a rare case with Embiid. Embiid is such a skilled athlete in general, and his knowledge of the game is still not totally there. It's clear that he needs to become more aware to reach his full potential. So maybe another player who went through the same process as him wouldn't be as good as him if they didn't have the athletic skills he has.
Additionally, those doubts that came in about Embiid, those were motivation for him. But it wasn't even just from outside fans who were partially doubting him because they also doubted the process. There were also process trusters who had their doubts about whether or not Embiid would ever play, and if he did, if he could ever be as good as he wa supposed to be.
And with all of trash talk Embiid has done on the court and on social media, we shouldn't be surprised that stuff like that drove Embiid to train harder and be as good as he could possibly be.
The Sixers, of course, would have loved to have been able to play Embiid over the last few seasons and to have given him on-court experience. They seized the opportunity they had, though, and used the opportunity while Embiid was not able to play to put him in the weight room and fine tune his shot.
It makes sense that Embiid has been so successful in the areas of games that he has been good in.
He's really good with the ball in his hands in one-on-one situations. He has a really solid form on his shot. All of these things were fine-tuned in drills for Embiid while he was recovering from injury. Everything he has yet to develop has to do with focusing on the big picture, his teammates, and his opponents. Those were the things the Sixers could not teach him while he was out with injury.
This article originally appeared on