10 Draymond Green feuds we would like to see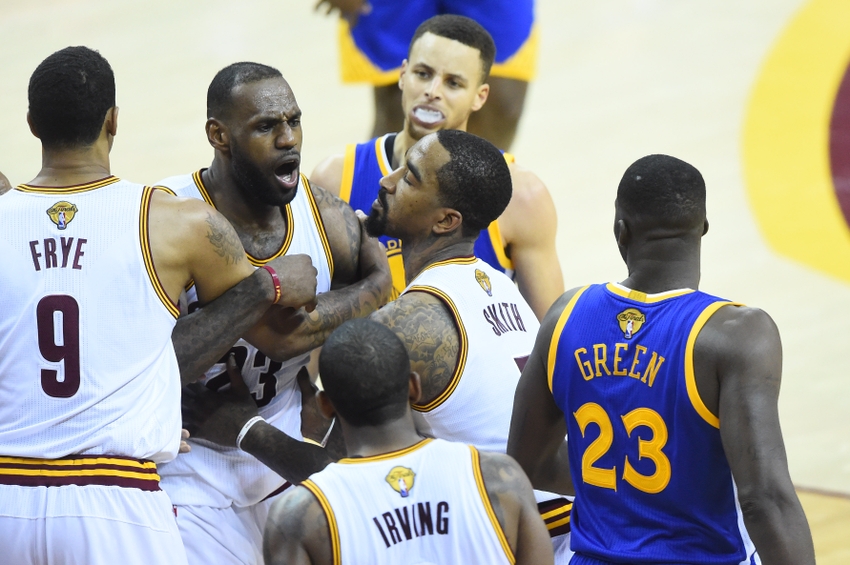 These are 10 players that we would love to see Golden State Warriors forward Draymond Green begin a feud with.
When it comes to personalities in the NBA, very few rival that of Draymond Green. He has to plenty to say and he plays with a ton of intensity. As a result of his intensity and desire to win, Green often finds himself in the middle of plenty of scrums with other players.
He already has some existing feuds, but he is certainly bound to start other ones. His ability to mix it up with other players has earned him a reputation in the league and has turned him into a must-see player. With a new season upon us, these are 10 feuds we would like to see involving Draymond Green.
10. Diamond Stone
How about a feud with a rookie with a temper? The Golden State Warriors are going to play four times this season against the Los Angeles Clippers. That's already one big step toward Green likely to mix it up with a Clipper.
If there's a Clipper that could be perfect for him to have a feud with, it has to be Diamond Stone. While in college at Maryland, Stone was no stranger to incidents on the court. He got into trouble during his time there for shoving a player's head into the ground.
That means that a battle between him and Green is inevitable. If Stone is able to see meaningful minutes on the floor for Los Angeles, then it is likely these two could match up against one another. If things start to get chippy, this could become a feud to see.
9. Metta World Peace
When it comes to crazy on the basketball court, Metta World Peace sets the bar high. He has been involved in so many incidents in his career, that no one will ever top the things that he has done and nor should they attempt to. This is a man that tried to fight an entire arena and delivered more vicious elbows than an MMA fighter.
If there is someone that could bring the crazy out of Draymond Green, it's World Peace. These two really haven't crossed paths yet, but they should with the young Lakers likely to let World Peace take some minutes on the floor because of his veteran status.
If these two ever cross paths, it's going to be something every action film director would dream of. It would be the unstoppable force meeting the immovable object. It would be really a test of just how crazy Green is.
He might be able to get away with kicking Steven Adams in the groin, but if he tried that on World Peace, it would be World War III. The battles between the Warriors and Lakers will be one-sided for a while, but there still could be fireworks until they're great again.
8. Matt Barnes
If he isn't too busy chasing down Derek Fisher, Matt Barnes is going to be one of many veterans with a lot of fire burning inside on Sacramento. He's a physical player that has gotten in plenty of scraps on and off the floor.
That means he's going to pick up his fair share of technical fouls and get into it with other guys on the floor. It also isn't easy to be on a team that struggles like the Sacramento Kings. That provides plenty of frustration and could lead to Barnes blowing his lid a time or two.
With the Kings and Warriors set to play four times, there are going to be plenty of moments where Draymond Green and Barnes take the floor together. It's just the nature of the beast of one-on-one between these twos.
There's going to be some jawing and if the Warriors are well ahead in the standings and the Kings are scuffling, there could be an old fashioned pileup of players. The classic ones where assistants are pulling each other apart. Plus with these two, there's bound to be plenty of classic quotes.
7. Markieff and Marcus Morris
If there is a pair of players that have mad their name on getting in trouble, it's the Morris brothers. Markieff and Marcus Morris have been trouble since entering the league and have not shown the behavior of professionals. Splitting them up was probably the best idea for both of them on and off the court.
The two have an ongoing felony assault case and they have had so many incidents on the court together, that they are probably on a tight leash. They can be good basketball players when they're locked in, but it's tough for coaches to keep them focused.
If Draymond Green likes a challenge, having a feud with a set of twins seems appropriate. When the Warriors battle the Detroit Pistons, he can go at it with Marcus. Then when they head on over to face the Washington Wizards, he can try his hand at Markieff Morris.
Both Morris brothers let their opponents, teammates, coaches, fans and just about everyone in the world get under their skin easily. Green should have no issue starting a feud with both of them and it would be pretty entertaining.
6. Montrezl Harrell
Montrezl Harrell is a player that's going to be known real soon in the NBA because of his emotions. Last year, Harrell was up and down between the NBA and the D-League with the Houston Rockets. The Rockets like his potential and think he can be a piece for them in the future.
During his time in the D-League, Harrell had a moment where he was in a scrum with the Bakersfield Jam. In the process, he shoved an official to the ground. Accident or not, Harrell was suspended for his actions.
It was in that moment that he showed that he's going to be a player that picks up a technical and maybe a suspension or two in his career. The Rockets and the Warriors have met the last two years in the playoffs and the Warriors have eliminated them both times.
If these two teams meet again in the playoffs, it's going to get even more chippy. If Harrell gets meaningful minutes, then he and Green could tussle with each other. The makings of a feud between the two are already in place.
5. Bismack Biyombo
If there is a player that made a name for himself in the NBA Playoffs, it was Bismack Biyombo. He had a couple of huge games for the Toronto Raptors against the Cleveland Cavaliers in the Eastern Conference Finals. That earned him a big contract from the Orlando Magic.
With a new head coach and a strangely put together roster, Biyombo is going to have to be an anchor for the Magic. One can imagine what the battles between him and Draymond Green would have been like, if it was the Raptors in the NBA Finals.
Biyombo and Green both are similar in the intensity and emotion they show on the court. They're guys you love to have on your team, but you can't stand them on the other side. That makes them natural for a feud with each other when Orlando and Golden State meet.
It takes two players that are stubborn and have tremendous intensity to have a feud. These two have all the tools necessary to have a rendezvous in the middle of officials, coaches in suits and their teammates.
4. Hassan Whiteside
The Miami Heat are officially entering a new era of basketball. Dwyane Wade has left the team, LeBron is long gone and Chris Bosh seems likely to end up elsewhere if he plays again. That leaves Goran Dragic, Justise Winslow and Hassan Whiteside to run the show.
Whiteside got a big contract from the Heat in free agency and he's going to be expected to carry the torch for them. He's also got a temper and finds himself in skirmishes all the time on the floor. When the Warriors play the Heat this season, there are going to be rotations where Green could be on Whiteside.
Those two are going to try to assert themselves on the other and show each other up. That's going to swing a classic double-technical between the two and potentially be the makings of a feud. A lot of this depends on the Heat also being competitive as well.
If they are struggling, then it could be tough for a player to care enough to really get into it. Whiteside's going to be an interesting player to follow. It doesn't take away from the fact a feud between him and Green could be worth watching.
3. Joakim Noah
This would be another awesome feud. If we are looking for Draymond Green feuds we would like to see, then why not one against Joakim Noah. The New York Knicks center has had plenty of famous feuds in his career. His best feud perhaps against the city of Cleveland.
He loves getting physical in the paint and picking up technical fouls for jawing with other players. The Knicks have gone all in this season on trying to put a bunch of superstars on the floor together. They have added Noah and Derrick rose to Kristaps Porzingis and Carmelo Anthony.
Those additions mean the Knicks are going to have a lot of pressure on them to succeed. When they play the Warriors for the first time, New York is going to try and make a statement against them.
Noah really gets up for these big games and that means he and Green should have their moments on occasion. This just screams a feud waiting to happen when these two teams take the floor. It needs to happen.
2. Steven Adams
The Oklahoma City Thunder might take a step back without Kevin Durant this season, but the feud between them and the Golden State Warriors will be even more bitter. With the two teams already bitter rivals, things were turned up a notch with the Warriors adding Durant in free agency.
Emotions are going to be running high when these two teams meet each other. That means more battles between Steven Adams and Draymond Green. After the groin kicks and wrestling-style take downs, these two are guaranteed to get chippy again this season.
Refs are already going to be predisposed to watching these two very closely. Each one is going to get every little advantage they have on the other. This a feud that stays on the court, as they both embraced after the Western Conference Finals, but it's going to continue regardless.
Adams has become even more popular in Oklahoma City in the wake of Durant leaving. He's going to feel the pressure of sparking the Thunder alongside Russell Westbrook each game. If that means getting into it with Green to get the crowd fired up, he will.
1. LeBron James
At the end of the day, the biggest feud for Draymond Green is LeBron James. It flared up during the NBA Finals, when Green went for another low blow and was subsequently suspended for it. The suspension played a huge role in the Cavaliers coming back to win their first ever NBA Championship.
The Warriors and Cavaliers have played 13 games on the biggest stage against each other over the past two years. They're likely to meet again this season, unless another team is able to rise up and knock one of these teams off their pedestal.
The more these teams meet in the NBA Finals, the greater this rivalry is going to be. Green has a huge chip on his shoulder and going up against the best in the league highlights this feud even further.
When these two even meet in the regular season, this is going to be a major narrative. This is a feud that deserves to continue going and hopefully there will be another meeting between these two in the NBA Finals. This is a slow burn that needs the flames to continue to be stoked.
This article originally appeared on