William Byron wins NASCAR Trucks finale, Johnny Sauter claims title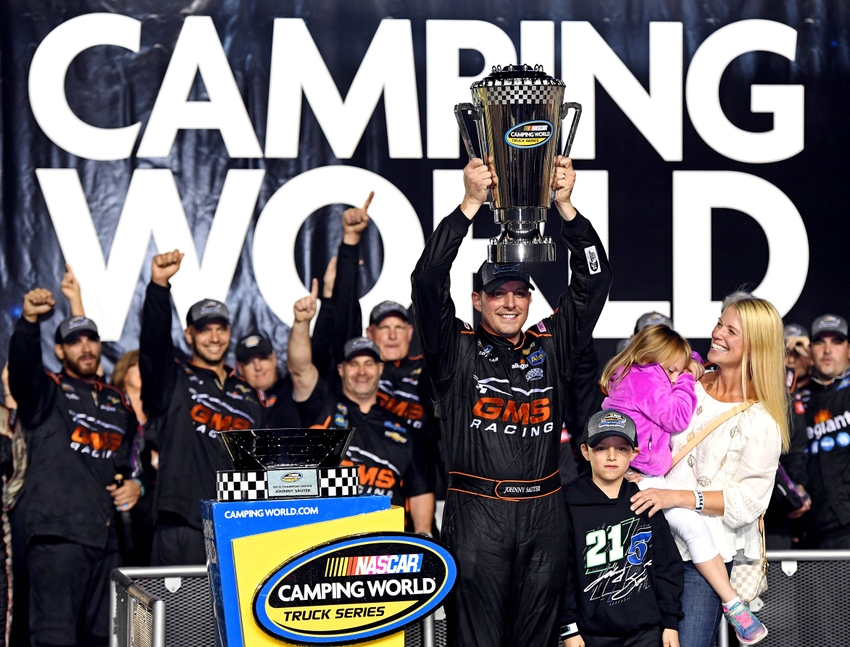 Sauter finishes third, the best of the Championship Four, to claim his first title while Byron wins race giving Kyle Busch Racing the owner's trophy.
William Byron ended the Camping World Truck Series finale at Homestead-Miami Speedway with his seventh victory of the season to seal the owner's title for Kyle Busch Racing.
However, the story of the night belonged to Johnny Sauter, who finished third. That was all he needed to take home his first ever Camping World Truck Series championship under the new Chase format.
"Congratulations to Johnny Sauter and the No. 21 Chevrolet Silverado team on clinching the 2016 NASCAR Camping World Truck Series championship at Homestead-Miami Speedway tonight," said Jim Campbell, US Vice President of Performance Vehicles and Motorsports. "We couldn't be more proud for Johnny to earn his first title behind the wheel of a Chevrolet." 
Of the Championship Four, Sauter started the deepest in the field at 19th and sped past Matt Crafton after the final restart on lap 114 and while he could not run down Byron and Tyler Reddick, third was good enough.
Crafton came home seventh, Christopher Bell eighth and Timothy Peters in a very clean race. There were only four cautions, three brought out by the same car, the No. 07 of Patrick Staropoli.
"I just ran a smart race," said Sauter after climbing from behind the wheel of his Silverado at the championship stage.  "I'm not going to lie, when we qualified as poorly as we did today I thought this was going to be tough to do because you've got to take tires here on every pit stop. There is no real easy way to get track position, so I knew we were going to have to do it by pit stops and passing people. I just can't thank everybody at GMS Racing, Allegiant Travel and Chevrolet, ECR horsepower, this is awesome. To be a champion, I'm speechless."
Sauter began the season winning at Daytona International Speedway, tacked on his second victory at Martinsville and while he didn't get to visit the winner's circle Friday night, he will take home the trophy after nearly winning it in 2011. He finished second to Austin Dillon that year.
Statistically this was one of Sauter's best seasons with an average finish of 8.9 just behind his 2010 mark of 8.1.
Meanwhile, Byron took the lead from Reddick with just 10 laps to go and had enough truck to take the checkered flag. Kyle Busch was on the pit box as he watched the No. 9 Toyota claim the second straight owner's title for KBR.
"It feels awesome," said Byron. "It's just – it's incredible. I mean this team has worked so hard all year. We just had an unfortunate situation last week that we couldn't control, but, man, they brought a good truck. Qualified on the pole. These guys just are awesome. God, I hate leaving this – I just hate this team not being together next year. It's just insane how good they are and so many talented people on this race team. Can't thank KBM (Kyle Busch Motorsports) enough, Toyota, Kyle and Samantha (Busch), everyone at KBM, Liberty University – it's just amazing."
CAUTIONS:
Lap 14 – Stewart Friesen (No. 16) spins out.
Lap 43 – Patrick Staropoli (No. 07) spins out.
Lap 82 – Patrick Staropoli (No. 07) hits wall.
Lap 110 of 134 – Patrick Staropoli (No. 07) hits wall.
— Chase drivers off pit row: Crafton (2nd), Sauter (4th), Bell (7th), Peters (12th)
FORD ECOBOOST 200 (NCWTS) FINAL RESULTS:
1 – William Byron
2 – Tyler Reddick
3 – Johnny Sauter
4 – Kyle Larson
5 – Damiel Hemric
6 – Daniel Suarez
7 – Matt Crafton
8 – Christopher Bell
9 – Timothy Peters
10 – Cole Custer
11 – John Hunter Nemechek
12 – Matt Tifft
13 – Rico Abreu
14 – Ben Kennedy
15 – Noah Gragson
16 – Cameron Hayley
17 – Austin Hill
18 – Jesse Little
19 – Brady Boswell
20 – Ben Rhodes
21 – Spencer Gallagher
22 – Scott LaGasse
23 – Grant Enfinger
24 – Jordan Anderson
25 – Austin Wayne Self
26 – Alon Day
27 – Travis Kvapil
28 – Reed Sorenson
29 – Stewart Friesen
30 – Spencer Boyd
31 – Patrick Staropoli
32 – Ryan Truex
This article originally appeared on