Team Xtreme Racing's John Cohen facing arrest warrant of his own
Team Xtreme Racing team owner John Cohen's dealings with lawyers and arrest warrants have taken a new and unexpected twist.
Four days after learning an arrest warrant had been issued for a person of interest in the theft of his Sprint Cup Series car, a dually truck and trailer, Cohen was reportedly facing legal issues of his own.
According to a report at NJ.com, the Essex County (New Jersey) court system has issued an arrest warrant for Cohen, stemming from an August 2014 civil settlement.
The arrest warrant reads that it was issued "for violation of an Order to Enforce Litigants Rights signed on January 9, 2015."
The warrant stems from a partnership Cohen had with business partners Anthony Santucci and Jeff Rezink.
Elliott Malone, the lawyer representing Santucci and Rezink, told FOXSports.com Cohen had pitched a "phenomenal investment opportunity for a $7 million New York City Night Club."
Cohen told the two business partners if they provided him with $100,000 he would give them four percent ownership of the night club.
As lawyers were drafting documents for the planned nightclub, one of Malone's clients leant Cohen money to be used for tires to run a Sprint Cup Series race. Malone told FOXSports.com he could not recall the exact amount, saying it was "a few thousand dollars," but he said the agreement was that Cohen would repay his client $5,000 after the race in return for the loan.
When the business partner never received the repayment, Malone said the Team Xtreme Racing owner promised to put that $5,000 into the night club as an investment.
As part of the contract for the night club, Cohen was solely responsible for securing the liquor license.
"The contract clearly said that if John was not able to secure the liquor license, he would return the money," Malone told FOXSports.com. "He wasn't able to get the license. I don't even know if he tried. He never returned the money."
When Santucci and Rezink demanded their $85,000 investment back from Cohen, he claimed they only gave him $50,000. According to Malone, Cohen insisted at the time of the initial investment that his two business partners give him $35,000 in cash, thus his claim of only receiving $50,000.
After Cohen refused to pay his two former business partners, they contacted Malone, who then contacted Cohen.
"I sent him a letter and he called me with threats that were just unbelievable," said Malone. "I gave him some time to comply, then we filed suit."
Malone claimed Cohen was evading services and his team had to set up a sting operation that took six months to have him served.
Once they were able to get Cohen in court in August 2014, they reached a settlement at $55,000 and he was ordered to pay that money immediately.
However, Cohen reportedly had surgery not long after the settlement, and his lawyer urged the courts to let him recover from surgery before demanding a prepayment. Malone said they began the collection process but Cohen was not cooperative and failed to follow a judge's order by never providing information for collection.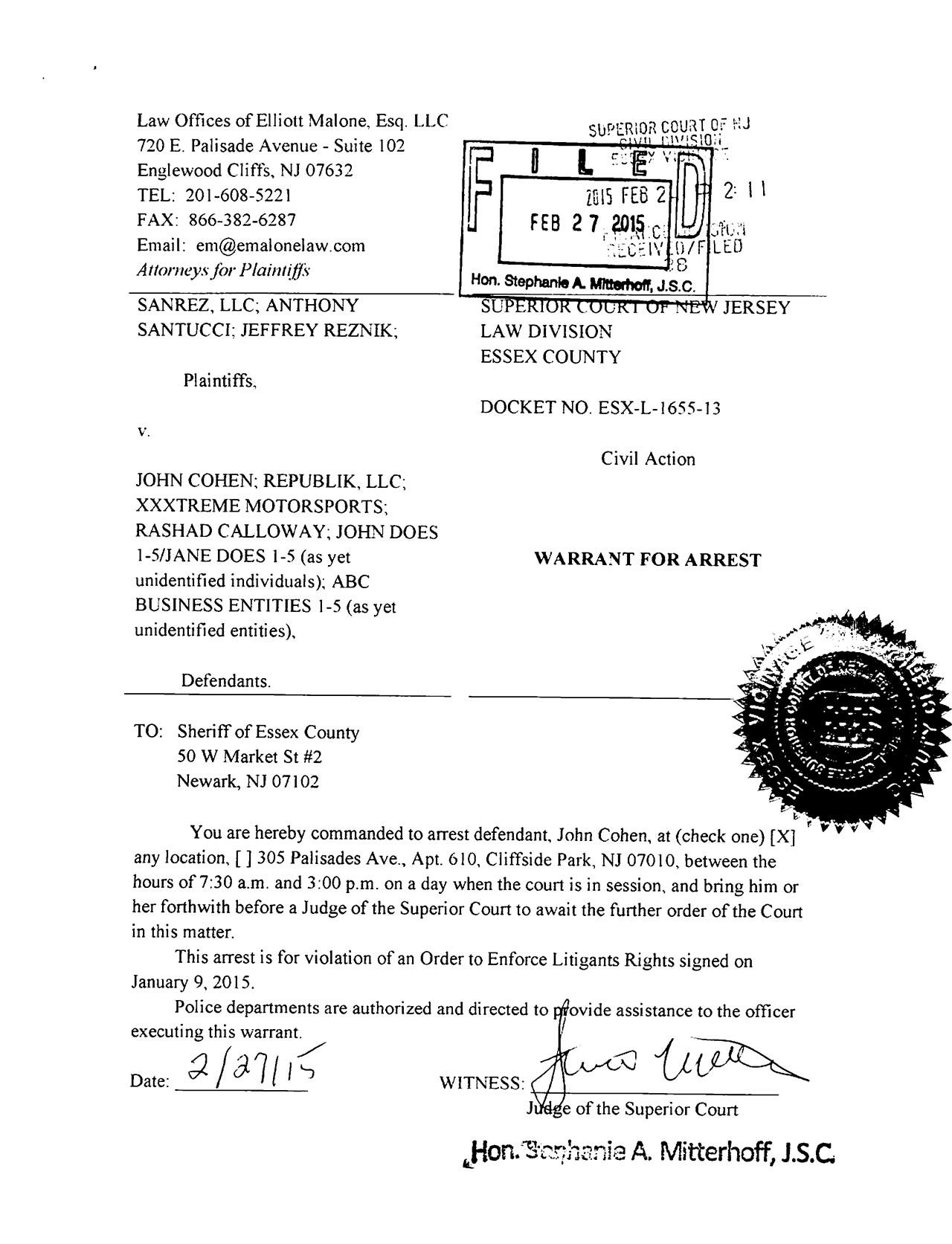 The NJ.com report said Cohen denied any wrongdoing in a phone interview on Thursday, saying, "It's a story that's not true. I didn't make that settlement."
The report also stated Cohen denied the warrant had been issued in his name, instead claiming it was meant for his father.
Calls by FOXSports.com to Cohen were not immediately returned. However, Amanda Ebersole, spokesperson for Team Xtreme Racing, told FOXSports.com Cohen was currently meeting with his lawyers to rectify the situation and that an official statement would be issued by the organization at some point Thursday afternoon.
Speaking with FOXSports.com, Malone called Cohen's claim that his father was issued the warrant, "laughable."
"It's my understanding that his father has been dead for some time," said Malone. "There is no question this is him. The team was sued, and the judgment is against him and the team."
Since the warrant was issued in New Jersey and Cohen is based in North Carolina, Malone does not anticipate Cohen will be arrested in North Carolina, but indicated the next step would be to go after his assets — in both states — including those of Team Xtreme Racing.
Malone said if Cohen "had any sense left in him," he would pay the judgment to avoid the courts from seizing his assets.
"The last thing I want to do is repossess the car that supposedly was stolen and returned," said Malone.
According to Malone, Cohen's lawyer filed a motion with the court last week "asking to be relieved of his counsel, because he is not communicating with her, either."
The NJ.com report also stated Cohen is also facing a lawsuit over the purchase of a car from the defunct Swan Racing in 2014. The report states Cohen used "unfair and deceptive trade practices," and the plaintiffs are seeking $200,000 in damages.
The Team Xtreme Racing No. 44 Chevrolet is listed on the entry list for this weekend's CampingWorld.com 500 at Phoenix International Raceway, where Travis Kvapil is listed as the driver. Ebersole insisted the team will participate in this weekend's events and the car is already at the track.
Reed Sorenson drove the No. 44 Chevrolet for the season-opening Daytona 500, finishing 32nd. The team was forced to withdraw from the second race of the year at Atlanta Motor Speedway after the car, dually truck and trailer were stolen from a hotel parking lot. The team failed to qualify for last weekend's race at Las Vegas Motor Speedway with Kvapil behind the wheel.