Austin Dillon's 2015 Sprint Cup Series year in review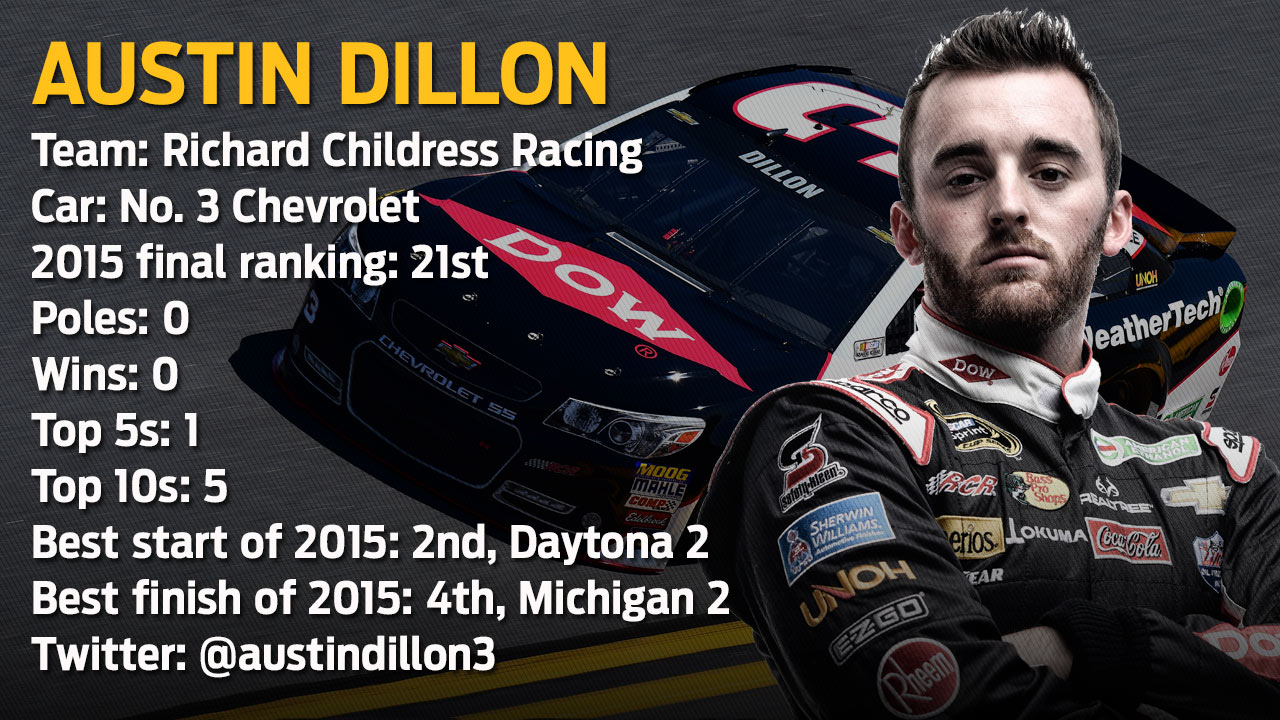 If you compare Austin Dillon's second season behind the wheel of the No. 3 Richard Childress Racing Chevrolet to his rookie season of 2014, the numbers are surprisingly similar.
In 2014, Dillon finished the NASCAR Sprint Cup Series season ranked 20th in points, having posted one top-five and four top-10 finishes. This year, Dillon ended the season 21st in points, with one top five and five top 10s.
On the plus side, Dillon's average start improved from 19.9 in 2014 to 17.0 this past season. Less good were Dillon's average finish numbers, which fell off from 17.5 last year to 21.0 in 2015. That was not an encouraging trend, though it hardly qualifies as a sophomore slump, either.
Dillon's first top-10 finish of the season was definitely a highlight-reel moment, but for all the wrong reasons: Coming to take the checkered flag in the rain-delayed Coke Zero 400 at Daytona International Speedway, Dillon had a horrifying airborne crash into the catchfence and his car came back down on its roof, only to be hit by a sliding Brad Keselowski.
Fortunately, Dillon was unhurt and the catchfence did its job, with five fans suffering minor injuries.
Dillon was surprised by how worried his team and his younger brother, Ty, were after the incident.
"I knew it was bad but I didn't know how bad," said Dillon. "When I talked to my brother, it was like it was another level because he was upset, and hearing him on the phone upset … it was like, 'Man, I'm going to have to watch this,' because he's a tough guy, and to hear him be upset about it and worried about me, it was like, 'Alright, I need to look at this wreck,' and I did, and you can see where a guy watching it from home not knowing how I was and the pit crew kind of running out to the car, it was pretty dramatic right there for 30 seconds, 38 seconds or so."
Dillon understood a whole better after leaving the Daytona Infield Care Center and watching the replay of the incident.