Sprint Cup Series: Crashing The Championship Party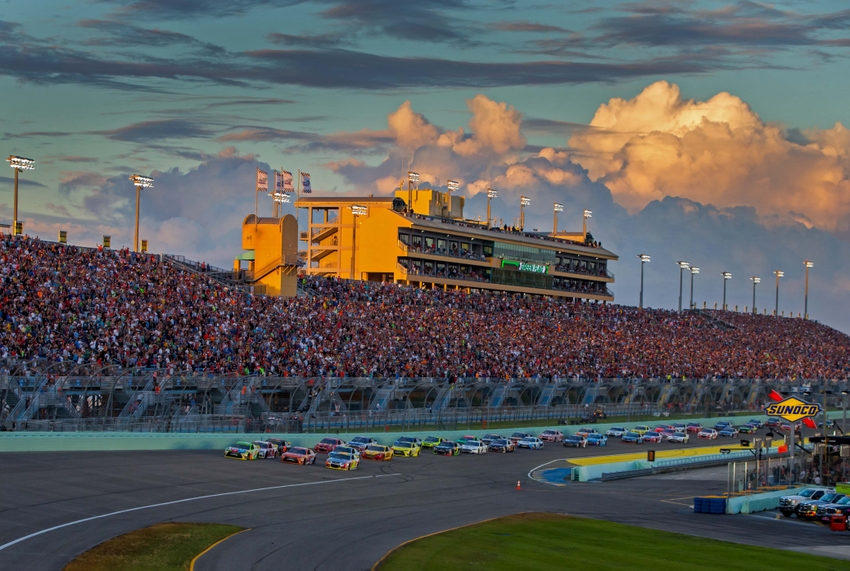 Only four drivers remain to decide the 2016 Sprint Cup Series championship. The other 36 drivers will be looking to crash the party.
The final race of 2016 takes place on Sunday at Homestead-Miami Speedway.  Either Jimmie Johnson, Carl Edwards, Joey Logano, or Kyle Busch will be crowned the 2016 Sprint Cup Series champion after 400 miles of racing. However, there are 36 other drivers on the track looking to end their seasons on the high note. There's no better way to head into the offseason as to win the final race.
That being said, which non-chaser has the best chance to crash the championship party this weekend in Homestead and head to victory lane?
Matt Kenseth
Last weekend's race at Phoenix is a race that Matt Kenseth won't forget anytime soon. With just two laps remaining Kenseth was sitting in the lead. A great restart would've likely propelled Kenseth onto Homestead with a chance at the championship. However, that wasn't meant to be and Kenseth's title hopes were dashed when he made contact with Alex Bowman in turn one.
Kenseth and his team will be fired up this weekend after just narrowly missing the opportunity to race at Homestead for the championship. All three races Matt Kenseth has run with Joe Gibbs Racing at Homestead have been top ten finishes. This includes a second place finish back in 2013. Look for Kenseth to be a factor on Sunday afternoon.
Alex Bowman
Speaking of last Sunday, let's talk about Alex Bowman. In just his ninth start of the season Bowman lead a race high 194 laps at Phoenix and had the car to beat all day long. The circumstances just didn't go his way in the latter stages of the race. However, that won't negate Bowman's impressive performance throughout the afternoon.
Bowman only has three top-ten finishes to show for his nine starts but that doesn't begin to tell the story of Bowman's season. Looking back, we can point to numerous races where Bowman had a great run but doesn't have the results to show for it. New Hampshire and Talladega jump out as two races where Bowman should have had at least a top five finish.
While finishes are ultimately all that matter a win for Bowman at Homestead would overshadow a season of ups and downs.
Kevin Harvick
With the exception of Matt Kenseth it's hard to believe there isn't anyone more disappointed about not advancing to the championship four as Kevin Harvick. His 2016 chase was made up of misfortune and setbacks, however, Harvick and his team persevered and made it to the round of eight. Faced with a must win situation at Phoenix certainly wasn't going to derail their championship hopes.
But that's exactly what happened. Homestead represents a chance for the team to go out on a win with Chevrolet and head into 2017 with momentum. Harvick has only finished first and second at Homestead ever since moving over to Stewart-Haas racing. While Harvick is out of the championship hunt he is still a favorite to win on Sunday.
Chase Elliott
Wins in the Sprint Cup Series don't come easy. That's exactly what Chase Elliott found out this season. While he's been in contention for wins throughout the season he hasn't been able to close the deal. But each week Elliott gets better getting him closer to his first win. His fourth place finish at Texas just a couple of weeks ago could provide some foresight into this weekend at Homestead.
What a night it could be on Sunday for Hendrick Motorsports. Chase Elliott could win his first race and Jimmie Johnson could take home a seventh championship. That scenario would give the Hendrick folks plenty of reasons to celebrate throughout the off-season.
Tony Stewart
There would be no bigger story line than for Tony Stewart to win in his final NASCAR Sprint Cup Series race. It would only be fitting to end a career that's spanned 18 years with one final win. While Stewart's stats this year haven't been great we all know that anything can and will happen in NASCAR.
Stewart does hold three wins at Homestead-Miami Speedway. The most recent in 2011 when he also won the championship. His two other wins came back in 1999 and 2000 on the track's previous configuration.
While the odds are long, Tony Stewart will certainly be a sentimental favorite this weekend.
This article originally appeared on