Sprint Cup Race No. 26 at Richmond: Denny Hamlin takes pole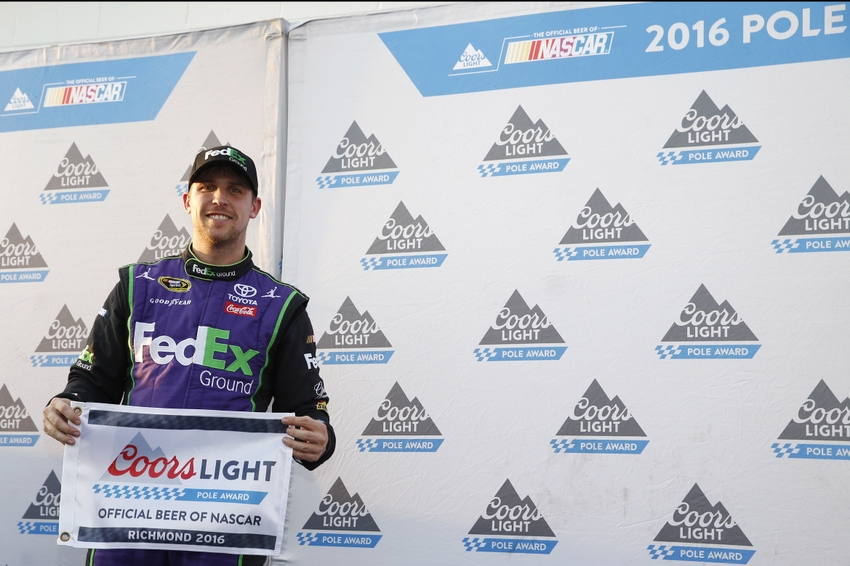 Kyle Larson will start on the front row alongside Hamlin for the Sprint Cup regular season finale at Richmond International Raceway Saturday night. Here is your complete starting lineup.
Denny Hamlin grew up 15 miles from Richmond International Raceway in Chesterfield, VA, and his homecoming resulted in capturing the pole for Saturday night's Federated Auto Parts 400 with a lap of 122.344 mph (22.069 seconds). It was his first pole of the season, third at Richmond and the 24th of his Sprint Cup career.
Hamlin has improved his points position from 11th in early July to fifth during this two-month stretch leading up to RIR, where he has recorded two victories and 11 top-10 finishes in 20 career starts at the Virginia short track.
"A great car obviously," Hamlin said in a manufacturer interview. "Made a lot of great adjustments there at the end. We were a little bit of a tire disadvantage. We had more laps than those guys. Our car was just off and couldn't get going, but obviously it's a good sign for things to come for the long run. I'm proud of the whole FedEx Ground team. This is a great kick for us. We've qualified in the top-10 I think 23 or 24-straight weeks and to be able to finally get a pole is a great feeling."
Having already clinched a spot in the Chase with a pair of wins and sitting in fifth place overall, Hamlin's No. 11 Toyota for Joe Gibbs Racing bested Kyle Larson (No.42 Chevy) by 0.010 seconds.
"Yeah, I was losing my drive off of (Turn) 4; but I'll take a second here," Larson said. "I've always qualified somewhat decent here. I would have liked to get the pole, but we'll take a front row start. Short tracks are where I struggle the most, so it's nice to qualify good. We've just got to race well. I've qualified good on short tracks before, just haven't raced great. We've changed some stuff on the Target Chevy to try and make it better. So far this weekend it's been paying off. So, I'm happy about that. It's still a long race tomorrow to try and work on it."
Some of the big surprises to come out of Round 1 who did not advance included Casey Mears (No. 13 Chevy), Greg Biffle (No. 16 Ford), Danica Patrick (No. 10 Chevy), Paul Menard (No. 27 Chevy), Clint Boyer (No. 15 Chevy) and Chase Elliott (No. 24 Chevy). However, one driver desperate to have a great Saturday had a poor Friday.
Chris Buescher (No. 34 Ford) is sitting on the bubble of the top 30 in points and failed to advance. His car went back to the garage while those behind him, David Ragan (No. 23 Toyota) and Regan Smith (No. 7 Chevy) in 31st and 32nd, respectively, moved on.
"That is not where we wanted to be in qualifying with our CSX Ford Fusion," Buescher said. "We were a little better than we were last time here, so there is a little bit of positive to it, believe it or not. We will be able to work our way up. At the end of the day, this weekend is about something bigger. We are trying to stay out of trouble and be there at the end. It won't be an easy walk from where we are at right now but we will be able to work our way up."
One driver that needed to move into the final round was Ryan Newman (No. 31 Chevy) who, after a 15-point deduction for failing post-race inspection after Darlington, now needs a win to get into the Chase. He missed making the top dozen by 4/100 of a second. He sits in 17th place, 22 points behind Jamie McMurray (No. 1 Chevy) for the final cutoff spot.
Carl Edwards, the winner of the spring race at RIR, also did not make it.
A number of scenarios could play out for drivers on the bubble. Should Buescher fail to land in the top 30 in points, Newman could slide up into the field of 16, but if he has a bad day, Kasey Kahne could sneak in on points alone. Both Newman and Kahne could solidify their Chase hopes with a win.
PIT NOTES:
Kevin Harvick (No. 4 Chevy) could be running away with the points race had he had a little luck in the pits. He was very vocal after Bojangles' Southern 500, blaming his crew for a "disappointing" second place finish. Darlington was the fifth time Harvick led the most laps in a race without visiting victory circle.
Greg Biffle will be making his 500th career start Saturday night, however that is the most of any driver who has not won on a short track.
STARTING GRID FOR FEDERATED AUTO PARTS 400:
1 – Denny Hamlin
2 – Kyle Larson
3 – Matt Kenseth
4 – Jamie McMurray
5 – Kurt Busch
6 – Martin Truex Jr.
7 – Kasey Kahne
8 – Austin Dillon
9 – Kyle Busch
10 – Jimmie Johnson
11 – Jeff Gordon
12 – Joey Logano
13 – Carl Edwards
14 – Tony Stewart
15 – Ryan Newman
16 – AJ Allmendinger
17 – Brad Keselowski
18 – Trevor Bayne
19 – Kevin Harvick
20 – Ryan Blaney
21 – David Ragan
22 – Ricky Stenhouse Jr.
23 – Aric Almirola
24 – Regan Smith
25 – Matt DiBenedetto
26 – Casey Mears
27 – Michael McDowell
28 – Greg Biffle
29 – Danica Patrick
30 – Paul Menard
31 – Chris Buescher
32 – Landon Cassill
33 – Clint Boyer
34 – Chase Elliott
35 – Brian Scott
36 – Josh Wise
37 – Michael Annett
38 – Reed Sorenson
39 – Dylan Lupton
40 – Jeffrey Earnhardt
DNQ – Cole Whitt
This article originally appeared on