Sprint Cup Chase Race No. 9: Joey Logano wins Can-Am 500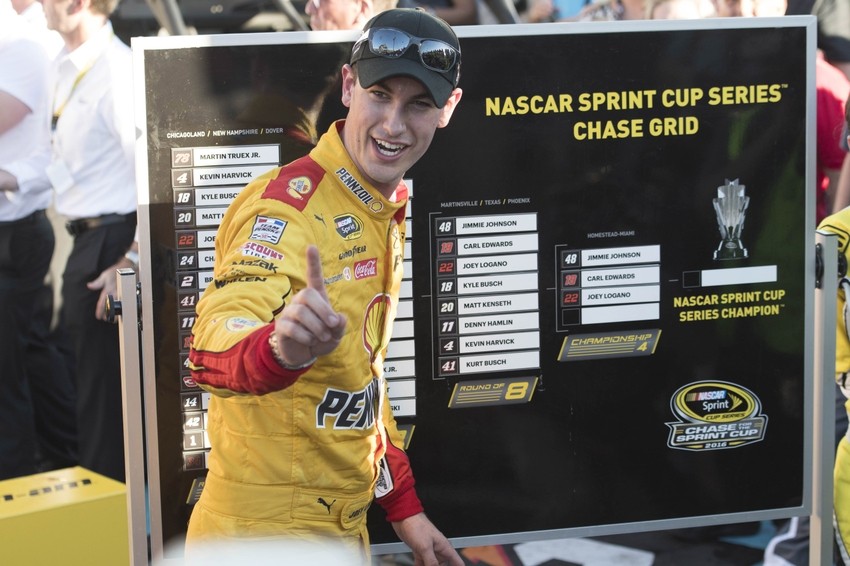 The field is now set as four drivers, Joey Logano, Kyle Busch, Jimmie Johnson and Carl Eddwards, will now fight it out for the Sprint Cup championship next Sunday at Homestead-Miami Speedway.
It was one of those days where race teams needed a degree in calculus because of the math needed to sort out who was in or out of advancing into the Sprint Cup Championship Four as the laps clicked off down late in the Can-Am 500 at Phoenix International Raceway. When it was all over, Joey Logano left no doubt that he wanted to race for the title next week as he pulled away from the field on the second overtime restart in one of the wildest finishes seen in quite some time.
It would be an understatement to say there was pressure on the six drivers fighting for the two remaining slots and Logano automatically advanced because of the win. Finishing second was Kyle Busch and he also moves on with a chance to defend his title from a year ago. But how Logano got to the winner's circle was no easy feat.
"It was incredible," said Logano. "What a fun race. That last restart was crazy. I knew it was going to be and there were a ton of scenarios playing out with the 4 (Kevin Harvick) and 18 (Kyle Busch) and myself and the restart before that with the 20 (Matt Kenseth) up there. Everyone was racing for a championship. This wasn't just a race. This was for a shot at the championship next week. The 22 car is going there and we have a hell of a shot at it. I couldn't be more proud of the team executing today under pressure. There is no way you could put more pressure on them then they had today. I couldn't be prouder of them for giving me the opportunity to do what I can on that last restart."
Kenseth was on his way to locking himself into the finals with a huge lead over Alex Bowman, who was subbing for Dale Earnhardt Jr., however, Michael McDowell brought out a caution after hitting the wall with just two laps left. On the restart, Busch triggered a wreck that took out Kenseth after he tapped Bowman and while the rookie was trying to collect himself, the No. 20 effectively took himself out by coming down on the nose of the No. 88.
Prior to McDowell having an effect on the outcome, Bowman was picking off cars one at a time, most of them in the hunt for Homestead-Miami. Points were changing at a dizzying pace at the cutoff line with Logano and Busch the ones that appeared to be fighting for the last spot. If both were locked for fourth and fifth, Busch would have had the tiebreaker. It was a moot point because they would go 1-2 at the finish.
Meanwhile, the best story of the afternoon was Bowman. He surprised everyone by taking the pole and made his presence felt throughout leading the most laps before finishing sixth. He has added to his Sprint Cup résumé for anyone who is looking for a full time driver in 2017.
PIT NOTES:
When Greg Biffle took the green flag at Phoenix, it was his 500th consecutive start in Sprint Cup competition. His first career Cup start was at Fontana for Jack Roush in 2002.
Martin Truex and Jimmie Johnson received one lap penalties for passing the pace car entering pit row on cautions. Johnson was leading the field at the time of his penalty on the third caution.
CAUTIONS:
Lap 1 – Kyle Larson and Trevor Bayne spin out.
Lap 82 – Ryan Newman taps Kyle Larson at top of pit row, both spin out.
Lap 132 – Debris on the frontstretch.
Lap 210 – Debris in turns 1 and 2.
Lap 218 – Austin Dillon slows, hit by Greg Biffle. Jimmie Johnson hits Biffle.
Lap 256 – Martin Truex Jr. and Ryan Newman spin and hit outside wall.
Lap 265 – Debris on track.
Lap 310 – Michael McDowell hits outside wall creating overttime.
Lap 316 – Kyle Busch taps Alex Bowman on restart and takes out race leader Matt Kenseth.
CAN-AM 500 FINAL RESULTS:
1 – Joey Logano
2 – Kyle Busch
3 – Kyle Larson
4 – Kevin Harvick
5 – Kurt Busch
6 – Alex Bowman
7 – Denny Hamlin
8 – Ryan Blaney
9 – Chase Elliott
10 – Paul Menard
11 – Jamie McMurray
12 – Ryan Newman
13 – Kasey Kahne
14 – Brad Keselowski
15 – Tony Stewart
16 – Greg Biffle
17 – AJ Allmendinger
18 – Casey Mears
19 – Carl Edwards
20 – Landon Cassill
21 – Matt Kenseth
22 – Aric Almirola
23 – Ricky Stenhouse Jr.
24 – Clint Boyer
25 – Matt DiBenedetto
26 – Michael Annett
27 – Regan Smith
28 – Trevor Bayne
29 – Danica Patrick
30 – Brian Scott
31 – David Ragan
32 – Chris Buescher
33 – Jeffrey Earnhardt
34 – Michael McDowell
35 – DJ Kennington
36 – Reed Sorenson
37 – Gray Gaulding
38 – Jimmie Johnson
39 – Austin Dillon
40 – Marti Truex Jr.
More from FanSided
This article originally appeared on