Sprint Cup Chase Race 2 at New Hampshire: Carl Edwards takes pole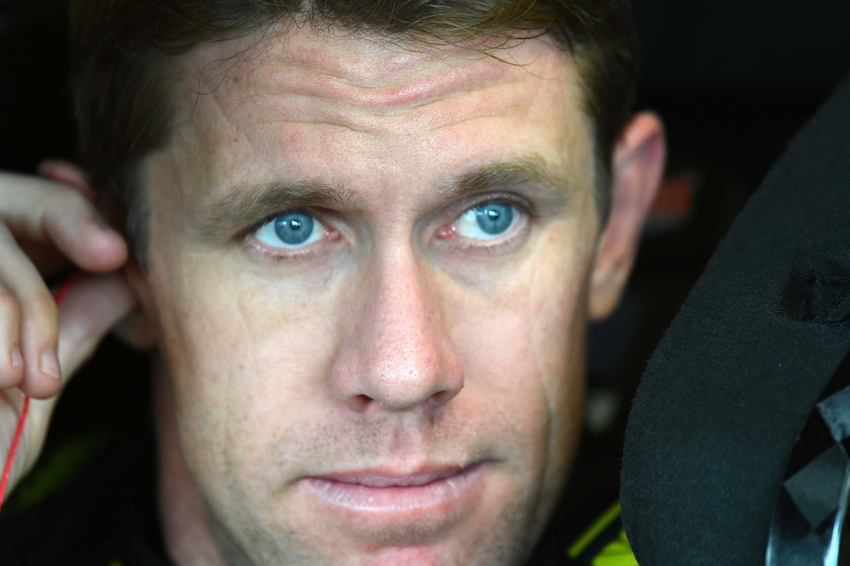 Toyotas will lead the field to the green flag as last week's winner, Martin Truex Jr., will start on front row next to Carl Edwards for the Bad Boy Off Road 300 at The Magic Mile.
Carl Edwards nailed down his third pole of the season when he sped to a lap of 135.453 mph (28.119 seconds) in the third round of qualifying at New Hampshire Motor Speedway Friday afternoon, besting Martin Truex Jr. by 0.050. He will start alongside Edwards for the Bad Boy Off Road 300 on Sunday.
"I think that – well, I don't know," Edwards began, when asked about why he has more poles than a year ago. "I'd say that the way JGR (Joe Gibbs Racing) operates and the way that we can look at and share information between the drivers and the crews, I'd say that helps a lot. It makes the weekend usually get off to a pretty fast start and then during qualifying – this year specifically."
Edwards claimed he doesn't know where he is in the Chase standings although he believes his crew chief Dave Roberts won't hesitate to be aggressive in the race to solidify his chances of advancing to the Round of 12 that begins in Charlotte next month.
"Dave's not scared of anything. I mean, he literally comes to the race track ready to go and I've never seen him go, 'Ah, we should be conservative here.' We did not have the race we wanted to in Chicago and that was tough and I went to the shop early in the week and Dave was over that pretty quickly.

"He was focused really hard here on this race and, yeah, we hope we're in victory lane here, but I can already – I know what will happen if we have a bad race on Sunday. Dave will just be ready to win at Dover and that's what we've got to do, so hopefully we can just get to victory lane here and move on, but we will not quit. This team's pretty spectacular. So, yeah, we're not taking it easy I guess – long version of that."
Meanwhile, Truex is not going to rest on his laurels just because he is locked into the next round off his win at Chicagoland Speedway last week. When asked what his strategy will be for this race?
"Get another one. Get two more hopefully."
Ten cars did not get through inspection before qualifying, including three Chase drivers, Kevin Harvick, Austin Dillon and Tony Stewart. However, they were the beneficiary of a Clint Boyer spin that brought out the red flag and gave them time to get through and make their runs. They will start 19, 29 and 22, respectively. Boyer will start 37th.
HERE IS THE STARTING LINEUP FOR THE BAD BOY OFF ROAD 300:
* Denotes a Chase driver
1 – Carl Edwards*
2 – Martin Truex Jr.*
3 – Ryan Newman
4 – Jimmie Johnson*
5 – Denny Hamlin*
6 – Kyle Larson*
7 – Jamie McMurray*
8 – Matt Kenseth*
9 – Kasey Kahne
10 – Chase Elliott*
11 – Brad Keselowski*
12 – Kyle Busch*
13 – Kurt Busch*
14 – Paul Menard
15 – Joey Logano*
16 – Ryan Blaney
17 – AJ Allmendinger
18 – Alex Bowman
19 – Kevin Harvick*
20 – Michael McDowell
21 – Ricky Stenhouse Jr.
22 – Tony Stewart*
23 – David Ragan
24 – Danica Patrick
25 – Brian Scott
26 – Aric Almirola
27 – Trevor Bayne
28 – Chris Buescher*
29 – Austin Dillon*
30 – Regan Smith
31 – Casey Mears
32 – Greg Biffle
33 – Matt DiBenedetto
34 – Landon Cassill
35 – Michael Annett
36 – Cole Whitt
37 – Clint Boyer
38 – Reed Sorenson
39 – Josh Wise
40 –  Jeffrey Earnhardt
This article originally appeared on