Carl Edwards fastest in first Sprint Cup practice at Michigan
The Sprint Cup Series teams put the high-drag aerodynamic package to the test Friday afternoon during a two-hour, 25-minute opening practice session at Michigan International Speedway.
One result of the package — also used at Indianapolis Motor Speedway — was slower overall speeds throughout the field. While Kevin Harvick paced opening practice in June at 202.492 miles per hour, Carl Edwards' fastest lap in Friday's session was just 196.046 mph.
Edwards' fast lap came in qualifying trim, although the Joe Gibbs Racing driver was among the fastest cars throughout the entire session.
With less than five minutes left in the session, Harvick jumped to second on the speed charts with a lap of 194.858 mph.
Working with crew chief Slugger Labbe, Austin Dillon has shown considerably more speed in recent weeks, putting the No. 3 Richard Childress Racing Chevrolet third on the leaderboard.
Tony Stewart was also a factor at the top of the leaderboard during the weekend's opening practice session. When the session ended, Stewart's No. 14 Chevrolet was fouth on the speed charts when the red and black flag flew.
"I think it's hard to judge the package in practice because you don't get any side-by-side racing," Stewart's crew chief Chad Johnston told FOXSports.com after practice. "You just have to wait and see. As far as the single-car stuff it was really similar to Indy, and we had speed there, so we just carried a lot of that stuff over for today."
Denny Hamlin, Kasey Kahne, Kyle Busch, David Ragan, Dale Earnhardt Jr. and Matt Kenseth rounded out the top 10.
Sam Hornish Jr.'s No. 9 Richard Petty Motorsports Ford ended the session 13th on the speed charts, but was in the top 10 throughout the opening practice. Much like the majority of the field, Hornish's team focused on single-car runs and was pleased with what they saw, especially since he was able to show speed.
"Any time it brings us closer to the competition, I'm happy about it," Hornish said in the MIS garage. "We'll work around. It seems like the 2015 package is just a little bit harder for us to get dialed in. I'm glad we've got some of these different changes and get to try different things out."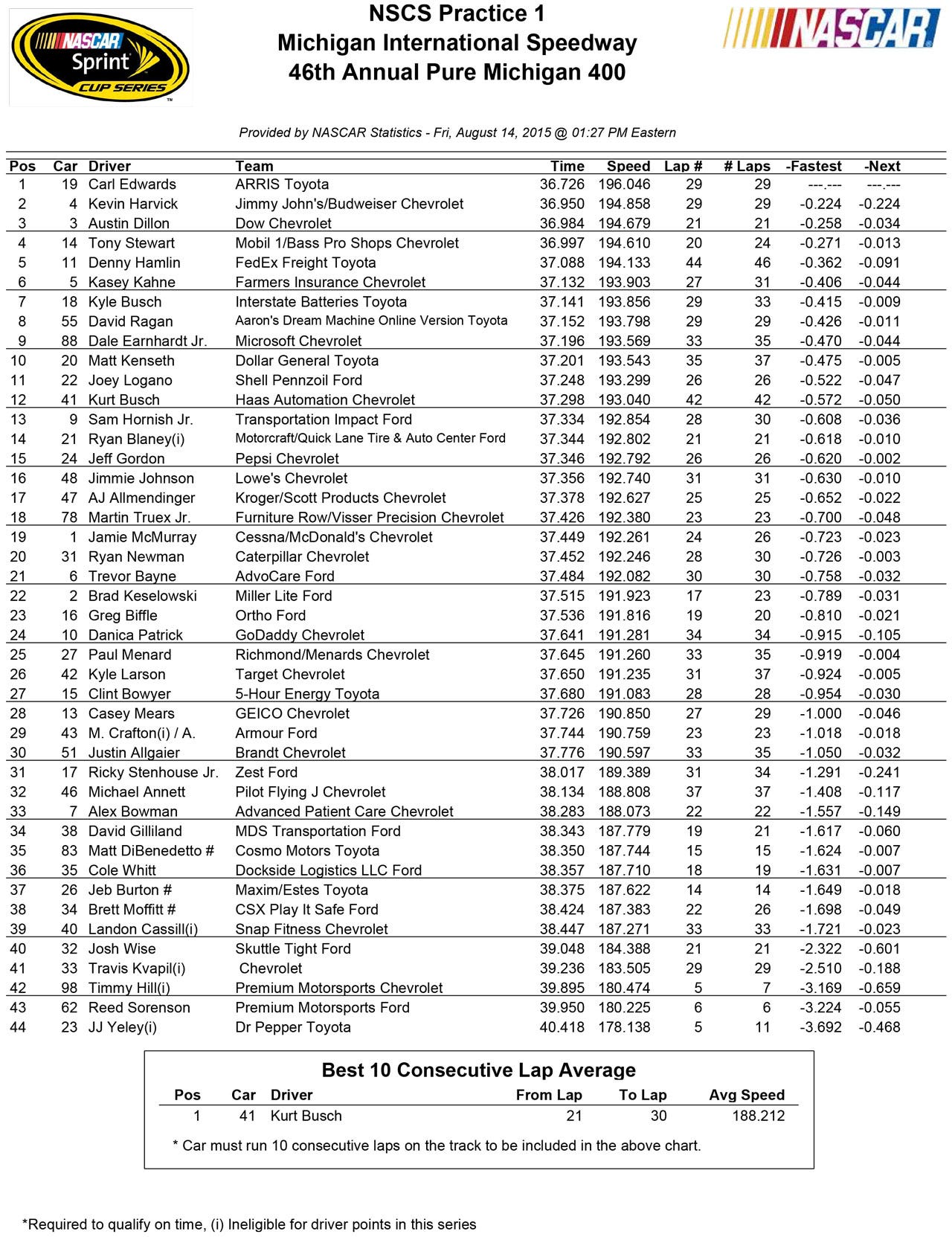 Michigan native Brad Keselowski is looking for big things this weekend in the throwback Miller Genuine Draft Ford, but the Team Penske driver was 21st quick in the opening session and searching for more speed with the high-drag package.
"From what I can tell, the math equation doesn't work out," Keselowski told FOXSports.com. "It's about six to seven miles per hours slower in the corners and in traffic, and about three or four miles per hour faster down the straightaway. It's pretty difficult to make that work, but we'll see. It might be different when it comes to race time."
Richard Petty Motorsports' Aric Almirola sat out most of Friday's practice session with "what the team hopes is a 24-hour virus." Defending Camping World Truck Series champion Matt Crafton piloted the No. 43 Ford for the majority of practice, with Almirola climbing in during the session's final moments to run one lap to scuff tires for qualifying.
The Sprint Cup Series teams will qualify for Sunday's Pure Michigan 400 at 5:05 p.m. ET.
Check out complete results from the first practice here: