New NASCAR penalty process a step in the right direction
NASCAR is going to unprecedented lengths to clarify and make more transparent how it enforces its rules and applies penalties to teams caught breaking those rules.
Crime and punishment has been an issue in NASCAR from the very first days of the sport. The NASCAR Strictly Stock Series — the precursor of today's Sprint Cup Series — hosted its first race at the old Charlotte Speedway in June 1949, with the winner, Glenn Dunaway, disqualified for running so-called "bootlegger springs" on the back of his Ford to improve handling.
Dunaway's car owner, a North Carolina moonshine runner named Hubert Westmoreland, sued NASCAR to get the DQ overturned but lost, which set a legal precedent for NASCAR to enforce rules and apply penalties going forward.
In the 65 years since, there has been all kinds of cheating tried in NASCAR — sometimes caught, sometimes not — everything from oversized engines and nitrous oxide injectors to boost horsepower, secret gas tanks and large fuel lines to increase the distance between pit stops, and creative ways of making cars lighter in mid race, such as filling the frame rails with 300 pounds of buckshot and releasing it from the car during caution laps.
In all cases where cheating was discovered, it was up to NASCAR to decide how to apply the penalties. The sanctioning body also set up a quasi-independent appeals process as part of the system.
Naturally, there was much debate around penalties. Was a team flagrantly cheating or merely working in a "gray area" not covered by the rules? Did a car flunk post-race measurement requirements because it was illegal or because it had contact with another car that caused damage? Was an infraction deliberate or a simple mistake by a team member or parts vendor?
And in this age of social media, whenever a penalty was handed out, Twitter and message boards would light up with fans fiercely debating whether assorted punishments did, indeed, fit their respective crimes.
The problem came to a head last year with three high-profile incidents:
Last April at Texas Motor Speedway, the rear suspensions of the Penske Racing cars of Brad Keselowski and Joey Logano were illegally modified.
Later that month at Kansas Speedway, the engine in Matt Kenseth's race-winning car had a connecting rod that was too light.
In September at Richmond International Raceway, team members from Michael Waltrip Racing were found to have conspired to alter the outcome of the race to get one of their team's drivers into the Chase for the Sprint Cup.
The first two penalties were controversial because they ended up getting greatly reduced on appeal; the MWR penalty was even more hotly debated because it resulted in NASCAR adding a 13th driver to the Chase something that had never happened before.
After all of last year's issues, NASCAR is making big changes for 2014.
On Tuesday, the sanctioning body announced what it calls the NASCAR Deterrence System, which consists of penalty tiers, ranging from things as minor as giving a team a warning for being late for inspection to applying one of six levels of penalties for technical infractions, from P1 (least significant) to P6 (most significant). P1-P3 penalties are basically the equivalent of NASCAR misdemeanors, with P4 to P6 offenses NASCAR's version of felonies.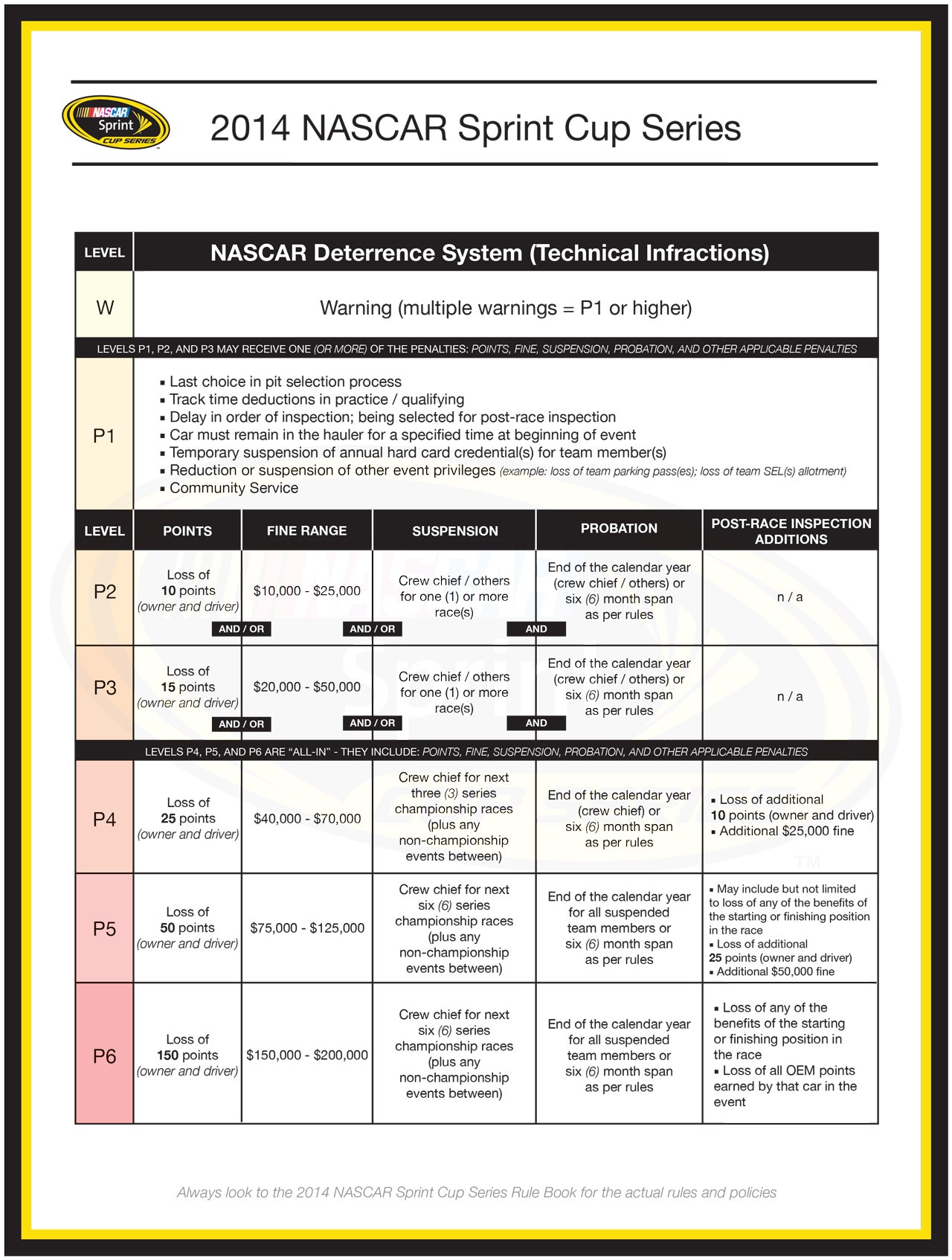 Per NASCAR spokesman Kerry Tharp, the Penske issue would have been considered a P4 penalty and carried with it a loss of 25 owner and driver points, fines of up to $75,000 and a three-race suspension for the crew chiefs.
Tharp said the engine infraction for Kenseth's car would have been considered a P6 offense, worth 150 points, a fine of up to $200,000, a six-race crew chief suspension and a loss of bonus points for the victory.
The MWR incident would have been considered a behavioral infraction and those will continue to be handled on a case-by-case basis, Tharp said.
NASCAR Vice President of Competition Racing Development Robin Pemberton said competitors have sought clarity in the enforcement process and this should help them understand the boundaries and the risk for going outside those boundaries.
"I think it's something that the garage area has asked for for quite some time, and we finally were able to get all of this stuff put together and release it this year," said Pemberton. "I think it'll be well received once they see it laid out. They'll understand where they're at and where they need to be as far as it relates in the garage area."
"We believe that the system is tailored to fit the needs of the sport, essentially building a firewall between the race teams, their sponsors, and the OEMs (manufacturers)," added Steve O'€™Donnell, NASCAR's executive vice president of racing operations. "It's never our intent to penalize, but in order to keep the playing field fair for everyone, we recognize that strong rules need to be in place."
As with NASCAR's other myriad changes this year — expanded Chase format, new qualifying procedures and subtle aerodynamic tweaks to the Sprint Cup cars, among others — the NASCAR Deterrence System doubtless will be a work in progress. And it definitely seems like a strong step in the right direction.
Here's a look at the penalty charts for the NASCAR Nationwide and Camping World Truck Series: