NASCAR: Winners And Losers From Homestead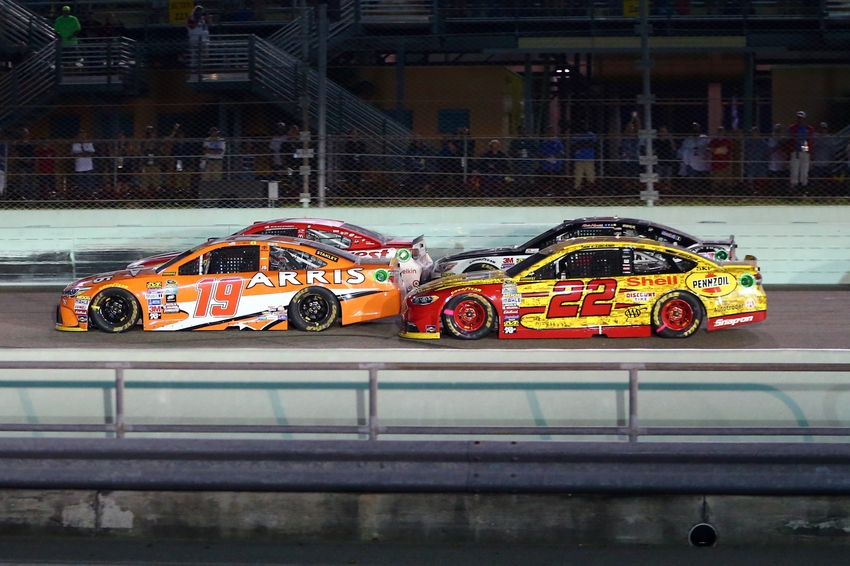 The 2016 NASCAR season ended on Sunday as Jimmie Johnson captured his seventh championship. Take a look at a few winners and losers from Homestead.
NASCAR ended the 2016 season with a bang as a few late cautions and one big restart helped Jimmie Johnson win at Homestead, leading to his seventh championship.
Throughout the course of the day, Kyle Larson established his dominance out front as Carl Edwards was the highest running Chase driver for over half the race. After he passed Kyle Busch with 25 laps left, it looked like he was about to race his way to his first championship…but that's not how things turned out.
Dylan Lupton brought out the caution that led to a restart with 10 laps to go. As Edwards moved down to block Logano, he was spun and went straight into the wall before bouncing back on the track and causing a massive wreck.
After a 30-minute red flag, the race got back underway with Jimmie Johnson serving as the highest running Chase driver. He survived two late restarts and used the final one in overtime to get past Kyle Larson and win the race and the championship.
It was one of those endings that you don't forget and one of those moments that you always remember, whether you were rooting for seven championships or not.
Let's take a look at a few winners and losers from the Ford Ecoboost 400.
Loser: Pit Road
Finding grip on pit road was a situation all day long. It's a fact that pit stops are what separate wins and losses in NASCAR, but a couple of pit crew members had issues staying on their feet during Sunday afternoon's race.
Early on, one of the No. 48 crew members was making his way from the right side of the car to the left when he stepped on two lug nuts, which led to a slip. However, the stop was early enough that the team could overcome it.
On the other side of things, there was the No. 18 team who, along with its Joe Gibbs Racing teammates, usually has solid stops.
But when they needed it the most, pit road again played a big role in the outcome of the race. As one of the No. 18 crew members made his way around the back of the car, he slipped and cost the team a few seconds, leading to Busch dropping three spots in the order.
It was a tough day for a couple of crew members, and it's still rather remarkable that they recovered as quickly as they did after smashing into the concrete. But as we know, pit stops come down to a matter of seconds, and one small mistake can put a driver in a bad situation.
Winner: Honoring A Legend
While four drivers set out to win a championship, Tony Stewart competed in his final race with NASCAR.
It was a scene similar to one we saw just last season with Jeff Gordon. The media, as well as many team members, were hovering around Stewart and his No. 14 car before the race.
As pre-race activities concluded and cars hit the track, Stewart rolled off pit lane slow and high-fived many pit crew members before making his final appearance in the Cup Series. Before the race got started, he took a pace lap behind a truck pulling a banner that read "Thank You Smoke."
After the race was over, he made a visit to the championship celebration and talked with Jimmie Johnson before receiving Johnson's flashy "Chasing 7" helmet featuring pictures of Dale Earnhardt and Richard Petty.
It was a great way to end a legendary career for one of NASCAR's most iconic drivers. While he didn't earn the finish he wanted, he was able to come away with a pretty cool piece of history and a nice send off from NASCAR.
Loser: Toyota
It had been a season of dominance for Toyota. They had won 13 regular season races in NASCAR and had dominated leading up to the Chase.
The talk was about Joe Gibbs Racing and Furniture Row Racing–the two major Toyota race teams that had taken the NASCAR world by storm with their ability to all stay near the front of the pack week in and week out.
The Toyota cars began to cool off a little bit once the Chase rolled around as Martin Truex Jr. and Carl Edwards were the only drivers to capture wins, however, they still sent two drivers to Homestead in search of another championship.
But things didn't turn out nicely as they failed to register a top-5 finish and missed out on a couple of great opportunities late in the race.
While they did end up earning the Manufacturer's Championship, they didn't earn the ultimate prize. Toyota still seems to be the dominant manufacturer in NASCAR, but they missed out on topping off a truly incredible 2016 season.
Winner: Top-10 Finishes
It was a day of celebration for Jimmie Johnson, but a few other drivers had something to be proud of after their outings at Homestead.
Kyle Larson, who led 132 laps and controlled most of the race, was ultimately passed by Johnson late but still registered another second-place finish.
Jamie McMurray used a late run after that huge wreck to work his way into the fifth-position, where he would go on to finish. It was just his second top-5 of the season and his best finish since the spring race at Talladega.
A.J. Allmendinger captured his ninth top-10 of the season as he finished in eighth-place, serving as his fourth top-10 in the last six races. Michael McDowell was another driver who had a great day as he finished 10th, earning his second top-10 of the season and the fourth of his Cup Series career.
That late wreck involving Carl Edwards, Martin Truex Jr. and Brad Keselowski, among others, opened the door for a few drivers to pick up solid finishes on the day.
Loser: Carl Edwards
It couldn't have been much more heartbreaking for Carl Edwards.
He had come close to a championship three other times in his career–2005, 2008 and 2011–but had fallen just short with each opportunity. However, this year seemed different.
He had secured a spot in the Championship 4 with his big win at Texas and looked like a real threat to win the championship, as he had a much better track record at Homestead than the other three drivers he was competing against.
He had repeatedly worked his way through the field and had stayed ahead of the other three Chasers on Sunday, leading 47 laps and passing Kyle Busch with 25 laps left to put him in position to win the title.
But things took a bad turn. Dylan Lupton brought out the caution that would end up serving as the end of Edwards' race.
As he went down to block Logano, he clipped the front of the No. 22 car and caused a massive wreck, leading to a long red flag.
But while Edwards didn't win the championship, he impressed a lot of people. Instead of getting in the ambulance after getting out of his car, he walked out to the No. 22 team's pit box and settled things in a calm way. He handled all of his interviews with pure class and again proved why he's one of the most professional drivers in NASCAR.
The day definitely did not end the way Carl Edwards wanted it to, but it was pretty cool to see true sportsmanship in effect.
Winner: Making History
Sunday was about battling back for Jimmie Johnson and the No. 48 team. After having to start from the rear due to unapproved body modifications, Johnson took his car all the way up into the top-5 within the first 50 laps of the race.
He fell back out of the top-10 again throughout the course of the afternoon but used a late push to get back into sixth-place. It was then that he capitalized on the Carl Edwards wreck and took advantage of Kyle Larson on the final restart of the race to win his seventh championship.
Johnson's win puts him in the same conversation as Richard Petty and Dale Earnhardt, in terms of who the best NASCAR driver in history is, but Sunday's race showed the reason why he's captured so many trophies over the course of his career. His determination and his ability to come up clutch when he had to sealed the deal and sent him to Victory Lane.
Something not mentioned too much was the fact that Johnson also earned his 80th Cup Series victory, becoming just the seventh driver to do so.
Jimmie Johnson was not in a position to win on the restart with 10 laps to go, but he took care of business and took over when he needed to. Now, the quest begins for what would be a record-breaking eighth championship.
This article originally appeared on