NASCAR: Who Were The Most Mentioned Drivers In 2016?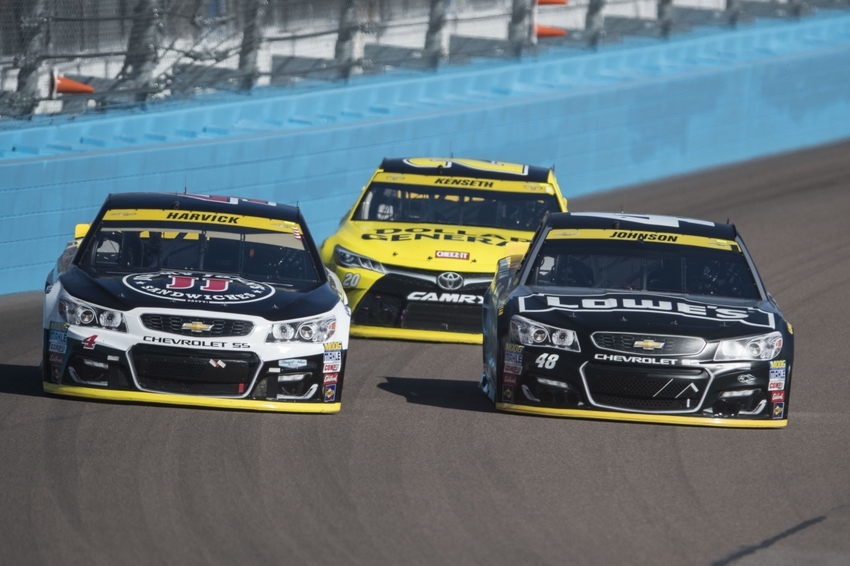 Mentioning NASCAR drivers by name during a NASCAR telecast is pretty standard procedure. Although there are 40 drivers out there on the track, not all drivers get the same amount of air time. Which driver do you think was mentioned the most in 2016?
Let's be honest, in the world of NASCAR you get mentioned when you're leading, winning or wrecking. It also helps if your last name is Earnhardt but that is neither here nor there. If you usually run in the back of the field and don't wreck often, you're most likely not getting much air time on the broadcast.
The fine people over at Joyce Julius & Associates recently compiled a list of the most mentioned NASCAR drivers during the 2016 season. The criteria includes all mentions during live race broadcasts and replays from the 2016 NASCAR Sprint Cup Series season.
Kevin Harvick: 34 interviews for 35:16 with 3,923 mentions.
Jimmie Johnson: 21 interviews for 21:31 with 3,071 mentions.
Kyle Busch: 28 interviews for 28:27 with 3,031 mentions.
Martin Truex Jr: 26 interviews for 30:52 with 2,834 mentions.
Joey Logano: 25 interviews for 34:06 with 2,688 mentions.
Carl Edwards: 28 interviews for 27:40 with 2,529 mentions.
Matt Kenseth: 18 interviews for 14:01 with 2,469 mentions.
Brad Keselowski: 25 interviews for 24:12 with 2,385 mentions.
Denny Hamlin: 29 interviews for 26:59 with 2,189 mentions.
Chase Elliott: 21 interviews for 15:36 with 1,871 mentions.
Just outside of the top-10 was Dale Earnhardt Jr. in 13th with 1,247 mentions and the retiring Tony Stewart in 15th with 1,084 mentions. First-time winner Kyle Larson finished the season in 12th with 1,549 mentions on NASCAR telecasts.
Harvick finishing the season in first should not come as a surprise given how often the driver of the No. 4 machine runs inside of the top-five. Add into the mix the fact that he is always good for a decent quote and that's the perfect recipe for having the most mentions in the season.
Johnson being second is also not a surprise given his run to his record-tying seventh championship.
The surprises come from Hamlin in the form of the amount of interviews that he received. Who would have guessed that Hamlin would end up being the most interviewed JGR driver? The other surprises come from SHR with Stewart and Danica Patrick. One might have though Stewart's final season and Patrick's overall marketability would have them both higher in the rankings and that ended up not being the case.
More from Beyond the Flag
This article originally appeared on