NASCAR: Who Survives the Inaugural Camping World Truck Series Chase?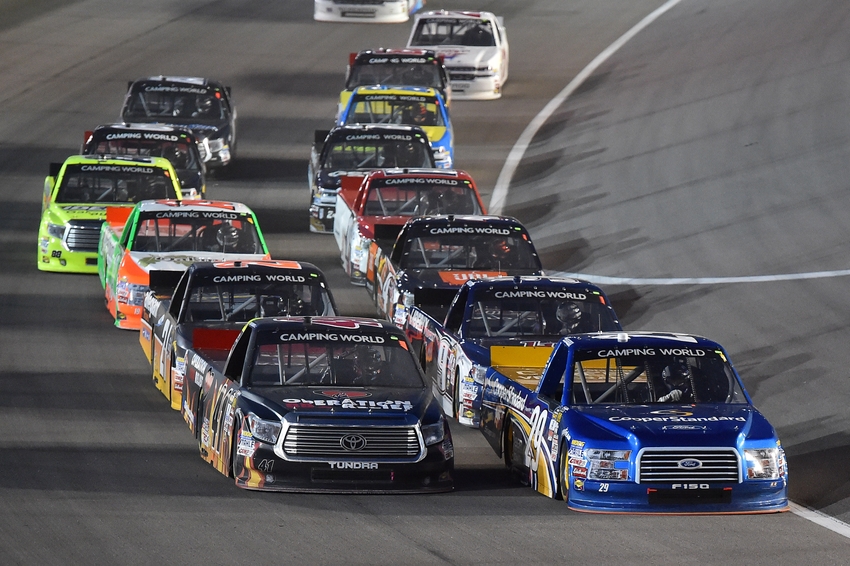 Three rounds and seven races make up the inaugural 2016 NASCAR Camping World Truck Series chase. Who survives and becomes champion?
The inaugural NASCAR Camping World Truck Series chase kicks off this weekend. Here's how the chase is broken up:
Round of Eight
New Hampshire
Las Vegas
Talladega
Round of Six
Martinsville
Texas
Phoenix
Championship
Homestead
Two drivers will be eliminated in the first two rounds leaving just four drivers to race for the championship at Homestead. Who will survive and who will take home this year's NASCAR Camping World Truck Series champion?
Round of Eight
8.) Ben Kennedy
Kennedy notched his first win just a month ago at Bristol. However, the first round goes through New Hampshire, Las Vegas, and Talladega.
Kennedy's latest oval finishes include a 26th place at Chicago and an 11th place finish at Michigan. In a round which includes Talladega it's crucial to have a great finishes at New Hampshire and Las Vegas.
Finishing outside the top ten won't get the job done for Ben Kennedy therefore he'll be eliminated in the round of eight.
7.) Matt Crafton
To say Matt Crafton has struggled this season is an understatement.
Crafton recorded two wins early in the season at Dover and Charlotte. His results since then have been inconsistent ranging from a second place finish at Texas to a 32nd place finish at Bristol. Inconsistency won't win a championship and therefore won't allow Crafton to advance past the first round.
Look for the No. 88 Menards Chevrolet to make an early exit from the chase this season.
Round of Six
6.) John Hunter Nemechek
Nemechek already has two wins this season and has posted some great finishes throughout the regular season. He showed at Canadian Tire Motorsport Park that he's ready to do whatever it takes to win the championship.
Unfortunately, that same incident in Canada has also put a target on his back. The second round of the chase starts in Martinsville and is a prime spot for Cole Custer to get some revenge. Therefore, don't expect Nemechek to be a championship contender in the final round.
5.) Timothy Peters
Peters almost won a few weeks ago at Michigan. This would have punched his ticket to the chase but he was forced rely on points in order to make the chase.
All season Peters has run consistently around the top ten and challenged for wins given the right situation. However, just finishing in or around the top ten won't make the final four at Homestead. Count on Peters and his team be painted into a box come Talladega. This will force them to push for a win and will result in Peters' day ending on the hook.
Final Four
4.) Christopher Bell
Bell has fast enough equipment and more than enough talent to challenge for the championship at Homestead.
A win at Gateway secured Bell's spot in the chase. However, Bell's 2016 season has been overshadowed by his teammate William Byron. A couple top five finishes leading into the chase has given Bell and crew chief Jerry Baxter the confidence they need to remain in the chase for the long haul.
Look for Bell to take some chances and secure a win in the round of six. He'll head into Homestead with some momentum but won't be able to cash in.
3.) Johnny Sauter
Johnny Sauter started out the season with a bang.
He won the NextEra Energy 250 at Daytona and became the first driver to punch his ticket to the chase. Since that win and his run in with Ben Rhodes at Kansas, Sauter has been flying under the radar. His finishes have been solid but not flashy. It's time for Sauter to peak.
I wouldn't be surprised to see a win or two from Sauter as the season comes to a close. He'll have a chance to win the championship at Homestead but will come up short.
2.) Daniel Hemric
Brad Keselowski Racing and Daniel Hemric have been the model team throughout the 2016 season.
Eight top fives (including the last five races) and 13 top tens with an average finish of 7.9 has given Hemric the opportunity to chase his first championship. The question is can he win? To win the championship he must win a race which is something Hemric and the No. 19 BKR racing team haven't been able to accomplish all season.
Sure, points can get Hemric a shot at the championship in Homestead but he won't take the championship without a win.
2016 NCWTS Champion
1.) William Byron
Byron is clearly the favorite headed into the chase.
His first season in the Camping World Truck Series has been phenomenal. Five wins and eight top fives (50% on the season) is unheard of for a rookie. Kyle Busch Motorsports has given Byron the equipment he needs to get the job done and he hasn't disappointed. Byron has been stellar on mile and a half tracks and conveniently that's where the chase ends.
Therefore a win at Homestead in November will cap off an amazing season and will result in Byron becoming the 2016 Camping World Truck Series Champion and sole survivor of the inaugural chase.
This article originally appeared on