NASCAR: Truex Has Part Confiscated, JGR Cars Forced Back To Inspection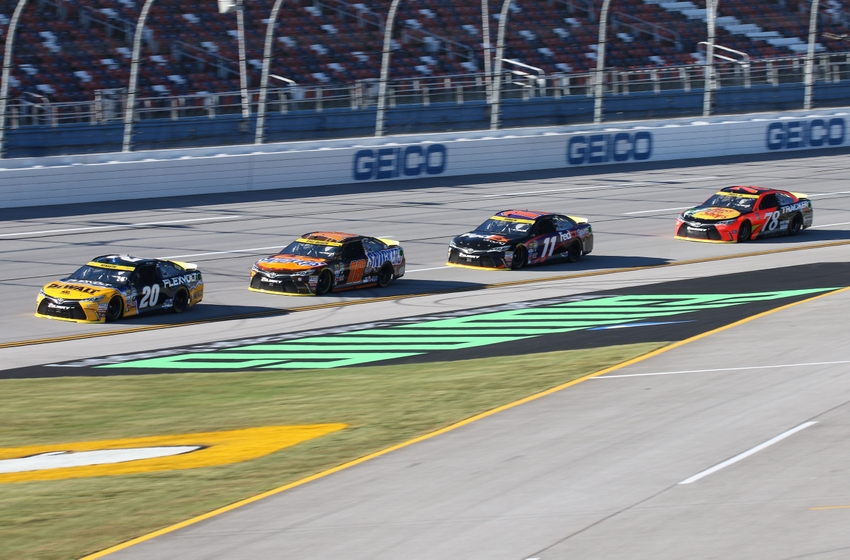 NASCAR Sprint Cup Series qualifying from Talladega on Saturday was plenty interesting with several cars facing some issues and a couple of others producing some pleasant surprises.
The first surprise of NASCAR Sprint Cup Series qualifying was Reed Sorenson and the blistering pace that he set in the first round of qualifying. Sorenson ran a lap of 49.324 in the opening round of qualifying which easily put him atop of the leader board when the round ended. The lap was faster than the lap that Chase Elliott ran at Talladega earlier this season when he won the pole. Unfortunately, Sorenson was not able to produce the same result in round two and he ended up qualifying 12th.
The reason for the speed was that the No. 55 team was running a 100 percent qualifying setup. Something that will have to change on race day as the car will not survive 500 miles with that setup. The reason for the setup was that Sorenson was one of a handful of cars who needed to make the race on speed.
Later on in qualifying we saw three of the four JGR cars forced back to inspection. Matt Kenseth, Denny Hamlin and Kyle Busch were all deemed to have issues with their cars during visual inspection on pit road prior to making their qualifying runs. NASCAR on NBC cameras showed the No. 11 team taking a hammer to the top of the No. 11 machine in an effort to make it fit into the mold frame back in the inspection area.
After qualifying none of the JGR drivers were overly concerned and all three of them qualified well. Hamlin spoke after qualifying about he is happy his team pushed the line because he doesn't want to lose speed by not doing stuff that others are doing.
Pole sitter Martin Truex Jr. also had some issues on Saturday as he had equipment taken from his team and confiscated by NASCAR. NASCAR took a jack bolt from the No. 78 team because there were apparently some issues with how the bolt was drilled. Truex spoke about it after qualifying and said it wasn't a hollow bolt but simply not within NASCAR's specifications. NASCAR Senior Vice President of Competition, Scott Miller, said a points penalty is unlikely for Martin Truex Jr. following qualifying.
Lastly, Ryan Reed and Roush Fenway Racing turned some heads in a surprising manner on Saturday. Reed was one of the cars needing to make the race on speed and he did just that and will start inside of the top-20 on Sunday. Reed is associated with RFR and all three of those drivers also turned in stout qualifying efforts and will each start inside of the top-12 as a result.
NASCAR qualifying isn't always the most interesting thing to watch but on Saturday there were quite a few things going on. Will the same be true of the race on Sunday from Talladega? Be sure to tune in and find out.
More from Beyond the Flag
This article originally appeared on