NASCAR: The Most Successful Driver At Each Active Track
Cole Mentzel/FanSided via Beyond the Flag

Fansided
NASCAR has featured some of the greatest competitive drivers of all-time and a few have gone on to dominate at certain tracks.
Since it was founded in 1948, NASCAR has gone through many transformations and grown into one of the greatest sports in the United States today. From fan support to general excitement around the track on race days, it's incredible to see and go to a race.
Throughout the many years that the great sport of NASCAR has been around, there have been many new tracks built. That means a variety of drivers have had the opportunity to have success at these while some of the newer tracks only feature a few successful drivers.
No matter what era they are from, there is one driver in particular that owns every track. By owning that track, I mean they were/are the force that has dominated in years past and they are recognized as the best driver at that track. Some drivers are even lucky enough to be known for these honors at multiple venues.
Through a careful look at stats and general performance, I found the most successful driver at every active NASCAR track.
All stats are from driveraverages.com, racing-reference.info and jayski.com.
Daytona – Richard Petty
Wins: 10
Top 5's: 28
Top 10's: 37
Laps Led: 1,231
Poles: 4
With 96 races under his belt at Daytona, it's no mistake that The King has had so much success at NASCAR's most famous track. When he began back in 1959 in his Oldsmobile, he only completed 8 laps and finished in 57th place and it took him four races to run his first complete race there.
That was just a tease, as we all know what Richard Petty went on to complete and how he ended up doing it. He won his first race at the track in 1964 after leading 184 out of 200 laps. He was able to race at Daytona before it was a major track in the NASCAR circuit and he raced on it when it was the pinnacle of racing.
It's obvious that we will see him again in this slideshow, but one thing that Petty had on his list of accomplishments was the most wins of all-time at Daytona, and that's something any driver would want to have.
Atlanta – Dale Earnhardt
Wins: 9
Top 5's: 26
Top 10's: 30
Laps Led: 2,655
Poles: 4
Though Dale Earnhardt had a few tracks that he liked racing at, he enjoyed Atlanta in particular. With the most wins and top 5's at the track, he was always in contention to win the race there. In 6 of his 9 wins, he led at least 100 laps and in 1988 he led 270 of 328.
There was no other word to describe him except dominant when he was in his groove at the 1.5 mile track. During five of his seven Championship seasons (1987, 1990 1991, 1993, 1994), Atlanta was the last track visited. Earnhardt used finishes of 2nd, 3rd, 5th, 10th and 2nd to help finish the years strong and lock up championships.
The Intimidator was a fierce competitor at every track he visited but it was hard to find him having a bad day at Atlanta. Some of the records he owns, such as most wins and most top-5's, are ones that won't be touched for quite some time.
Las Vegas – Matt Kenseth
Wins: 3
Top 5's: 6
Top 10's: 9
Laps Led: 526
Poles: 1
Las Vegas Motor Speedway is one of NASCAR's newest tracks. With the first Monster Energy NASCAR Cup Series race taking place in 1998 and only one race there per season, there hasn't really been much time for a driver to accomplish too much.
Even though there isn't too many flashy numbers at the track, there's one driver who has been consistent and looked better than the rest over the past 18 years of racing there: Matt Kenseth.
So far, Kenseth has only won one championship (2003) and in that same season he won at Las Vegas after leading 88 laps. It was the only win he got all year. In 2013, Kenseth won on his 41st birthday after making a late pass on Kasey Kahne and holding him off in the final turns.
Though history is yet to be written for a track just a few miles northeast of the Strip, Matt Kenseth has had more success than any other driver in the field.
Phoenix – Kevin Harvick
Wins: 8
Top 5's: 13
Top 10's: 17
Laps Led: 1,484
Poles: 1
If you dive into the history of Phoenix International Raceway, you won't find anyone with more wins than Kevin Harvick. In 2006, Harvick swept at Phoenix, leading 252 laps in the fall race.
It wouldnt be 2012 until he saw Victory Lane again but that started one of the most dominant runs at a track in NASCAR history. He won five out of seven races (including four in a row at one point) from 2012 to the present, with his 2015 fall finish of 2nd being determined because of rain.
During the stretch, he led 940 laps. From the spring of 2014 to the spring of 2015, Harvick led at least 224 laps in each race and showed that no one was going to be able to stop him.
Though there are a few other drivers with more top-5's and top-10's, there is no one that has had a streak as dominant as Harvick has. Before that, he had been a solid driver at the track, but in the recent years, he has dominated in the desert and he's proving why the track will always be his favorite to race at.
Auto Club – Jimmie Johnson
Wins: 6
Top 5's: 13
Top 10's: 16
Laps Led: 980
Poles: 2
Fontana is another track without much history behind it, since the first Cup Series race took place there in 1997.
In his 14-year history with the Cup Series, Johnson has had tons of success at Auto Club with five wins and five second-place finishes. His first win in the Cup Series came at the track, and it was just his 13th race in NASCAR's best series. One of his most memorable wins at Fontana came back in August of 2008. It was complete domination as Johnson won the race and the pole while leading 228 of the 250 total laps that day.
A few things that sets him apart from the rest, besides all of wins and great finishes, are his driver rating of 120.1 and average running spot of 6.0, both are the best all-time. Also, he has completed 93 percent of his laps in the top 15. Martinsville – Richard Petty
Wins: 15
Top 5's: 30
Top 10's: 37
Laps Led: 2,823
Poles: 2
Making another appearance on the list is Richard Petty. He had his most dominant streak at Martinsville from 1967-1973, when he won 10 out of 13 races at the track, five in a row at one point.
He had some pretty ridiculous days there, leading lap totals of 240, 247, 284 and 324. However, he had his best day at Martinsville back in 1970 when he led 480 out of 500 laps.
Petty has blown away the rest of the competition at Martinsville and set many records that will not be broken for quite some time. The only driver relatively close to his stats is Jeff Gordon, who ended with the same amount of top-10's and just one less top-5, but even he is six wins behind Petty.
Texas – Jimmie Johnson
Wins: 6
Top 5's: 14
Top 10's: 19
Laps Led: 1,023
Poles: 1
Jimmie Johnson has been a force at Texas since he entered the Sprint Cup Series in 2002. Through 25 starts, he has finished outside of the top 10 only six times. He earned his first win at the track in 2007 despite only leading nine laps.
He has been particularly dominant at the track in the past few years. Dating back to November of 2012, he has won five out of seven races, including four straight fall wins, and he has led 748 laps along the way.
His last win at the track came recently as it was the third-to-last race of the 2015 season. Brad Keselowski had led 312 laps and only had a few more to go before he clinched a spot in the final race at Homestead. Johnson had ran in the top 10 all day long and after a 5-10 lap battle, Johnson was able to pass him and take home the win, even though he only led the last six laps of the race.
Bristol – Darrell Waltrip
Wins: 12
Top 5's: 26
Top 10's: 32
Laps Led: 3,436
Poles: 4
Darrell Waltrip was another one of NASCAR's best drivers. During his career, he managed to rack up 84 wins, which is tied for fourth on the all-time list. He also won a championship in 1981, 1982 and 1985.
Throughout his illustrious career, Waltrip dominated at Bristol. He was fortunate to start in 52 races at "The Last Great Colosseum" and put up some pretty incredible statistics along the way.
The best stretch of Waltrip's career at Bristol came between 1981 and 1984. In seven races, he recorded seven wins and three poles, leading at least 200 laps in all but one. The first race in this incredible span of races came in the spring of 1981 and it was also his best race at the track, leading 323 of 500 laps en route to his third win at the time.
Over the years there, he formed a pretty intense rivalry with Dale Earnhardt Sr., one driver that was almost always competing for the win along with Waltrip.
Richmond – Richard Petty
Wins: 13
Top 5's: 34
Top 10's: 41
Laps Led: 5,136
Poles: 8
There is only word word to describe how great The King was at Richmond: dominant. No driver compares to him at the 3/4-mile track. He owns the record for the most wins, top 5's, top 10's, starts, laps led and laps completed.
Petty had a streak similar to Waltrip's at Bristol. He won seven races in a row from 1970-1973 and nine out of ten races from 1970 to 1975, with a second place finish being the result of the one race that he did not win. During that stretch, he had three incredible races, leading lap totals of 429, 444 and 488 out of 500 laps.
This was no surprise due to the amount of success Petty had during his career and especially with his record at short tracks, some of his favorite tracks to race at. His many wins and exciting moments at Richmond is just another reason why Richard Petty will always be considered the greatest driver the sport has seen.
Talladega – Dale Earnhardt
Wins: 10
Top 5's: 23
Top 10's: 27
Laps Led: 1,377
Poles: 3
Dale Earnhardt made Talladega the great and entertaining track that it is today with his electrifying and dominating wins at NASCAR's longest track. He has the most wins at the track with a four-win cushion over all other drivers.
One of the greatest races Earnhardt ever performed in at Talladega came on October 15th, 2000. There was only four laps left and he was back in 18th place. He managed to run down the rest of the pack and eventually won his final race in an absolute stunner. Jeff Gordon recently described it as his favorite memory at the track.
Earnhardt's work in the draft was truly magnificent at times and he was able to control lines like no other. He once led 134 of 188 laps at the track in a dominant win and it was a must-see event every time he was at the 2.66-mile track. Dale Earnhardt is known for many great accomplishments in his career, like seven championships and 76 wins, but his work at Talladega truly left fans awestruck.
Kansas – Jeff Gordon
Wins: 3
Top 5's: 11
Top 10's: 14
Laps Led: 218
Poles: 0
Kansas Speedway was opened for NASCAR racing in 2001 and did not start holding two annual races until 2011, so there isn't much history there, however, the four-time champion Jeff Gordon left his mark on the track before he retired.
He started off with a bang by winning the first two races in the fall of 2001 and 2002 by leading a total of 169 laps. Later on, from 2007 to 2011, Gordon had a streak of five-straight top-five finishes.
He won his third and final race at the track in the spring of 2014. While leading late in the race, Gordon got caught up in some traffic and had to hold off a fast No. 4 car before capturing his first win of the year and adding to a great 2014 season.
Oh, and as you guessed, this is definitely not the last time you will see Jeff Gordon's name in this list.
Charlotte – Jimmie Johnson
Wins: 7
Top 5's: 14
Top 10's: 17
Laps Led: 1,740
Poles: 5
There are other drivers who may have more top 5's and top 10's than Jimmie Johnson but no one has more wins than the six-time champion.
Throughout his career so far, Jimmie Johnson has captured four Coca-Cola 600 wins, including 334 laps led in one outing. Since it is usually regarded as the most physically exhausting race every year, it's pretty remarkable to see someone with that many wins. Johnson won his first back in 2003 and it was just the fourth win of his career.
Johnson has always been a great driver at 1.5-mile tracks and that's exactly what Charlotte is. Johnson hit his peak at the track back in 2004 and 2005 five when he won four-straight races, sweeping both seasons. He is always a contender at the track and has led at least one lap in 23 of his 29 starts.
Dover – Jimmie Johnson
Wins: 10
Top 5's: 151Top 10's: 20
Laps Led: 3,096
Poles: 5
Dover has been Jimmie Johnson's favorite track to race at. With his win there back in May of 2015, he joined an elite club containing only Darrell Waltrip, Richard Petty, Dale Earnhardt and David Pearson, the only drivers who have won 10 races at a track.
In Johnson's first full-time Cup season (2002), he won both races and that was just a preview of what was to come. In his 28 starts, he has only finished outside of the top-20 on three occasions and from 2009-2014, Johnson led a total of 2,339 laps while winning six of his ten races.
Though he has had many dominating performances at the track, he has been known to slide into the lead late in the race like he did in 2015, leading only 23 laps. Throughout his career, Johnson has defined success at Dover and that's why he is part of a list with just four other legendary drivers.
Pocono – Jeff Gordon
Wins: 6
Top 5's: 20
Top 10's: 32
Laps Led: 1,040
Poles: 2
The Tricky Triangle is one of NASCAR's most difficult tracks and there has been no one better at taming it than Jeff Gordon. His six wins there is the most all-time and he has made his mark turning through three unique corners by leading over 100 laps during a race three different times.
Gordon earned his last win at the track in a very interesting way. With rain on the way, Gordon sat in fifth place, behind Jimmie Johnson, Matt Kenseth, Greg Biffle and Brad Keselowski. Entering the first turn after a restart, all four drivers got loose, ultimately causing Kenseth to receive heavy damage after spinning into the rest of the pack.
After all was said and done, Gordon was in the lead. Just a few laps later, the race was still under caution and the storm unloaded on the track, which led to NASCAR ending it and giving Jeff Gordon his record-breaking sixth win there.
Michigan – David Pearson
Wins: 9
Top 5's: 17
Top 10's: 20
Laps Led: 864
Poles: 10
David Pearson had tons of success in his career. With 105 total wins, he is second to only Richard Petty on the all-time wins list and is the only other driver with more than 100 wins.
He did tons of damage at Michigan International Speedway from 1969 to 1986. However, he had 14 years of his career that set him apart from the others at the track, 13 with the Wood Brothers and one with Rod Osterlund.
During those years, Pearson never started or finished outside of the top eight. He managed to rack up eight wins and nine poles, including six straight poles from 1976-1979. It speaks to Pearson's legacy as a driver since he was able to accomplish so much at a fast track against some of the best ever, like Richard Petty, Cale Yarborough, Buddy Baker and Bobby Allison.
Sonoma – Jeff Gordon
Wins: 5
Top 5's: 14
Top 10's: 18
Laps Led: 457
Poles: 5
Throughout his 23-year career, Jeff Gordon defined road course racing. During a time when it was not as popular in NASCAR, Gordon brought road racing to life and helped it to become the spectacle that it is today.
Sonoma Raceway just so happened to be Gordon's favorite. He has the most wins, top-5's, top-10's, starts, poles, laps completed and laps led in NASCAR history and he finished his career with the highest active average finish at 8.3.
He won a race three out of the five times that he won a pole there and whenever he won a pole, he had some of his best races, leading at least 32 laps. The most dominant race ever at the track was from Gordon and it happened on a day where he led 92 out of the 110 total laps, something very hard to do on a road course.
Maybe it was because Sonoma was in the same state as Gordon's hometown, Vallejo, or maybe it was just because Gordon was that good at a different type of track. Overall, he truly owned road course racing, especially in Wine Country.
Kentucky – Kyle Busch
Wins: 2
Top 5's: 4
Top 10's: 5
Laps Led: 437
Poles: 1
There's only been five Cup Series races at Kentucky Speedway, but one driver has been consistent there since the inaugural race in 2011: Kyle Busch. The 2015 champion has never finished outside of the top-10 at the track and he's led at least 115 laps in three of the races.
He left his mark there early by winning the first pole and race at the track in 2011. Then, last season, he led 163 laps in his second win of the season, part of his incredible stretch where he won four out of five races shortly after he returned to the track.
Though history still remains to be written at Kentucky, Kyle Busch is the early leader at the track, and he will continue to impress with his driving at NASCAR's newest track.
New Hampshire – Jeff Gordon
Wins: 3
Top 5's: 16
Top 10's: 24
Laps Led: 1,373
Poles: 6
Jeff Gordon was known for racing well everywhere but he seemed to be just a little bit better whenever he was driving around short tracks.
Even though Gordon captured all his wins at "The Magic Mile" during his championship years back in the 1990's, he continued to race at a high level everytime he visited the track. To go along with his three wins, Gordon placed in either second or third place on nine other occasions.
At what can be one of the hottest tracks on the circuit, Gordon was able to put together consistent runs over a 23-year period, and that's pretty incredible. At New Hampshire in September of 2015, he became NASCAR's "Iron Man" when he started in his 789th straight Sprint Cup Series race.
Indianapolis – Jeff Gordon
Wins: 5
Top 5's: 12
Top 10's: 17
Laps Led: 528
Poles: 3
The Brickyard 400 is one of NASCAR's biggest races all season long and every driver dreams of kissing the bricks after a big win. No one has had more opportunities to do that than Jeff Gordon.
He started off hot at the track by winning the first NASCAR race there in 1994. After that, he went on to create a legacy driving at one of racing's finest tracks. Throughout his 23 years, he finished outside of the top-10 only five times, which is pretty incredible considering the level of difficulty that comes with racing at a track like Indy.
In 2004, Gordon led the most laps ever at the track (124 of 161) and holds the record in other categories such as being the youngest driver to win at the track (23 years and two days) and winning after starting in 27th place back in 2001.
Overall, Gordon summarized NASCAR racing at Indianapolis and he will forever be remembered as one of the greats who loved racing at a premier track in America.
Watkins Glen – Mark Martin
Wins: 3
Top 5's: 12
Top 10's: 16
Laps Led: 206
Poles: 3
Mark Martin is one of the only drivers who raced comparably with Jeff Gordon at a road course, and at Watkins Glen, he was better.
Martin always had solid races at a track used by drivers all over the world, but his best years came from 1993-1995. He won the pole and the race for each of those three years and led at least 40 laps in all of the races. Martin was always a good driver at road courses and he excelled under Jack Roush at the Glen throughout the 1990's.
In 2011, Martin's last season in NASCAR, he described the track as having "an open feel to it" and called it the "superspeedway of road courses" because of how open the track can be. Throughout his 40-win career, one thing was certain: Mark Martin loved racing at Watkins Glen.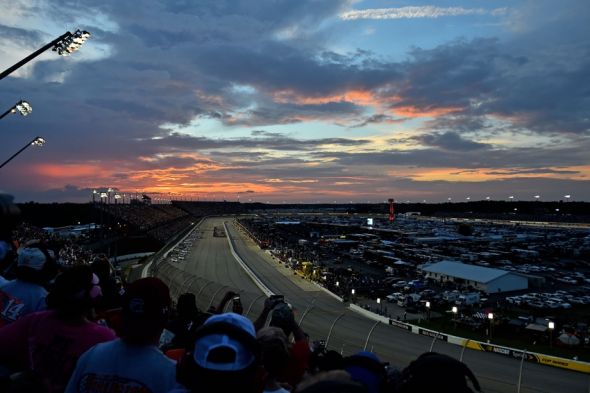 Darlington – David Pearson
Wins: 10
Top 5's: 24
Top 10's: 30
Laps Led: 2,116
Poles: 12
Darlington is known as one of the most iconic and oldest tracks that NASCAR has ever had. Since 1950, the track has been hosting races and with a unique shape to it, there is always excitement in the air.
David Pearson was a legend when it comes to racing at Darlington. He is one of only five drivers that has 10 wins at a track and whenever he arrived at "The Lady In Black," you knew he was about to put on a show.
From 1975-1977, he won five poles in a row and three races, but he was even more dominant than that at times, leading at least 200 laps in four separate races. There aren't too many drivers who can say they owned a track like David Pearson owned Darlington.
Chicagoland – Tony Stewart
Wins: 3
Top 5's: 8
Top 10's: 10
Laps Led: 434
Poles: 1
Since 2011, Chicagoland has been known as the track that starts the Chase and that just happened to be the same year the Tony Stewart won his Series-leading third win at the track.
Racing in Chicago started in 2001, but that hasn't stopped Tony Stewart from taking advantage of a track that he races well at. Though he has only started in the top-10 four times, Stewart has been able to battle back and finish in the top-10 many times.
In his 2004 and 2007 wins, he led 160 and 108 laps respectively, some of the highest totals at the track. With 2016 being his last season, it will be interesting to see if he can revive some of his old magic at the track one last time.
Homestead – Tony Stewart
Wins: 3
Top 5's: 4
Top 10's: 7
Laps Led: 450
Poles: 0
Homestead has become synonymous with the end of the NASCAR season and it is the last part of a championship season for one driver.
In 2011, that driver was Tony Stewart, who won his fifth race of the Chase at Homestead and ended up taking home the championship. He was tied with Carl Edwards in points, but took home the trophy because he had more wins. That was a defining moment in his career, and without a big win at Homestead, none of it would have been possible.
Stewart won the first two races at the track back in 1999 and 2000 and led 210 laps in the process. He will look to end his season on a high note at Homestead as he will end his incredible career at that race track next season.
More from Beyond the Flag
This article originally appeared on