NASCAR Sprint Cup Championship Weekend: Three takeaways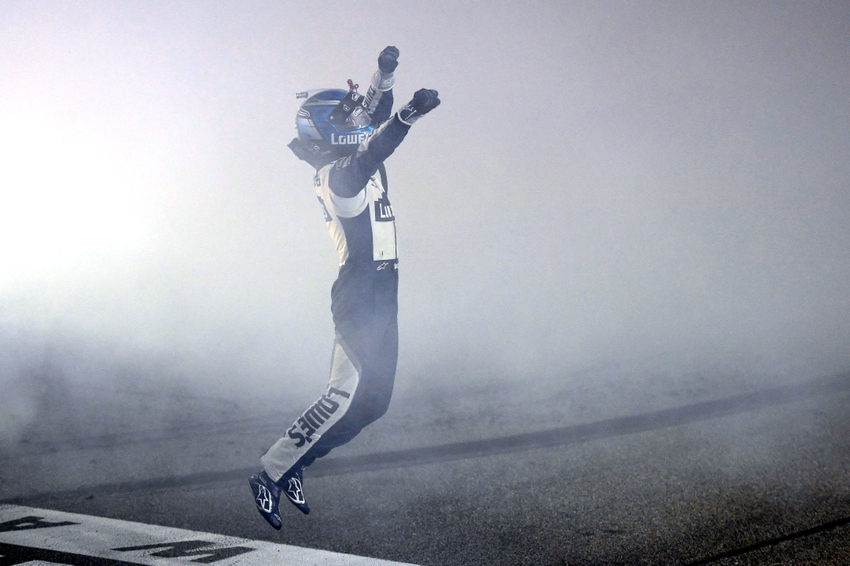 Here are three things that stood out following the final weekend of the 2016 NASCAR season at Homestead-Miami Speedway.
3. Why are attendance and TV ratings for NASCAR plummeting?
It was one of the more compelling weekends of the 2016 NASCAR season because three champions would be crowned in each of their top touring series. Fannies should have filled the seats of the rather smallish (46,000) Homestead-Miami Speedway and eyeballs glued to their televisions from Friday through Sunday, however that was not the case.
The main event, the Ford EcoBoost 400, had great storylines like a hotshoe who had done virtually everything except win a championship (Joey Logano), another who lost out on a title because of a tiebreaker (Carl Edwards – 2011), a third trying to go back-to-back for just the 11th time (Kyle Busch) and a six-time champion attempting to tie a pair of Hall of Fame legends for the most ever (Jimmie Johnson).
So why did the Sprint Cup and NASCAR season ender lay such an egg in the stands and the ratings?
The amount of empty seats at Homestead-Miami is a trend that is happening all over the country, probably because fans can kick back and watch their big-screen TVs in the comfort of their own home for an experience that nearly duplicates the track experience. But if there is one thing that is becoming increasing alarming for NASCAR officials is the drop in ratings.
Sunday put the lid on a season of declining numbers and the EcoBoost 400 on NBC took a major hit, like a 25-percent drop from just a year ago. If there was anything to brag about, the 3.32 overnight rating was better than what ESPN did in the final year of their NASCAR contract posting a 2.92 in 2014, however, it is a kind of apples to oranges, cable versus network.
NASCAR on NBC is not going to compete against the Super Bowl, nothing can. But a more recent sporting event, Game 7 of the World Series, popped an overnight of 25.2. If NASCAR is to be taken seriously, single digits is not going to get it done, especially the low single digits.
2. Rick Hendrick adds to his legendary status
Even before anyone knew how the 2016 Sprint Cup season would play out, Rick Hendrick was already headed to the NASCAR Hall of Fame. When he is formally inducted in January, his career stats line will have to be changed from the press release making the announcement.
When Jimmie Johnson took the checkered flag in the season finale, it became Hendrick's 12th Cup championship, more than anyone in the history of the sport. He is also the only owner who has a title with three different drivers (Johnson, Jeff Gordon and Terry Labonte) and his 245 wins ranks second all-time and first in NASCAR's modern era. Petty Enterprises has the most with 268.
To put Hendrick's 12 championships in perspective against all sports, he ranks seventh all-time behind the New York Yankees (27 World Series titles), Montreal Canadiens (24 Stanley Cup titles), Boston Celtics (17 NBA titles), Los Angeles Lakers (16 NBA titles), Toronto Maple Leafs (13 Stanley Cup titles) and Green Bay Packers (13 NFL championships).
Since Hendrick Motorsports opened its doors, the company has amassed 15 car owner championships across three different series, 12 in Sprint Cup and three in the Camping World Truck Series.
Stability has been a hallmark of how Rick Hendrick operates. Jimmie Johnson has had the same sponsor, Lowe's, in all seven of his championships, and his relationship with Chevrolet goes back to 1984.
1.Yes folks, Jimmie Johnson belongs with the legends
It didn't take long for the haters to come out of the woodwork attempting to steal Jimmy Johnson's thunder after he tied legends Richard Petty and Dale Earnhardt with seven championships after the Ford EcoBoost 400 Sunday evening.
Petty and Earnhardt were very much involved in the day-to-day operations of their respective teams like engine building, car setups, etc. In today's NASCAR, drivers take on a whole different set of responsibilities. To diminish what Johnson has accomplished because the sport is a very different than it was "back in the day" is not being fair.
Technology has taken over the sport and it would be hard to imagine drivers from 20 or more years ago having to deal with these advancements. The days of building what goes into a car then going out on the track to go fast are gone. Today it is all about going fast, for sure, but now it has become managing all that technology with track and racing conditions while still trying to finish first.
Johnson has won seven championships in seven different technologically built cars. He has adapted to each of the changes NASCAR has instituted better than anyone and that should be what defines his legacy.
He won five in a row which has never been done before. You have to go back to 1997-98 to find anyone who went back-to-back and that was Jeff Gordon. The last time someone did three consecutive? Cale Yarborough from 1976-78 and that was the era of build car, go fast.
Johnson deserves his place next to Petty and Earnhardt.
More from FanSided
This article originally appeared on