NASCAR Shouldn't Reward Championship Berths In Rain-Shortened Races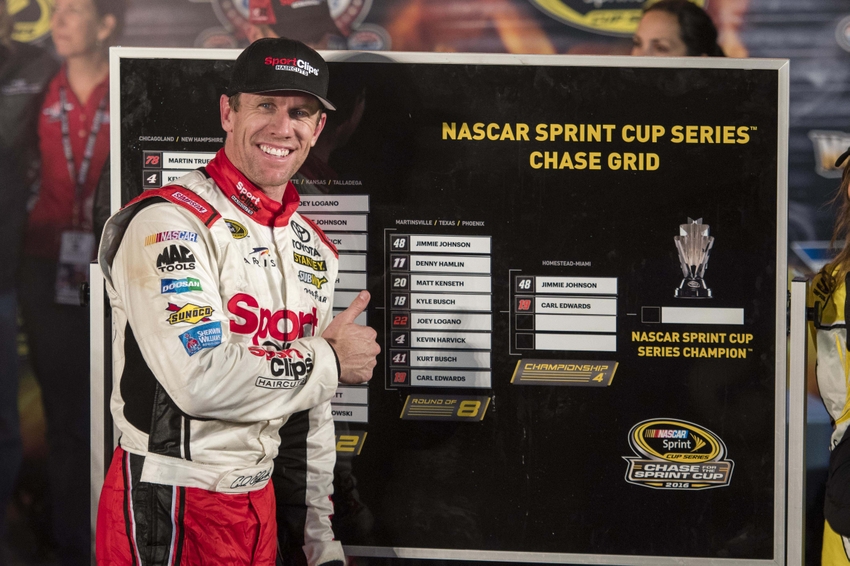 We all remember when Kyle Busch won the Sprint Cup Championship in 2015 after suffering a broken leg and foot and missing 11 races at the beginning of the season. While the championship victory did go down as one of the best storylines in NASCAR of the entire decade, especially with how dominant Busch was on the track following his crash, it still doesn't remove the asterisk that will forever be associated with that championship.
Fast forward one year later and we have Carl Edwards, who might just get an asterisk championship of his own after winning a rain shortened race at Texas Motor Speedway. The win guarantees him a spot in the final four at Miami and while Edwards has remained competitive throughout the season, giving him a final four berth for a rain shortened win is a little ridiculous.
While NASCAR did have the best intentions in mind to reward winning when they created this version of the Chase format, one can't deny that many problems still persist with a system like this in place. Unfortunately for NASCAR, this is their latest one and if they don't offer some kind of solution in the near future, they are going to jeopardize the Chase format being more a joke than it already is.
Keep in mind that this isn't a way of asking for the win to be taken away, Carl Edwards deserves the victory for being out front when the final decision was made by NASCAR to call the race complete, but is an incomplete race really worth a spot in final four to decide the championship? The answer should be no and that's why NASCAR should prevent this from happening in the future.
Just imagine if this was how NASCAR decided the championship at Homestead Miami? Would it be ok then?
No!
Fans would be rioting, ESPN articles would be printed on the daily about how NASCAR got their big championship race wrong and there would forever be an asterisk in front of the drivers name who won the championship.
Is that what we want? If not, why would we want something like that to happen during any of the races that make up the championship Chase? Yes, some fans might think I'm just picking on the story of the week, or even have a deep hatred of Toyota or Carl Edwards, but I really just want to see a champion without an asterisk when this season is all said and done.
Don't you?
More from Beyond the Flag
This article originally appeared on