NASCAR: Johnson Wins Homestead, Wins Seventh Championship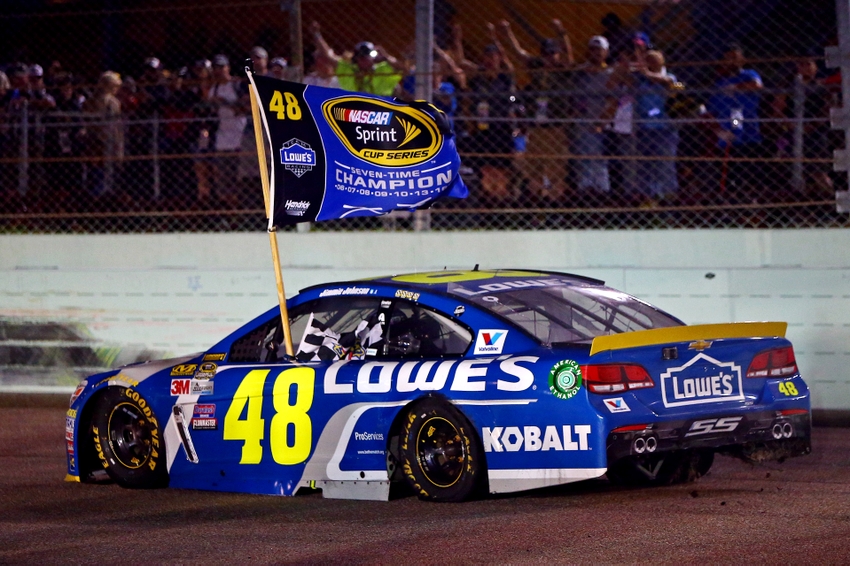 It was an emotional day for the NASCAR Sprint Cup Series Sunday in Miami as the sport said goodbye to a legend and crowned themselves a 2016 champion.
The beginning of the day was all about Tony Stewart and his last race in NASCAR. Stewart got plenty of screen time prior to the race as well as a banner and ceremonial lap before the green flag. The sight of Stewart driving down pit road and all of the teams being there to greet him was one that I am sure will stay with him for a long time to come.
Once the green flagged dropped it was all about the championship contenders. Jimmie Johnson had to start his day at the back of the field after being sent off of pit road by officials during pre-race visual inspection. Kyle Busch also had an issue early in the race when he had a tire go down and was forced to pit road. The stop resulted in him going down a lap but he was able to get that lap back later in the race.
With 30 laps to go, Kyle Larson led the race as he did for most of the day. Kyle Busch, Carl Edwards and Joey Logano rand 2nd-4th respectively while Johnson ran 6th. With 23 laps to go Edwards got around Busch and into the championship-winning position. However, a caution came out with 15 laps to go which produced some tense moments on pit road.
Busch lost three spots on that final stop while Logano gained a spot.
On the ensuing restart Logano got into Edwards and sent him into the wall, ending Edwards' run for a title. Logano also suffered damage in the incident but Johnson and Busch got through. Following the incident Edwards took blame for the wreck as he was the one who came down and blocked Logano.
The final run saw Johnson power pass Larson and hold off the field to win the race and his seventh title.
Unofficial Homestead Results
Jimmie Johnson
Kyle Larson
Kevin Harvick
Joey Logano
Jamie McMurray
Kyle Busch
Matt Kenseth
AJ Allmendinger
Denny Hamlin
Michael McDowell
Chase Elliott
Austin Dillon
Kurt Busch
Paul Menard
Brian Scott
Alex Bowman
Greg Biffle
Casey Mears
Danica Patrick
Trevor Bayne
Landon Cassill
Tony Stewart
Clint Bowyer
Chris Buescher
Ryan Newman
Ryan Blaney
Matt DiBebedetto
Michael Annett
David Ragan
Ricky Stenhouse Jr.
Jeffrey Earnhardt
Reed Sorenson
Ty Dillon
Carl Edwards
Brad Keselowski
Martin Truex Jr.
Kasey Kahne
Regan Smith
Dylan Lupton
Aric Almirola
More from Beyond the Flag
This article originally appeared on