NASCAR: Hendrick Motorsports Season Recap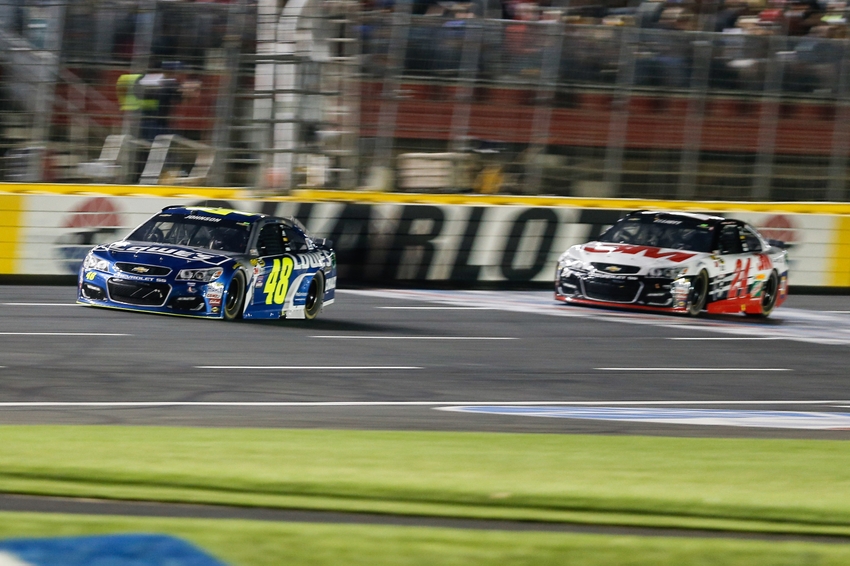 The 2016 NASCAR season saw Jimmie Johnson claim Hendrick Motorsports' 12th championship, but how did the rest of the team perform?
The 2016 NASCAR season brought about many changes for Hendrick Motorsports.
The first–and most obvious–was the fact that Chase Elliott replaced Jeff Gordon on the team. For the first time ever, there was a new driver behind the wheel of the No. 24 car as Gordon had raced full-time since 1993.
The next came in the form of Dale Earnhardt Jr., as the fan favorite suffered from concussion-like symptoms, keeping him out for the second half of the season. In response, both Gordon and Alex Bowman shared races in the No. 88 car.
The third and final change came in the form of the overall competitiveness from the team. For the first time in quite a while, HMS wasn't the best team in NASCAR. Though they ended up gaining another trophy, Joe Gibbs Racing out-performed them on a lot of weekends and especially throughout the summer.
However, while change can sometimes be hard to overcome, the team kept going and eventually helped Jimmie Johnson win a dramatic race at Homestead to earn his seventh Cup Series championship and the 12th overall for the team.
Let's take a deeper look into how the 2016 season went for HMS.
The No. 5 Team
Driver: Kasey Kahne
Crew chief: Keith Rodden
2016 stats:
Wins: 0
Top-5's: 3
Top-10's: 13
Laps Led: 0
Average Finish: 15.6
Poles: 0
Since joining Hendrick Motorsports in 2012, it's been a rough ride for Kasey Kahne. Things didn't change for him in 2016 either.
For the first time in his career, Kahne failed to lead a lap in a Cup Series season. He was off and on throughout the course of the regular season, recording eight top-10's in 26 races. Some of his best races came at tracks like Richmond and Dover, where he recored fourth-place finishes, however he still failed to contend for a win.
Kahne made a late run at Richmond but finished sixth when he needed a win and missed the Chase again.
Once the postseason came around, Kahne–like his other HMS teammates–found some speed and started to appear near the front of the pack more often. He recorded seven top-10's in the final 12 races of the season and had his best outing of the season at Charlotte (his best track), where he finished third.
From Darlington to Kansas (seven races), he had six top-10's and kept Chase drivers from earning top-10 finishes on some weekends. Though he never had a legitimate shot at winning a race, it was a good sign to see him competing.
Hendrick Motorsports teammates Alex Bowman and Kasey Kahne will restart on front row. Kahne looking to lead first lap of the season.

— Jeff Gluck (@jeff_gluck) November 13, 2016
Kahne finished 13th at Phoenix and actually restarted on the front row next to Alex Bowman at one point. In the final race of the season at Homestead, he was involved in the late wreck and was hit hard by Carl Edwards. He finished the season 17th in the standings.
Once the end of the season came along, there were many things still lacking from the No. 5 team. Kahne had failed to make the Chase for the second straight season and extended his winless streak to 83 races.
Kahne's struggles were evident yet again as he continued to struggle with one of the best teams in the sport. His contract with HMS expires after the 2018 season and his future with the team remains in question.
The No. 24 Team
Driver: Chase Elliott
Crew chief: Alan Gustafson
2016 stats:
Wins: 0
Top-5's: 10
Top-10's: 17
Laps Led: 358
Average Finish: 14.6
Poles: 2
Chase Elliott came into the season with a lot to live up to. After two full seasons in the Xfinity Series–including a championship in 2014–Elliott was named the replacement for Jeff Gordon in the No. 24 car.
He started off the season by winning the pole in for the Daytona 500 before being involved in a wreck early on. Elliott didn't look like a rookie early in the season. He opened the year with 11 top-10's in 15 races and he competed for wins at Talladega, Pocono and Michigan. Then, just like the other HMS drivers, Elliott went through a rough stretch.
He failed to place in the top-10 in eight straight races ranging from Sonoma to Bristol, then he rebounded with another second-place finish at Michigan. He was leading late in the race before a caution came out that opened the door for Kyle Larson.
Elliott qualified for the Chase and looked like an instant contender. He led 75 laps and Charlotte and was four laps away from winning the race and beating Martin Truex Jr. when the caution came out, again leading to another missed opportunity.
He advanced to the Round of 12 and started the round off hot, leading a season-high 103 laps at Charlotte, but a wreck ended his great day and put him in an early hole. The next weekend, Elliott had another fast car and got out front for four laps before suffering from a tire problem, leading to two straight finishes below 30th.
Elliott finished 12th in a must-win situation at Talladega and was eliminated from the Chase. He put together another strong run at Texas late in the season and finished the year in 10th in the standings.
Elliott ended being named the Sunoco Rookie of the Year. Though he never recored a win in his rookie campaign, he had a lot of close calls and looked like a contender in many races this season. It didn't matter if it was the regular season or the Chase, he was still competing at a high level.
If there's one track to keep an eye on in the future, it's Michigan, as he finished second there twice in 2016.
Elliott acted similarly to his dad behind the wheel. He was calm, cool and collected all year long. One interesting thing to note was how hard Elliott was towards his performance at times. He came down hard of himself after a rough outing or a time when he made a mistake late.
His Xfinity career and his incredible rookie season were simply a sign of things to come. Chase Elliott is a superstar in the making.
The No. 48 Team
Driver: Jimmie Johnson
Crew chief: Chad Knaus
2016 stats:
Wins: 5
Top-5's: 11
Top-10's: 16
Laps Led: 737
Average Finish: 14.0
Poles: 1
The season started off fast for Jimmie Johnson. He earned wins at Atlanta and Fontana and locked up his spot in the Chase early. Along the way, he recorded top-5's at Las Vegas, Texas and Richmond.
Then starting in mid-April, things got tough for Johnson and the No. 48 team. From Bristol to Richmond (the rest of the regular season), the year was a struggle. Throughout those 19 weeks, Johnson finished in the top-10 just five times and had eight finishes below 20th. He led only 95 laps and did not look like a championship contender heading into the Chase.
But things changed rather quickly. Johnson recorded three finishes of 12th or better in the Round of 16 and led 118 laps and 90 laps at Chicagoland and Dover respectively. While Johnson had three big penalties, there were signs of life coming from him and his team.
Then he got the break that he needed in the opening race of the Round of 12. Johnson led 155 laps at Charlotte and beat Matt Kenseth on a late restart to end a 24 race winless streak–the longest of his career. The win automatically sent him to the Round of 8 for the first time since the new Chase format was adopted.
Johnson did the same thing in the next round and won the opening race as he led 92 laps at Martinsville and won his ninth race at the track. That opened the door for a historic seventh championship, and suddenly, the No. 48 team looked like one of the best in NASCAR again.
But as things were about to get underway at Homestead, Johnson found out he would be facing an uphill battle. Despite qualifying 14th, he would be starting from the rear due to unapproved body modifications.
However, that didn't hold Johnson back as he had already raced into the top-5 by about Lap 50. The rest of the afternoon and evening was just average for the No. 48 though. He hung around the low teens and really didn't have much for the rest of field.
Then, late in the race, he made his move and got all the way up to 6th before a caution came out, resulting in a restart with 10 laps to go. The door was instantly opened for a seventh championship when Carl Edwards–who appeared to have the best car–went down to block Joey Logano and ended up wrecking.
The race eventually went to overtime and Johnson won the restart against Kyle Larson, who had dominated the day. The result was Johnson's 80th win and seventh championship after a truly incredible finish to the race.
At one point in the season, Johnson was at a low point and didn't look capable of competing for the title, but he won three big races in the Chase and ended up joining Richard Petty and Dale Earnhardt in the seven championship club.
In one of Johnson's worst seasons statistically, he came out on top and proved yet again why he's one of the greatest drivers NASCAR has ever seen.
The No. 88 Team
Drivers: Dale Earnhardt Jr., Jeff Gordon, Alex Bowman
Crew chief: Greg Ives
2016 stats:
Wins: 0
Top-5's: 5
Top-10's: 11
Laps Led: 260
Average Finish: 16.3
Poles: 1
It's safe to say the season didn't go as planned for the No. 88 team, but they still stayed competitive and raced hard until the end.
Dale Earnhardt Jr. was in the car for the first 18 races of the season. He failed to get a win but did finish second on four different occasions (Atlanta, Texas, Bristol, Pocono). He led laps at Daytona, Phoenix and Pocono and had a couple of shots at a win but never could get it done.
After it was announced that he had concussion-like symptoms, Jeff Gordon stepped up and took over for Earnhardt Jr. He had eight starts and earned solid finishes with his best coming at Martinsville–one of his favorite tracks–as he finished sixth. That could've very well been his final race in NASCAR.
There were a few weekends where Gordon wasn't in the car, and the four-time champion only raced twice in the Chase. When he wasn't driving, 23-year-old Alex Bowman got behind the wheel.
Bowman's finishes make his season look a lot worse than it actually was. He was running well at Loudon before he had a tire go down that sent him back in the field. Then at Talladega, he was in the top-5 late before spinning and finishing 36th. Despite a few good days going bad, Bowman still looked like a good young driver.
He finished 10th at Chicagoland and seventh at Kansas before having the best outing in his NASCAR career. Coming from Tucson, Arizona, Phoenix served as his home track. It was there that he put on a show. Bowman won the pole for the race and went on to lead 194 laps, owning multiple restarts.
He was put in a bad spot late as Matt Kenseth came down on him and caused a wreck. Despite that, Bowman still finished 6th. Throughout the ten races he was in the No. 88 car, he put in a good showing and will be looking for a full-time ride for 2017.
While 2016 was not the year that the No. 88 team expected to have, they still made use of some of the best cars in NASCAR and put together a few valiant efforts. If all goes well, Dale Earnhardt Jr. will be back next season.
This article originally appeared on