NASCAR: Harvick Upset With NASCAR, Feels Stewart Not Getting Credit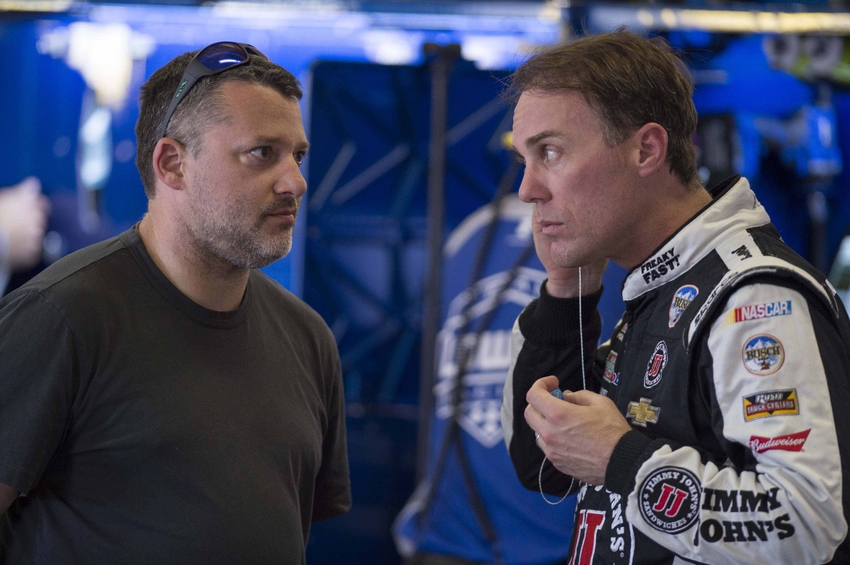 Former NASCAR champion Kevin Harvick will not be running for his second championship this weekend in Miami but that's not all that he is upset about. Harvick also feels as though NASCAR has not done their part when it comes to honoring Tony Stewart this season.
Harvick spoke with the media Friday after qualifying at Phoenix and he was asked what he thinks of Stewart retiring and what he thinks his legacy is going to be. Harvick did not hold back with expressing his disappointment in how Stewart's farewell season has been handled in his eyes.
It's not going to be what it should be because I don't think anybody did a very good job of giving him the credit that he deserved throughout the year at the race tracks and from a sports standpoint. That has been very disappointing from my standpoint. I know that Tony probably would say that he didn't want that but I don't think anybody has done a very good job of giving him the credit for the time that he has put in and had in the sport. A three-time champion, multiple race winner, IndyCar champion and winner and to auto racing in general. It's been pretty disheartening to me to see the lack of credit that he has gotten.
There are two sides to this coin and for Harvick to feel this way it's quite understandable since NASCAR is fresh off of Jeff Gordon's farewell season and all that came with that.
The first side is the fact that Stewart himself said that he didn't want nor did he feel that he deserved the type of send-off that Gordon received in 2015. I would argue that he does deserve it but Stewart's opinion is that of his own. Stewart made it clear that he didn't want to spend every race in the media center receiving gifts and such and that he wanted to focus on his last season on the track.
The other side is that NASCAR, regardless of what Stewart said, should have still done their job and paid respect properly. NASCAR and the tracks have done stuff for Stewart but it doesn't touch the level of which Gordon received. Stewart's name has also pretty much disappeared since being eliminated from the Chase which is a shame because the number of races left in his career haven't stopped counting down just because he is out of championship contention.
I'm glad that Harvick stood up and made the comments that he did because somebody needed to make them and it doesn't appear that Stewart was going to be that guy, nor should he have been.
More from Beyond the Flag
This article originally appeared on