NASCAR: Hamlin and Two Others Warned After Martinsville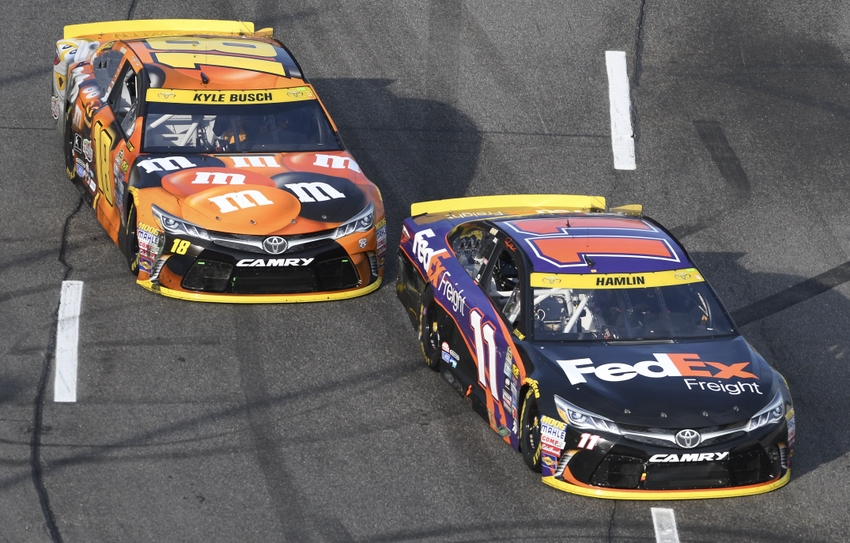 NASCAR has announced their post-Martinsville warnings and Denny Hamlin is one of three teams that received warnings from NASCAR heading into the second race in the round of eight.
Denny Hamlin kicked off the third round of the NASCAR Chase with a bang at Martinsville. Despite not winning the race, he did come home in third place. The strong finish has him in a decent spot heading into the last two races of the round assuming that he doesn't have any bumps in the road.
While the on-track stuff was good in Martinsville, Hamlin and his team were hit with a warning from NASCAR following the race weekend. The No. 11 machine received the warning for failing template inspection twice prior to qualifying before the race at Martinsville. The post-Martinsville warning now gives Hamlin and the No. 11 team a total of three such warnings.
Hamlin wasn't the only driver that had a warning come his way after Martinsville.
NASCAR also handed out warnings to Trevor Bayne and Matt DiBenedetto. Bayne's No. 6 machine struggled with pre-race inspection, failing it twice prior to the race in Martinsville. DiBenedetto had issues getting through pre-qualifying inspection where he failed that three times. For Bayne it's also his third warning, for DiBenedetto it's his first of the 2016 NASCAR season.
This weekend Hamlin will look to build on the momentum that he created for himself at Martinsville while Bayne and DiBenedetto will be looking for strong finishes as well in the state where everything is bigger.
Bayne received some good news this week as well when RFR announced an extension with primary sponsor AdvoCare. The multi-year extension will keep AdvoCare as a primary sponsor with Bayne and the No. 6 team. The extension is a big deal for Bayne and RFR, both of which have been underperforming in recent seasons.
More from Beyond the Flag
This article originally appeared on