NASCAR: Four Predictions For the Ford EcoBoost 400 at Homestead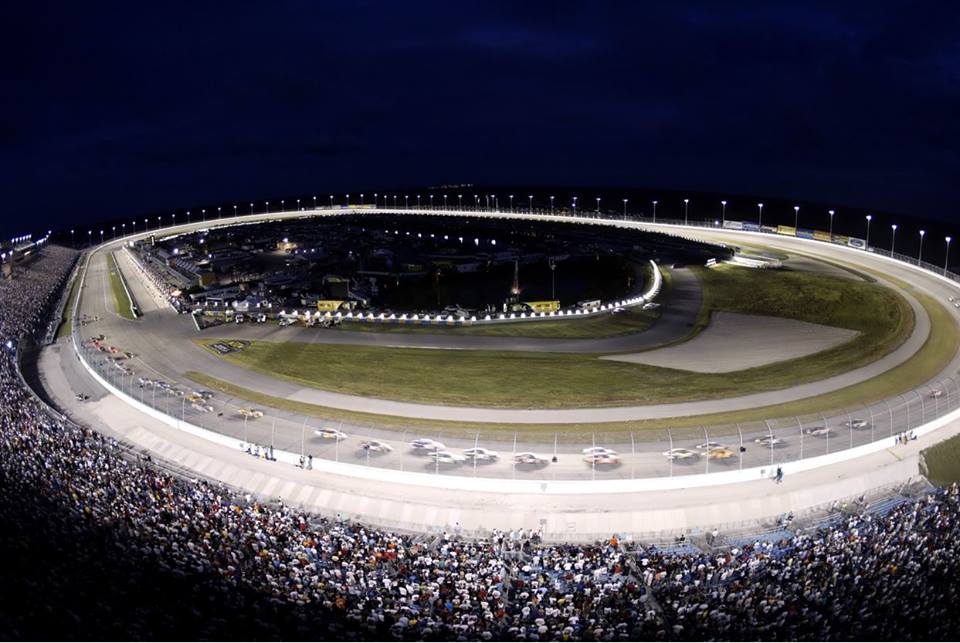 NASCAR has finally reached the end of the season and this Sunday we will have a new Sprint Cup champion. Here are four Predictions for the Ford EcoBoost 400 at Homestead.
This is it racing fans; we've got our four drivers who are competing for a championship and one last race to prove who is the best driver this season.
We've seen newcomers to the Chase this year like Kyle Larson and Austin Dillon, and we've seen heartbreak when the 78 team, who looked like the team to beat, didn't make it out of the Round of 12.
The final four drivers remaining, Jimmie Johnson, Carl Edwards, Joey Logano and Kyle Busch, have all managed to survive and thrive in the Chase to make it to Homestead.
they've all won multiple races this season and will need to win one more if they hope to win the championship.
Should we expect all four of these drivers to be competing heavily against each other? Or are some of the Chase competitors better than others at Homestead?
What type of pressure are these teams facing? Which ones will be able to handle it and which ones will struggle?
These four drivers and their teams are the best in NASCAR this season. Homestead will test their limits and the only way to win the championship will be to avoid mistakes. One mistake on pit road or one bad restart could cost someone a championship.
After the race on Sunday we will know who the Sprint Cup champion is, but before the race starts here are four predictions for Homestead.
Tony Stewart Won't Impact the Race, But His Career Will Be Remembered
Tony Stewart made it into the Chase this year by winning at Sonoma, but once he got into the Chase Smoke failed to make a great run out of his last Chase.
He more than likely won't be a major player at Homestead, even though it is the last race of his career as a NASCAR Sprint Cup driver.
But his last race isn't what matters for Smoke this weekend. Instead, the focus will be on the fantastic career he's had and how much he's impacted NASCAR.
Stewart has not only been a top driver over his years in the sport, but he's also spoke his mind throughout his career and was never afraid to back down from any other driver. He entertained the fans throughout the years with both his racing and his attitude.
He started racing in NASCAR for the Busch Series in 1996. 20 years later Smoke has won three championships, 49 races in the Sprint Cup Series and owns part of one of the top teams in NASCAR.
Homestead will be the last race for one of NASCAR's greatest drivers but regardless of how well Tony Stewart does on Sunday there is no denying the impact he's had on NASCAR over his impressive career.
Competition Between The Chase Drivers Will Be Tight
There has yet to be a race in the Chase this season that a non-chase driver has won, and at Homstead it won't be any different.
Carl Edwards, Jimmie Johnson, Kyle Busch and Joey Logano are going to race for the win on Sunday and will need to if they hope to win the championship.
Kyle Busch alone is going to push the rest of the drivers because when he made it to Homestead last year, he went on to win the championship by winning the race at Homestead.
Jimmie Johnson could also be a factor at Homestead even though he's never won at this track. He does have a handful of Top 10's and has finished in second twice.
Carl Edwards shouldn't be counted out this Sunday either. Not only has the driver of the 19 car won at Homestead, he's looking for redemption after finishing in second in 2011 and losing the championship to Tony Stewart.
Joey Logano is arguably the weakest driver heading into the final race of the season this Sunday. He's never won at Homestead and has an average finish of 17.71, but since making the switch to Penske back in 2013 his stats improved dramatically at this track. He's finished in the top 10 two out of three times while racing for Penske.
Every one of these drivers has something to prove on Sunday so don't be surprised to see them run 1st through 4th for at least one portion of the race at Homestead.
The Pressure Will Be Too Much For a Chase Team
While these driver will at one point be battling for the lead, the thing that's going to separate them is pressure.
Which teams will be able to handle the pressure of having to beat three of the best drivers this season, and which teams will fall under it?
The 48 team ran into issues on pit road during the first round of the Chase. They seem to have worked out their mistakes, but will the pressure of needing to win bring back their struggles?
The 22 team also ran into pit road issues at Talladega in the Chase and even though Joey Logano was able to overcome a jack being stuck under his car, he won't be able to fix the same type of problem if it happens at Homestead.
There is also the 18 team, whose crew chief was fined after the race at Phoenix for lug nut issues. Could these types of issues play a role in how they perform on Sunday? What is NASCAR pays even more attention than normal to these types of issues during the race?
This is the most important race of the season and for these teams it could easily be the most important race of their careers.
Only the best will be able to handle the pressure but this same pressure is going to cause at least one Chase driver and his team a chance at winning a championship.
Six Time Becomes Seven Time
When it comes to having to pick a winner for this year's NASCAR championship, any of these four drivers could be seen holding the trophy high in Victory Lane.
They've all overcome a lot to make it to this point, from winning the most races in the regular season to coming alive in the Chase at the right time, these four have been top drivers all year.
But when it comes to championships it always seems like there is Jimmie Johnson and than there is everyone else.
With six championships in his carreer already, Sunday is going to be more about who will be able to beat Johnson and deny him of his seventh title.
Jimmie Johnson is one of the greatest drivers of all time, whether you're a fan of his or not. He's sitting on the verge of tying some of the greats in NASCAR with seven championships and he's going to be performing at his best on Sunday.
He's going to have to earn it, beating Kyle Busch, Carl Edwards and Joey Logano won't be easy but if anyone can beat out these three top drivers it's Johnson
He's one of the best drivers to ever race in NASCAR and on Sunday he will prove it once again as he ties Dale Earnhardt and Richard Petty with seven championships.
Who do you think will win the Sprint Cup championship this year? Let us know in the comments below. For all your NASCAR Chase news leading up to the race at Homestead this Sunday be sure to check out BeyondTheFlag.com.
More from Beyond the Flag
This article originally appeared on