NASCAR: Five Drivers Most Likely To Win At Phoenix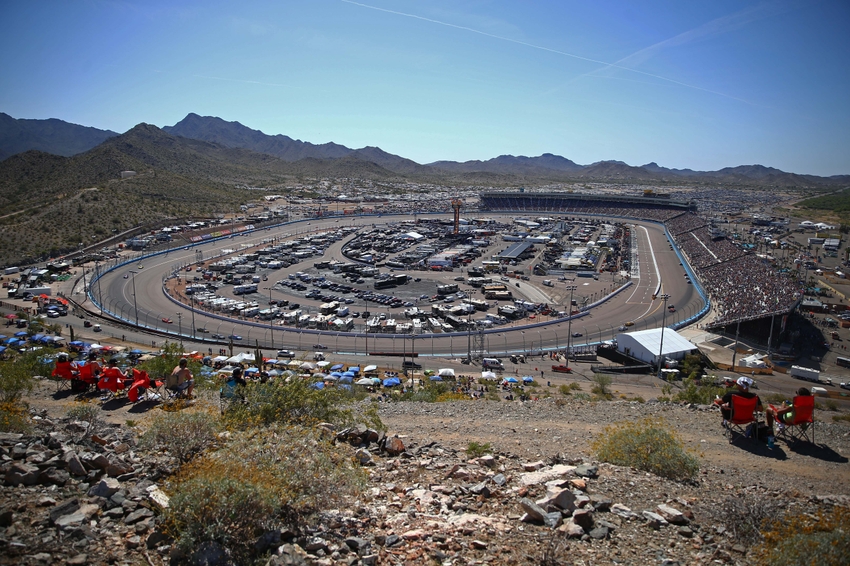 NASCAR is prepping for the third elimination race of the Chase. Take a look at a five drivers who could make it to Victory Lane on Sunday.
After a long day at Texas, Carl Edwards claimed a spot in the Championship 4 alongside Jimmie Johnson. Now, NASCAR is heading to Phoenix to determine the final two drivers who will race for a championship at Homestead.
Phoenix International Raceway is one of the most unique tracks in all of NASCAR. As a 1.0-mile track, it has varying levels of banking while featuring a dogleg coming out of Turn 2.
Earlier in the season, we witnessed the closest finish ever at PIR as Kevin Harvick narrowly edged out Carl Edwards for yet another win at the track. This time around, Harvick will be in a must-win situation as he, Kurt Busch, Joey Logano, Matt Kenseth, Denny Hamlin and Kyle Busch will all be looking to advance in the Chase.
Stewart-Haas Racing teammates Kurt Busch and Harvick will enter the weekend as the only drivers needing a win to move on while the rest of the field will be able to race in on points. Both Johnson and Edwards will be the only drivers without worries as they're locked in.
The past two Chase races at Phoenix have provided thrills whether it's been exciting finishes or close calls in the standings. Let's take a look at a few drivers who could win this weekend.
All stats gathered from racing-reference.info.
The Favorite: Kevin Harvick
Stats at Phoenix:
Wins: 8
Top-5's: 12
Top-10's: 16
Laps Led: 1,484
Average Finish: 10.3
It's nearly impossible to pick against Kevin Harvick at Phoenix–especially when his back is against the wall.
Harvick has the most wins of all-time at the track with eight. He captured his first two back in 2006 when he swept the season and led a total of 262 laps, but his best moments at the track have come in the past four seasons.
Harvick has won six out of the last eight races including four straight at one point. He was a rain-shortened race away from winning his ninth race at the track as the 2015 Chase race was ended early, giving him a second-place finish. Harvick has led a total of 1,079 laps in the last eight races at PIR including over 200 in three straight races ranging from 2014 to 2015 and over 100 in the last five races.
His last win came earlier in the season when he held off Carl Edwards in a true photo finish.
Harvick earned a 20th-place finish at Martinsville and a sixth-place finish at Texas so he'll likely need a win to move on to the Championship 4. However, with his recent streak of dominance at Phoenix, it's definitely a possible.
Expect Harvick to establish himself early this weekend and lead a lot of laps like we've gotten accustomed to seeing him do. He's the favorite heading into the weekend.
Contender No. 1: Denny Hamlin
Stats at Phoenix:
Wins: 1
Top-5's: 10
Top-10's: 12
Laps Led: 441
Average Finish: 11.0
Denny Hamlin is one of the drivers currently below the cut line, but he's only down two points, so he could very well race his way in that way. However, a win at Phoenix would erase any doubt about points racing.
Hamlin won his first and only race at the track back in 2012 as he led 61 laps, but he's put together some impressive finishes throughout the years.
Since coming into the Cup Series he's raced at Phoenix 22 times and has placed outside the the top-20 just four times. Out of his ten top-5's, he's finished in third or better eight different times, showing just how consistent he can be.
Throughout the past few seasons Hamlin has showed his strength at short tracks and has been one of the more dangerous drivers on those weekends. He's finished in the top-15 in seven out of eight races in the Chase and is looking to make it back to the Championship 4 for the first time since the 2014 season.
Look for Denny Hamlin to be a threat this Sunday.
Contender No. 2: Jimmie Johnson
Stats at Phoenix:
Wins: 4
Top-5's: 15
Top-10's: 19
Laps Led: 977
Average Finish: 7.8
If it wasn't for Kevin Harvick, Jimmie Johnson might be known as the best driver at Phoenix. He has the most top-5's and top-10's among active drivers and owns the best average finish with a 7.8.
Johnson's wins all came from 2007 to 2009 as he won four out of five races with the other finish serving as a fourth-place finish. He's led over 200 laps at the track two different times and has backed up his wins with plenty of solid finishes inside the top-10.
15 of his 26 starts have resulted in finishes of fifth or better and he's finished third or better on ten different occasions. Johnson has easily been one of the best drivers at the track over the course of his career simply because of his ability to record such good finishes on a yearly basis.
He's already locked into the Championship 4 because of his win at Charlotte, but Johnson will definitely be looking for another win this weekend as he's one win away from becoming just the seventh driver to win 80 races in Cup Series history.
Look for Johnson to put together another solid finish this weekend.
Contender No. 3: Joey Logano
Stats at Phoenix:
Wins: 0
Top-5's: 3
Top-10's: 8
Laps Led: 156
Average Finish: 14.0
Joey Logano will be looking for his first Cup Series win at Phoenix this weekend and he'll have a good shot at making it to Victory Lane.
Logano's main claim to fame at Phoenix is the fact that he's finished in the top-10 in five out of the last six races at the track. He's known as a good short track driver and he's led all his laps at the track in the past three seasons.
Logano started the Chase off at a semi-slow pace before finishing 36th at Charlotte, however, since then, he's been one of the best on the track. He's put together finishes of 3rd, 1st, 9th and 2nd at Kansas, Talladega, Martinsville and Texas respectively. In the past three weekends he led double-digit laps and dominated Texas before falling back late in the race and coming just short of his second Chase win of the season.
He's currently above the cut line with Kyle Busch, but both drivers are safe by just one point at the moment, so they'll need a really good finish, if not a win, in order to make it to Homestead. Watch for Logano to put together another great weekend and continue his late-season surge.
The Underdog: Kurt Busch
Stats at Phoenix:
Wins: 1
Top-5's: 6
Top-10's: 16
Laps Led: 750
Average Finish: 13.4
It's hard to think of a Chase driver who's in the Round of 8 as an underdog, but that's simply what Kurt Busch is. Since the Chase began, he's been struggling to put together good finishes and after finishing in 22nd and 20th in the past two weekends, he's in a situation where he needs a win to move on.
Phoenix has been a rather good stop for Busch over the years. His 16 top-10's is tied for second-most among active drivers and he's led the third-most laps at the track.
Busch's lone win came all the way back in 2005, when he dominated the eighth race of the season by leading 219 laps. One thing that will help Busch this weekend is the fact that he's recorded four straight finishes of seventh or better at Phoenix and six top-10's in the past eight races.
Busch is in a position now where his chase for the championship could be over if he doesn't win this weekend. He's mentioned how his team is ready to take risks to get to Victory Lane, but he'll need a lot to overpower his teammate Kevin Harvick, who's looking for the same outcome.
If Busch was to pull off a win this weekend, it could serve as one of the biggest of his career. Expect him to be competitive in the final race of the Round of 8.
More from Beyond the Flag
This article originally appeared on