NASCAR: Five Drivers Most Likely To Win At Homestead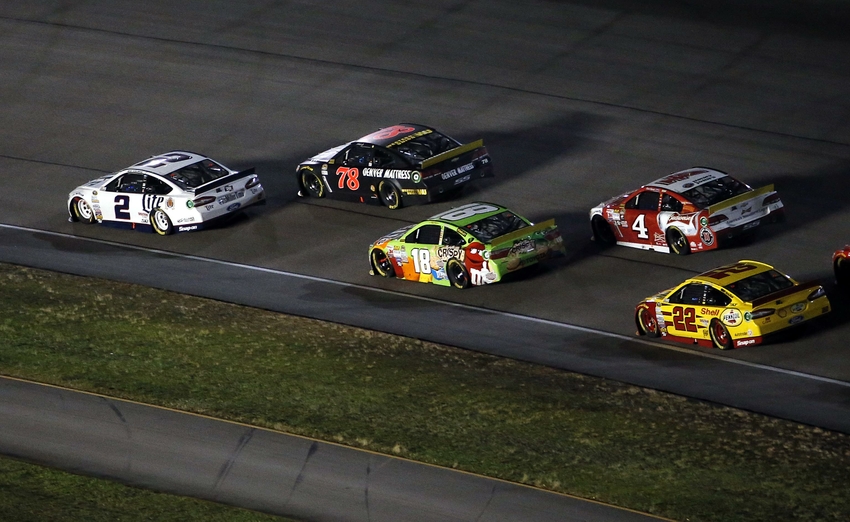 The final weekend of the NASCAR season is here as a champion is set to be crowned at Homestead. Take a look at five drivers who could win on Sunday.
After a crazy final few laps at Phoenix, Kurt Busch, Kevin Harvick, Matt Kenseth and Denny Hamlin were all eliminated from the Chase, setting up a Championship 4 featuring Jimmie Johnson, Carl Edwards, Joey Logano and Kyle Busch.
Homestead-Miami Speedway is a 1.5-mile track, which is often known as the average length in NASCAR. However, from above, the track looks much different than other venues such as Texas, Atlanta or Charlotte.
Homestead falls under the category of a paper clip oval, much like Martinsville, as it has two long straightaways. With the final race of the season being the only time NASCAR visits the track, many drivers will find themselves going for their first win this weekend.
One thing to watch for is which non-Chasers can work their way into the conversation. Since the new Chase format was adopted, a Championship 4 driver has won every year (Kevin Harvick in 2014, Kyle Busch in 2015). Kyle Larson led late last season but was eventually passed by Busch and Harvick, who battled for the title late.
This weekend, we'll see two drivers going for their first championship and two drivers trying to add to their collection. Check out five drivers who could win this weekend.
All stats gathered from racing-reference.info.
The Favorite: Jimmie Johnson
Stats at Homestead:
Wins: 0
Top-5's: 4
Top-10's: 10
Laps Led: 99
Average Finish: 14.1
Sure, Jimmie Johnson doesn't have any wins at Homestead, but when you're a six-time champion, things like that don't matter.
Johnson has ten top-10 finishes, which is second among active drivers. He's finished in the top-5 four times with two coming in the form of second-place finishes (2004 and 2010). He's led double-digit laps in three races at the track.
By taking a look at Johnson's history at Homestead, there's not much that stands out. In fact, it's one of the four tracks that he's never won at. However, there's something different about this weekend.
This is the first real chance that Johnson has had at winning his seventh championship and it's the first time he's ever made it to the Championship 4. Every time he's needed a win this season, he's come through. He earned two regular season wins to earn a spot in the Chase, he won in the Round of 12 and he won in the Round of 8.
It was a rough summer for Johnson and the No. 48 team, but since the Chase has began, he's been one of the best drivers week in and week out.
He's closed out the season on top six times before and he is certainly capable of doing it a seventh time. Watch for Jimmie Johnson to take command this weekend and do something only two other drivers in the history of the sport have done: win a seventh championship.
Contender No. 1: Carl Edwards
Stats at Homestead:
Wins: 2
Top-5's: 5
Top-10's: 7
Laps Led: 568
Average Finish: 9.2
You could make the case for Carl Edwards as the best driver to race at Homestead. He's proved that many times over his career.
Edwards has made it to Victory Lane two times–2008 and 2010. Both races saw him lead at least 150 laps. He had another big day in 2011 as well when he led 119 laps but finished second to Tony Stewart. He's led the mot laps among active drivers and his average finish of 9.2 is better than all except for Kevin Harvick (7.2).
This race is going to be huge for Edwards. He finished third in the standings in 2005 and second in 2008 and 2011. He's been so close so many times and finally has a team that allows him to compete again. This is another big opportunity for him to grab his first championship.
Since his second-place finish in 2011, Edwards has failed to record a top-10 finish at Homestead. I think a lot of that has to do with the fact that he hasn't been a major contender for the championship since then.
Edwards is the only Championship 4 driver that has multiple wins at Homestead. He showed that he has what it takes to earn a clutch win (Texas) and he's going to be a major threat this weekend.
Contender No. 2: Kyle Busch
Stats at Homestead:
Wins: 1
Top-5's: 2
Top-10's: 4
Laps Led: 278
Average Finish: 21.1
Kyle Busch knows what it takes to get it done in the final race of the season. He's looking to win his second championship this weekend.
Busch went to Homestead last year after an incredible season and led just 41 laps before winning at Homestead and capturing a title. In 2012, he earned his only other top-5 after leading 191 laps.
Besides that, he's had a forgettable career at the track. Busch seems to either be really good or really bad there. He's earned four top-10's, but has finished no higher than 19th in his other seven starts.
It's been a rather quiet Chase for Busch this year. He won three out of the first 11 races of the season and added in another victory at Indianapolis but hasn't been to Victory Lane since then. He's simply been putting together solid finishes–including six top-5's in the Chase–to keep his championship hopes alive.
Busch was a couple of laps away from being eliminated last weekend before Matt Kenseth wrecked late and opened the door that allowed him to sneak in. He could end up making it back-to-back championships this weekend.
Contender No. 3: Joey Logano
Stats at Homestead:
Wins: 0
Top-5's: 1
Top-10's: 2
Laps Led: 72
Average Finish: 17.7
The most inexperienced Championship 4 driver at Homestead will be 26-year-old Joey Logano. He'll be racing for the championship for the second time in his career as he also made it back in 2014.
Logano doesn't have much to account for at Homestead. In just seven starts, he has two top-10's. 2013 saw him finish 8th before he earned a career-best finish of 4th last season, leading 72 laps. Besides that, he's finished no better than 14th.
Logano had a quiet regular season as his lone win at Michigan punched his ticket to the Chase. However, the Chase began and he got down to business as he's been experiencing a surge in the past five weekends. Since Kansas, Logano has recored two wins–including four finishes of third or better–and five top-10's. In the process, he's led 304 laps, including double-digit totals in the past four races.
If Logano was to win the championship this weekend, he would be one of the younger champions we've seen in quite some time. He's obviously a part of that wave of young talent moving into the sport at the moment–except he's already a superstar and he's working on his eighth full-time season.
Look for Logano to race like he did last year at Homestead. He has momentum right now and that will work in his favor come Sunday.
The Underdog: Kyle Larson
Stats at Homestead:
Wins: 0
Top-5's: 1
Top-10's: 1
Laps Led: 3
Average Finish: 11.0
Kyle Larson has done a lot of good things in 2016. He earned the first Cup Series win of his career at Michigan. He made the Chase. You name it. He definitely had his best season yet.
But he could be in for more success this Sunday as he's heading to a track that he's been solid at in his three starts there.
Larson finished 15th and 13th at Homestead in 2013 and 2014, but last season, he looked really good. He earned his first top-5 at the track with a fifth-place finish and rode the high line with perfection late in the race. He went on to lead two laps late but eventually fell back due to a late restart and the fact that Busch and Harvick were heading to the front.
Larson is coming off of a good weekend in Phoenix where he competed near the front of the pack on the final few restarts.
If there's one driver who has a chance of overthrowing a Championship 4 driver this weekend, it's definitely Kyle Larson. His high line strategy is one of the best for a track like Homestead.
This article originally appeared on