NASCAR: Five Current Tracks That We Could All Do Without
Christopher Olmstead/FanSided via Beyond the Flag

Fansided
Let's be honest, there are more than five times a NASCAR season where you find yourself sitting on the couch wondering why NASCAR is racing at a certain track.
Don't worry because you're not alone when it comes to this. As much as NASCAR fans love their drivers, they equally don't love some of the tracks that their drivers race on each and every weekend.
There's nothing like the excitement buzzing in the air when NASCAR is headed into a weekend where sparks could fly, and most of that has to do with the track. We can immediately point out Bristol, Talladega, Daytona and others as standing out in the story book of drama and excitement. But what about those tracks that don't supply the much-needed door to door action?
Here are the 5 worst tracks on NASCAR's 2016 Sprint Cup Schedule.
Kentucky
Ah, the 1.5 mile super speedways.
NASCAR seemed to have a passion for these in the late 90's and early 2000's. Many new tracks opened using this formula and in doing so, all seem to have the same structures. Kentucky was one of them and opened in 2000. It is now visited each July by the Sprint Cup Series. Most races tend to be single-file with passing taking place sporadically, which is primarily the reason it made my list.
The facility may be nice and the track newer than most, but as far as racing goes, it is very generic. Could this be one of the main reasons TV ratings continue to decline? It definitely doesn't help.
The track went under renovations after the 2015 season including repaving and changes in turns 1 and 2. Combine that with the new downforce packages and hopefully it will make Kentucky an exciting track to watch this summer.
Kansas
The 1.5 mile love continues for NASCAR in their visits to Kansas Motor Speedway.
This track saw its birth in 2001 and followed suit to Kentucky's tri-oval shape. This track has it all including being the exclusive home to the Richard Petty Driving Experience, the host of the Penn National Gaming Hollywood Hotel and Casino and a road course in the infield. What is it missing?
Exciting racing.
It is now visited two times per year by the Sprint Cup Series, once in May and once in October during the Chase. Although it has undergone countless renovations and additions including lighting for night racing and changes in the corner banking, not much separates this track from other 1.5 mile tri-ovals in terms of the on-track product. Again, I am hoping the continuous changes in downforce packages will allow cars to pass and ultimately result in side-by-side racing.
If not, this October will look like another generic super speedway race for NASCAR.
Chicagoland
We are beginning to see a pattern here.
Launching in 2001, Chicagoland is another 1.5 mile super speedway that now kicks off the Chase for the Sprint Cup in a very anti-climactic fashion. It would be easy to confuse this track with, well, any other 1.5 mile tri-oval on the schedule. Nothing notable characterizes Chicagoland apart from its brothers, as we continue to see spaced out, single-file racing.
Unlike Kansas and Kentucky, few improvements have been made to this facility over the course of the last decade. I am not sure why NASCAR chooses to kick off the Chase here? Wouldn't you rather see drama at Martinsville or Bristol?
This track marks the fifth 1.5 mile super speedway in the Chase, being joined by: Charlotte, Kansas, Texas and Homestead.
Redundant? Absolutely.
As if these tracks were not forgettable enough in the regular season, adding them to the Chase produces even more beige shades of racing. I hate to sit here and keep beating a dead horse when it comes to the 1.5 mile tracks but somebody needs to do it, right?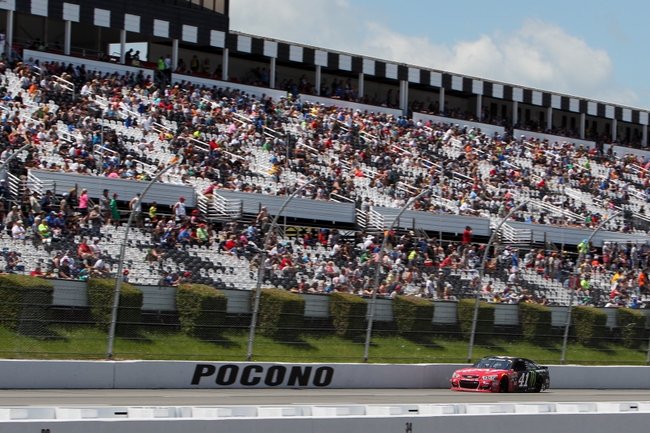 Pocono
Despite a strategic finish in 2016's ending to the Axalta "We Paint Winners" 400, Pocono usually produces very spaced-out, limited-passing racing. Although it is one of the most historic tracks in NASCAR's history, it could be considered a skip for most viewers.
There are plenty of unique characteristics about Pocono that make the "Tricky Triangle" a unique race track. Unfortunately, none of them result in better, more exciting racing.
I am sure it would be almost sacrilegious to compare NASCAR's visit to Pocono to that of the Brickyard 400 stop at Indy, but Indy does have more prestige than arguably any other track besides Daytona, so it seems excusable. Maybe I am the only one who thinks that if you are going to watch four hours of racing you would like to see more than one pass in 50 laps?
Maybe, but probably not. There is one advantage to racing at Pocono, at least it isn't a 1.5 mile tri-oval.
Homestead
What could be more exciting than the culmination of the Chase for the Sprint Cup at Homestead?
Possibly moving it to another track.
To cap-off the end of the 2016 season, NASCAR once again visited Homestead in Miami. What makes this track so bad you may say? The simple fact that is a, wait for it, 1.5 mile super speedway.
Shocker, I know.
The bright side is that Miami is typically warm in November. However the racing is somewhat cold and not exciting. Imagine the 2016 season ending at Talladega or Darlington. We can imagine all we want, but for some reason NASCAR insists on making this the last stop of the season, and as I said before, the 5th 1.5 mile super speedway of the Chase. Lest we forget, the Chase is only 10 races.
Some blame the cars for lack of excitement, some think that NASCAR is becoming too safe. I think that the problem lies in the track. Can you imagine if your favorite NFL team played the same opponent every single week? Sounds a little redundant. I agree.
Let's be clear here, I am not saying that there are not places for 1.5 mile super speedways or Pocono on NASCAR's schedule. But, to saturate the season with the same exact quality of racing each week with the only difference being a different town's name is just flat out boring. I believe that when it comes to the quality of racing that produces must-see TV and excitement, these tracks don't deliver.
I can honestly say that without the identifiers on the wall, it would be hard for me to discern whether I was watching Kansas, Kentucky, Homestead (minus the palm trees), or even Las Vegas or Michigan. What ever happened to two races at Darlington, or visiting Rockingham? At least these track have distinct features that make you feel like you are not watching last week's race all over again.
More from Beyond the Flag
This article originally appeared on